Dozens of medical and scientific groups, universities and advocacy organizations have piled on to protest President Donald Trump's immigration order.
Cancer groups deplore it. Medical schools denounce it. Math teachers censure it. Even ornithologists condemn it.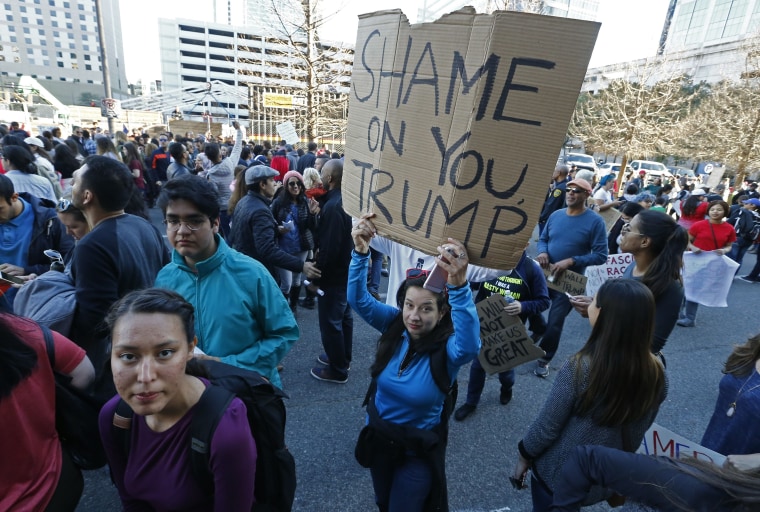 They say it's not only unfair and unnecessary, but that it will hurt America.
Trump's executive order bars Syrian refugees from coming to the United States and stops resettlement work for at least four months. It also blocks all visa-holders from Syria, Iraq, Iran, Somalia, Sudan, Libya and Yemen for at least 90 days.
The order affects hundreds of badly needed medical doctors and their families, two immigrant physicians wrote in the New England Journal of Medicine Wednesday.
Related: What's Next After Trump Immigration Ban?
Nearly a quarter of practicing physicians in the U.S. were born and educated overseas, Dr. Ahmad Masri and Dr. Mourad Senussi, both of the University of Pittsburgh Medical Center, wrote.
And they found a report that shows that in 2013 there were 753 resident applicants – medical school graduates training to become fully licensed physicians – from Iran, Iraq, Libya, Sudan, or Syria.
"Immigration policy that blocks the best from coming to train and work in the United States and blocks our trainees and faculty from safely traveling to other countries is a step backward."
"In 2013, there were 2,101 applicants from 11 different countries with Muslim majority, of which 40 percent were matched into a U.S.-based residency program," Masri and Senussi wrote, citing the Educational Commission for Foreign Medical Graduates.
"Immigrants have made a long list of contributions to the U.S. health care system and to science in general — achievements that transcend country of origin, as well as religion, race, color, ethnic background, gender, and sexual orientation," they wrote. Masri was educated in Jordan; Senussi in Libya.
Separately, the heads of the Departments of Medicine at seven top medical centers called the immigration order a step backward.
Related: Trump Replaces Acting Immigration Director
They include leaders at Massachusetts General Hospital, Johns Hopkins Medicine, the University of Michigan Health System, Brigham and Women's Hospital, the University of Pennsylvania Perelman School of Medicine, University of California, San Francisco and Beth Israel Deaconess Medical Center.
"Immigration policy that blocks the best from coming to train and work in the United States and blocks our trainees and faculty from safely traveling to other countries is a step backward, one that will harm our patients, colleagues, and America's position as a world leader in health care and innovation," they wrote.
Related: Pediatricians Speak Out Against Muslim Ban
Six cancer organizations joined the clamor, too.
"Any loss of researchers and physicians will render the United States less competitive over time, and our traditionally strong research institutions and the patients they serve will be negatively affected," they wrote in a letter addressed to the Trump administration. They include the American Society for Hematology, American Association for Cancer Research, the American Society of Pediatric Hematology/Oncology, the Association of American Cancer Institutes and the American Society for Radiation Oncology.
"Our ability to attract top talent from around the world also enriches the research laboratories at medical schools and teaching hospitals that are working toward cures and has helped position the U.S. as a global leader in medical research, strengthening our economy and bolstering the public's health," said Darrell Kirch, CEO of the Association of American Medical Colleges.
Related: These People Were Stranded by Trump Immigration Ban
"While we understand the importance of a reliable system for vetting people from other nations entering the United States, it is vitally important that this process not impact patient access to timely medical treatment or restrict physicians and international medical graduates who have been granted visas to train, practice or attend medical conferences in the United States," American Medical Association CEO James Madara wrote in a letter to the Department of Homeland Security.
The American Psychological Association objected especially to the breakup of families affected by the order.
"Sudden and unexpected family separation is associated with negative outcomes on child well-being that can last well into adulthood," the group said.
Plus, it's overkill, argued the American Society of Tropical Medicine and Hygiene. "The current U.S. refugee resettlement program is a model for 'extreme vetting', both from a security and public health standpoint," the group said it its own letter.
More than 150 medical and scientific groups joined forced in a letter both reprimanding Trump for the order, and asking him to rescind it.
"Surely we do not want to cut off this bounty of scientific talent."
"Scientific progress depends on openness, transparency and the free flow of ideas, and these principles have helped the United States attract and richly benefit from international scientific talent," they wrote
"The Executive Order will discourage many of the best and brightest international students, scholars, engineers and scientists from studying and working, attending academic and scientific conferences, or seeking to build new businesses in the United States," said the groups, which include the American Association for the Advancement of Science, American Association of Physics Teachers, American Public Health Association and the American Society of Agricultural and Biological Engineers.
For Stefano Bertuzzi, CEO of the American Society for Microbiology, it's personal. Bertuzzi is an Italian immigrant.
"For America, this is an old story; generation after generation of ambitious scientists coming here for opportunity and in some cases, personal safety," Bertuzzi blogged.
"In return, immigrant scientists showered biology, physics, medicine, chemistry, and other scientific areas with major discoveries and glittering scientific prizes, which often stood at the foundation of national security issues. Surely we do not want to cut off this bounty of scientific talent."