As many as a quarter of U.S. kids who are using e-cigarettes may be taking them apart and "dripping" — a method that gives them more vapor but a potentially higher hit of nicotine, researchers reported Monday.
They recommended more research into whether it's more dangerous for kids, and experts said parents should ask their kids if they've tried it.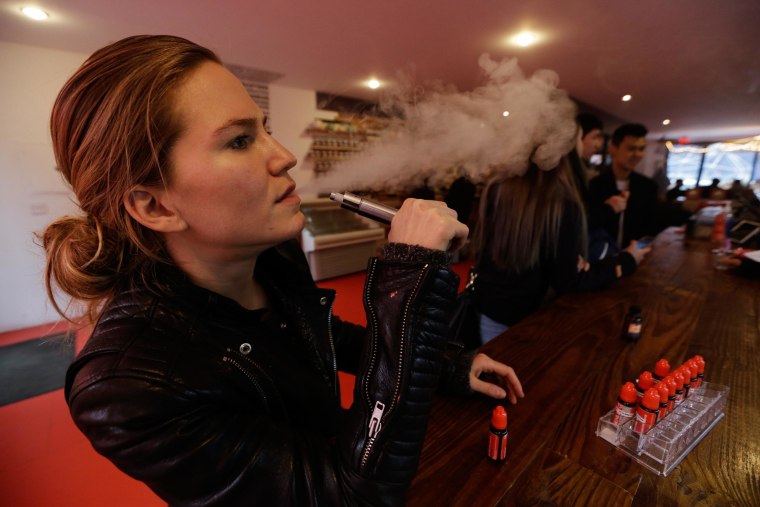 E-cigarettes are now the most commonly used tobacco product among children, teens and young adults.
"E-cigarettes are also being used for 'dripping,' which involves vaporizing the e-liquid at high temperatures by dripping a couple of drops of e-liquid directly onto an atomizer's coil and then immediately inhaling the vapor that is produced," Dr. Suchitra Krishnan-Sarin of Yale University and colleagues reported in the journal Pediatrics.
The team surveyed 7,000 Connecticut high school students for the survey.
Related: E-Cigarette Ads Target Kids, CDC Says
"Among 1,080 ever e-cigarette users, 26.1 percent of students reported ever using e-cigarettes for dripping. Reasons for dripping included produced thicker clouds of vapor (63.5 percent), made flavors taste better (38.7 percent), produced a stronger throat hit (27.7 percent)," they added.
"While the authors did not focus on the safety issues or risk of this behavior leading to other risk-taking behaviors, one can only be worried that the use of e-cigarette liquid for inhaling could trigger use of other inhalants just as, if not more dangerous," Dr. Lewis First, editor in chief of Pediatrics, wrote in a commentary.
Related: E-Cigarettes Deliver Harmful Chemicals
"If you do have adolescents using e-cigarettes, you might want to inquire about dripping if you haven't already and be aware that the various chemicals as well as nicotine that are in the e-cigarette products may be even more likely to be a concern for the future health of those who use these devices—but hopefully future studies will address that concern and lead to tighter restrictions and more health warnings being placed on underage usage of e-cigarette products."
Related: E-Cigarettes Help Adult Smokers Quit
The Food and Drug Administration said it will ban the sale of e-cigarettes to anyone under 18.
Last year, the U.S. surgeon-general, Dr. Vivek Murthy, said e-cigarettes are addictive and can deliver harmful chemicals.
And the Centers for Disease Control and Prevention say e-cigarette makers directly and deliberately target kids in their advertising and marketing and by choosing appealing flavors.