E-cigarettes may be a less dangerous way to use tobacco, and may help established smokers reduce their immediate risk of death and disease, but they can hook teens and young adults and raise their risk of becoming smokers, a new report finds.
The report from the National Academies of Sciences, Engineering and Medicine was commissioned to be a definitive look at the harms and potential benefits of electronic cigarettes, which are used by millions of people.
They're promoted as a safer way to use tobacco — e-cigarette use is called vaping — and as a way to quit smoking. But public health groups, the surgeon general's office, and the Centers for Disease Control and Prevention worry about evidence that vaping can get teens addicted to nicotine, and will lead them to smoking cigarettes.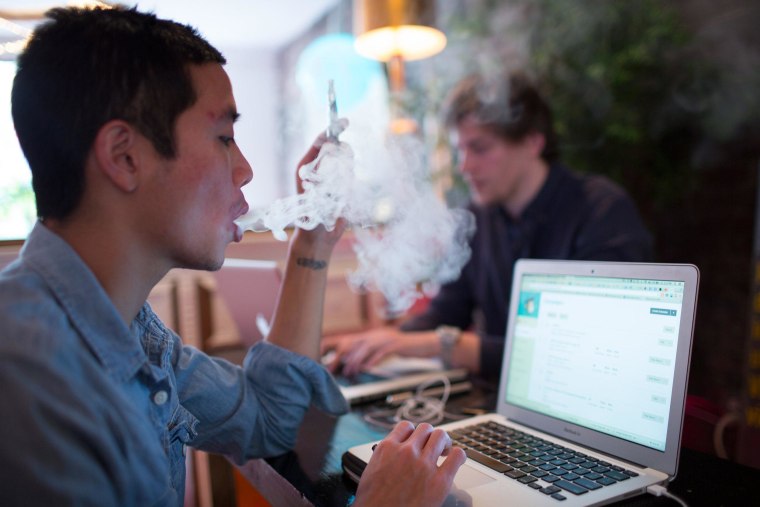 Both things are true, according to the new report, put together by a team of people with expertise in evaluating evidence. E-cigarettes appear to be less harmful than burned tobacco products, but they are also a gateway to tobacco addiction for young people.
Related: E-Cigarettes Deliver Harmful Chemicals
But safer doesn't mean harmless. Health advocates said the report shows that the Food and Drug Administration must more closely regulate all tobacco products, including e-cigarettes.
"There is conclusive evidence that in addition to nicotine, most e-cigarette products contain and emit numerous potentially toxic substances."
The expert committee went through nearly 800 studies on e-cigarettes, what's in them and how people use them.
"E-cigarettes cannot be simply categorized as either beneficial or harmful," said David Eaton, dean of the Graduate School of the University of Washington in Seattle, who chaired the committee.
"In some circumstances, such as their use by nonsmoking adolescents and young adults, their adverse effects clearly warrant concern. In other cases, such as when adult smokers use them to quit smoking, they offer an opportunity to reduce smoking-related illness," Eaton said.
But there is not enough evidence to say they actually do help people kick the habit entirely, the report found.
Fewer toxins but may be harmful
E-cigarettes use a device that delivers fluid laced with nicotine and flavors, creating a smoke-like haze.
The report found that e-cigarettes deliver fewer toxins than conventional cigarettes do, but a lot depends on the particular formulation and the user.
Related: E-Cigarette Ads Target Kids, CDC Says
They are addictive, as well.
"There is substantial evidence that nicotine intake from e-cigarette devices among experienced adult e-cigarette users can be comparable to that from combustible tobacco cigarettes," the report reads.
"There is conclusive evidence that in addition to nicotine, most e-cigarette products contain and emit numerous potentially toxic substances."
There might be less toxic stuff coming out of e-cigarettes, the report found, but there's not enough information on how harmful it actually is.
"Long-term health effects, of particular concern for youth who become dependent on them, are not yet clear," the report adds. "If e-cigarette use by adult smokers leads to long-term abstinence from combustible tobacco cigarettes, the benefit to public health could be considerable."
Related: What's So Bad About E-Cigarettes
That's a big if, said Aruni Bhatnagar, director of the Diabetes and Obesity Center at the University of Louisville and a spokesman for the American Heart Association.
"Reduction in toxin exposure is not equal to reduction in harm," Bhatnagar said.
"The risk of smoking three cigarettes is 80 percent of the risk of smoking a pack of cigarettes. So if you are smoking a pack of cigarettes and you cut down to three cigarettes, you are only cutting your risk by 20 percent. The response is nonlinear."
American Heart Association CEO Nancy Brown said it's clear that e-cigarettes need closer regulation and scrutiny.
"We agree with the National Academies that the jury is still out on the benefits and harmful effects of e-cigarettes, especially in the long-term. Until we have sufficient scientific data, we must have strong FDA regulation of these products and any new versions that come on the market," Brown said in a statement.
"To the Lung Association it makes extraordinarily clear that in order to protect the public health, FDA must use and have the authority over these products or we are going to end up with even more kids using cigarettes and even more consequences of using these products," said Erika Sward, assistant vice president of national advocacy for the American Lung Association.
Congress gave FDA the authority to regulate tobacco products in 2009, but the law didn't include e-cigarettes and certain other products. The legislation also does not allow FDA to ban tobacco products outright, but it can limit sales and marketing and require warning labels.
Related: Teens Who Try Vaping Also Try 'Real' Cigarettes
Public health experts have been clamoring for the FDA to extend its authority as e-cigarettes have exploded in popularity.
The FDA said in 2014 it would regulate e-cigarettes.
But last summer, the new FDA Commissioner, Dr. Scott Gottlieb, extended the timeline for applications for new e-cigarette clearance by the FDA to 2022, a move that delighted e-cigarette makers and that infuriated medical groups such as the Lung Association.
"This report underscores the grave mistake FDA made in July when it announced it would postpone by five years the legal requirement that e-cigarette manufacturers submit their products for FDA review in order to determine whether they should stay on the marketplace," said American Lung Association CEO Harold Wimmer.
"E-cigarettes have become the most popular tobacco product among youth, continuing to attract and addict our kids to nicotine while exposing them to potentially dangerous toxins and carcinogens. FDA must enforce the Tobacco Control Act in order to protect the public health from e-cigarettes."
Vaping may lead to smoking
The report concurs that teens and young adults who vape are more likely to use other tobacco products such as conventional cigarettes.
Related: FDA Proposes Limiting E-Cigarettes for Kids
"I remain hopeful is that looking at all of this, FDA will understand that in order to protect another generation, that it needs to crack down on the candy flavors and the marketing that appeals to kids," Sward said.
The Centers for Disease Control and Prevention says 20 percent of high school students have used at least one tobacco product recently, most of them e-cigarettes. CDC survey data show that 11 percent of high school students had used an e-cigarette in the past 30 days at the time of the survey — the CDC's definition of current use — and 8 percent of high school students smoked traditional cigarettes.
The report makes it clear that there is still a lot that is not known about the long-term safety of vaping. There's not enough to say if they can cause cancer or disrupt pregnancy, for instance. Vaping raises heart rate and blood pressure, but there's not enough evidence about absolute risks of heart disease.
Tobacco use is the No. 1 cause of both heart disease and cancer.