A 9-year-old child born with the AIDS virus was treated briefly with antiretroviral medication as a baby and is now reported to be free of the infection. The rare but stunning case of wiping out the virus that causes AIDS for years after treatment holds promise for all patients with HIV, infectious disease experts said Monday.
The case of the South African child, whose gender and identity were kept secret, was one of the highlights of the opening day at the international AIDS conference in Paris. Eight-and-a-half years after treatment, the child shows no signs of infection, adding another piece to the puzzle of eliminating human immunodeficiency virus.
"The fact that you can go so long without a rebound shows that it is possible to suppress the virus. It gives us hope that we may be able to do the same in more than just children," Dr. Anthony S. Fauci, director of the National Institute of Allergy and Infectious Diseases of the National Institutes of Health told NBC News in an interview from Paris, where he is attending the conference.
The current standard of care is to start HIV-infected babies on antiretroviral drugs, known as ART, as early as their diagnosis and treat them for the rest of their lives. Doctors have long known that while HIV-treatment is life-saving in these children, there are concerns about the side-effects and health impacts of lifelong therapy with these powerful drugs.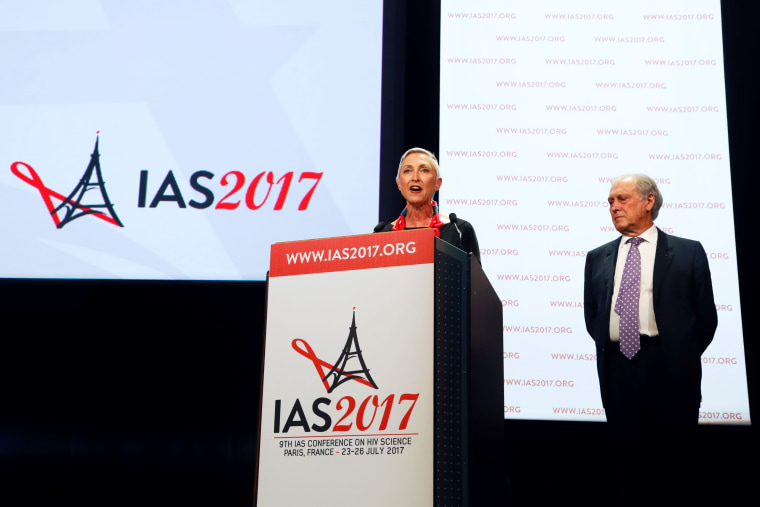 The child at the center of Monday's announcement was one of 377 HIV-infected children in a research trial that investigated the possibility of treating children with ART and then stopping the treatments for extended periods.
Related: Study Shows HIV Epidemic Starting Spreading in New York in 1970
As a 32-day old infant diagnosed with HIV, the South African baby received medication that stops the AIDS virus from replicating. By 40 weeks, the baby's immune system was in good shape with no symptoms of the disease. Dr. Mark Cotton, professor of pediatrics at Stellenbosch University in South Africa, who co-led the study says most importantly doctors found no evidence of an inactive HIV infection.
"Our team has been keeping an eye on the viral loads and we're seeing that there's no detectable virus in the child's blood."
Why This Child?
The most intriguing question for scientists now is figuring out what makes this child's immune system so special. Some people have genetic mutations that enable them to better deal with an HIV infection, but according to the researchers, the nine year old doesn't have a gene that gives natural resistance to HIV infection. Beginning drug treatment early is key, but it's not the only answer.
"We think it was a combination of receiving early treatment and some factors in the immune system that controlled the virus," Cotton told NBC News.
There are hints that the child's white blood cells lack a certain HIV-receptor, Dr. Cotton explained, so the virus has a hard time infecting the blood cells. Why this child's blood cells lack that HIV-receptor is unclear, especially since there's no genetic mutation that would lead to the low expression of that particular receptor.
"That could be a signal of something we don't understand but might become a target for future treatments," explains Cotton.
Related: HIV Patients With Undetectable Virus Unlikely To Infect Partners
The South African child is the third reported case of long-term HIV remission in a child after early HIV treatment was halted.
The first case was a baby girl from Mississippi who received ART just 30 hours after birth until she was 18 months old. The baby sustained remission for 27 months, until 2015, when she rebounded and the virus was found in her blood.
A French child started anti-HIV therapy at 3 months and stopped treatment sometime between ages 5.5 and 7 years. The child continues to be healthy more than 11 years later.
As promising as the newest case is, the South African child is not cured, Cotton said.
"Our 9-year old child is adding a little bit more to the picture as one tries to puzzle the complexity of human beings and HIV. It's on the pathway to a cure but we don't know how long it will take."