The World Health Organization on Friday said the Ebola outbreak in the Democratic Republic of Congo is cause for extraordinary concern, but has not yet reached the threshold to declare it a global emergency.
This was the third time the WHO committee met to discuss the ongoing outbreak — and the third time the experts declined to declare a global health emergency.
This week, a 5-year-old boy and his 50-year-old grandmother who traveled from Congo to Uganda died of the disease. And a third case has been confirmed, according to Uganda's Ministry of Health.
Health officials say 98 others may have been exposed to the virus in Uganda.
As of Friday, at least 2,108 suspected or confirmed cases were reported in Congo, with 1,411 deaths, according to the WHO. This is the tenth Ebola outbreak in Congo within the last 40 years.
The Ebola virus is spread through contact with blood and other bodily fluids. It can cause massive internal bleeding, vomiting, diarrhea and death. An outbreak often starts with a "spillover event," meaning the virus is transmitted from an animal — usually, a fruit bat or monkey — to a human. Then, the virus can spread from person to person.
"We can't just parachute in, stop Ebola, and then leave."
Experts say controlling the spread of Ebola in these often remote areas requires a respect for and understanding of local culture and customs.
Any response "has to be thoughtful and appropriate," said Lauren Sauer, director of operations for the Johns Hopkins Office of Critical Event Preparedness and Response. "The community members and local practitioners have to lead the response and lead the activities that support the response."
"We can't just parachute in, stop Ebola, and then leave," Sauer told NBC News.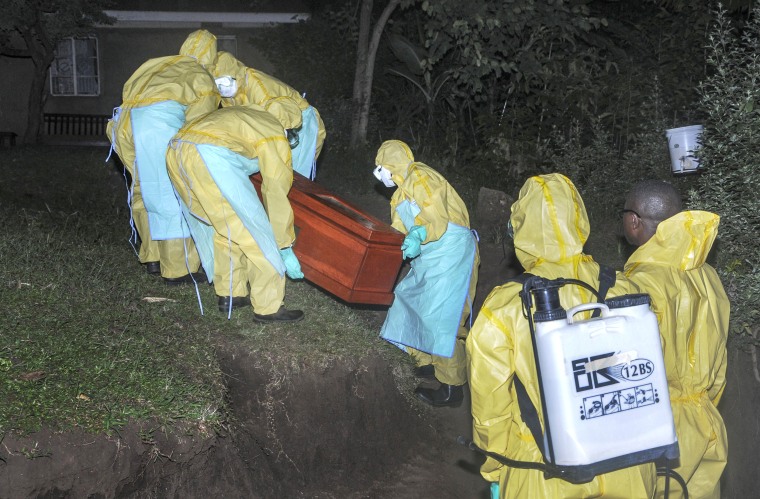 The last time the WHO declared a global emergency related to Ebola was in August 2014, when an outbreak ravaged parts of West Africa.
Throughout that epidemic, which lasted from 2014 to 2016, at least 28,000 suspected cases of Ebola were reported, and more than 11,000 people died, according to the CDC. The vast majority of cases were in Guinea, Liberia and Sierra Leone. But cases also stretched into Italy, Mali, Nigeria, Senegal, Spain, the United Kingdom, as well as the United States.
The first American diagnosed in that outbreak, Dr. Kent Brantly, arrived at Emory University Hospital in Atlanta in August 2014 for treatment. Brantly had been working with the medical mission group Samaritan's Purse treating Ebola patients in Liberia when he contracted the virus. Brantly later recovered. Ten other Ebola cases were either treated or diagnosed and treated in the U.S. in 2014. Two of those patients died.
The West Africa outbreak spurred work toward a safe and highly effective Ebola vaccine. The vaccine is now being used to help control the spread in Congo by vaccinating health care workers and people who have been in contact with Ebola patients, as well as the contacts of those contacts.
There is no cure for Ebola. Doctors use supportive fluids and electrolytes to help counter the side effects of high fever, vomiting and diarrhea.
FOLLOW NBC HEALTH ON TWITTER & FACEBOOK