The minute Emily Letts saw the two pink lines on the pregnancy test, she knew she was going to have an abortion. She also knew she was going to document what was going to be a major event in her life with a video that she would eventually release on YouTube.
Now that the video has been viewed more than 1 million times and unleashed a storm of responses, some so nasty that YouTube disabled comments, she has some words for her critics.
"I knew I was going to be called a slut and a whore and I knew they would make videos on YouTube burning pictures of me," Letts, 25, said in an interview with NBC News. "Those people don't interest me. To be honest I feel sorry that there is so much hatred in their world. I'm not going to respond to hatred with hatred."
The non-graphic video shows Letts before, during and after the procedure. She talks about her reason for choosing an abortion: The pregnancy was unplanned and she wasn't ready to have a baby. The whole thing is over in just a few minutes.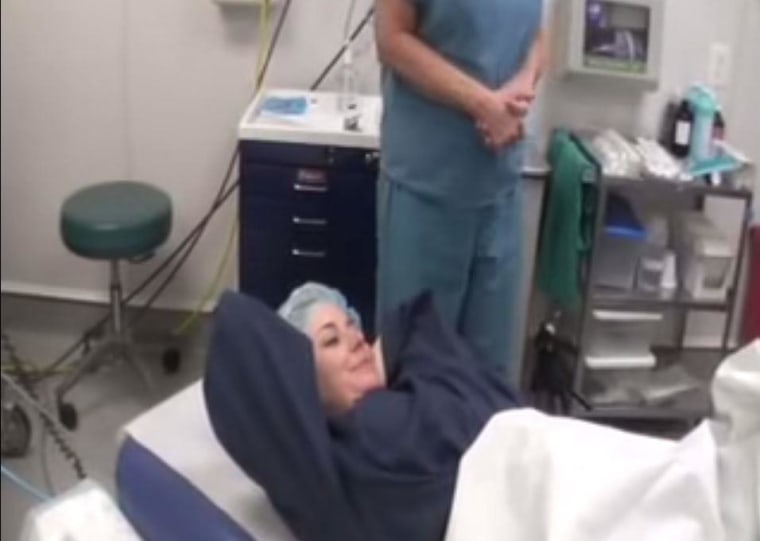 Letts says she released the video to help other women.
"My goal was to reach at least one woman, to make her breathe easier and to let her know that she is not alone," Letts said. "My video is not about me. It's about using my story as a jumping off point for conversation. Women do not need to be shamed into silence."
Since the video went viral, anti-abortion voices have come out in force. "She's certainly ignoring the life she just destroyed in an effort to have an experience and show how positive a thing it is," Anne Scheidler, vice president of the Pro Life Action League, told the New York Daily News. "You can't end someone's life like that."
President of the National Right to Life Committee Carol Tobias told Fox News, "It is a sad commentary on our nation that someone can be rewarded for filming an event that takes the life of an innocent unborn human being. We pray that in the coming years, she will understand and be able to accept the ramifications of her actions."
Even some pro-choice advocates were unexpectedly disapproving, suggesting abortion should be a private matter and that Letts went too far in making the video and disseminating it to the public.
In Britain, The Telegraph's Dina Rickman, who calls herself passionately pro-choice, wrote, "I'm not denying there are still many things we need to demystify — I just don't think those conversations should involve YouTube. For me, Emily Letts's video just shows there are some taboos we just don't need to break."
Brian Wilcox, a professor of psychology at the University of Nebraska, calls that criticism unfair.
"It's her choice whether she goes public or not with her own experiences," Wilcox said. "And I think one of the things this video does is make other women feel they are not all alone. It also opens the topic as one for conversation in a more public way than we are used to. The fact is most women have to deal with the decision largely on their own and they have to deal with their emotions before and after all on their own. It's very difficult. This allows them to see the experience of one other person, at least."
"I hate the fact that women feel they cannot speak about their experiences."
Though Letts was a little nervous in the days before the video went up on YouTube, she is happy now, even with the negative comments.
"I don't care what you have to say, just speak out," Letts said. "I hate the fact that women feel they cannot speak about their experiences."
Some feel that Letts' video has gone a long way to banish stigma.
"At Planned Parenthood we work hard to eliminate stigma around abortion," Eric Ferrero, vice president of communications at the Planned Parenthood Federation of America said in a statement to NBC. "While Emily's story wasn't filmed at a Planned Parenthood health center, it provides an all-to-rare opportunity for people to learn more about abortion and we commend her courage and honesty in sharing her story."
Psychologist Midge Wilson isn't sure how it will turn out in the end. Anti-abortion groups have been able to use the video to try to paint Letts and others in a negative light, said Wilson, a professor of psychology and women's and gender studies at DePaul University.
"This allows them to say that women don't take it seriously," Wilson said. "I see what she did as very courageous. She's trying to minimize the stigma and the abortion shaming where nobody wants to talk to you because you're a horrible person."
For the past two decades, anti-abortion forces have painted an ugly, and frightening, picture of the procedure. This video undermines that, Wilson said.
"The narrative of abortion from the right has been that it is horrible, painful and gruesome with baby limb parts coming out," Wilson added. "But 90 percent of women say their primary feeling after having an abortion is relief. The 10 percent who are filled with regret and remorse are typically the ones who were forced into having an abortion by someone else.
"I think she is part of a movement that is trying to take back control of the narrative."