SAN FRANCISCO — Trish Tracey sat alone in her shuttered restaurant Tuesday in the Mission district, a bustling, historically Latino neighborhood that's become popular with tech workers.
A chef in the city for 30 years, she had laid off the last of her 17 employees at Myriad Gastropub and was in talks with her landlord about her lease. It could be weeks or months before she reopens, assuming things ever get back to normal.
"Everything is out of our control," she said.
San Francisco is two days into a lockdown that has no definite end. The city and its surrounding counties imposed shelter-in-place restrictions Tuesday just after midnight, forcing millions of people to stay home and stay put except for essential needs such as shopping for groceries, getting medications, caring for others and exercising.
What happens next is anyone's guess.
"The goal is to get up and running again and put all my employees back to work," Tracey said. "I wish I could say with certainty that would happen, and I'm very determined, and I lasted five years because of that, but everything is on pretty shaky ground right now."
San Francisco is an early test of what the rest of the U.S. may see in the coming days as mayors and governors curtail daily life to try to slow the spread of the coronavirus.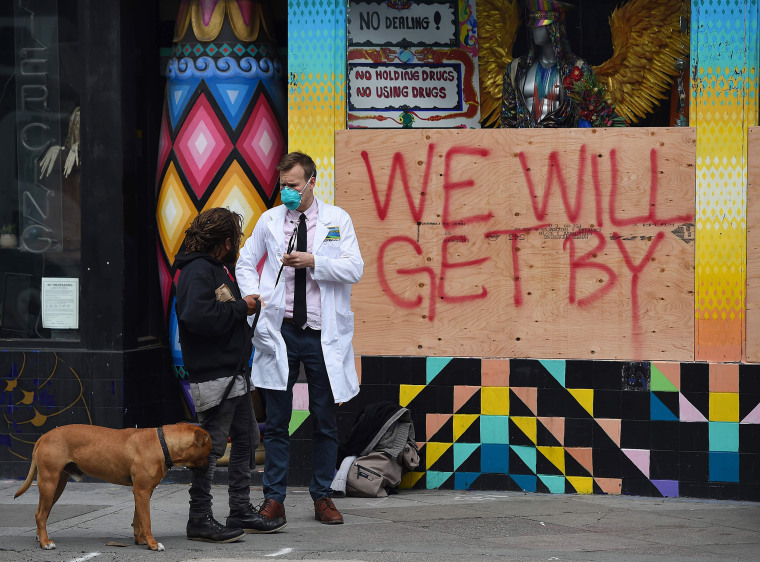 It is the most extreme measure taken nationwide, although New York Mayor Bill de Blasio has said he is considering something similar by the end of the week. Belgium became the fourth European nation to enter into a nationwide lockdown Wednesday, joining Italy, France and Spain.
The order in San Francisco bans any activities that aren't essential: no drinking at bars, no haircuts by barbers and no dinner parties. Restaurants can operate only for takeout or delivery. Outdoor exercise is allowed, but gyms are closed.
The city, famous in part because of 1967's Summer of Love, is full of people who can bristle at authority. But in the first day after the mayor imposed the shutdown order, backed with the threat of jail time, residents didn't really seem to rebel.
The police department said it wasn't immediately aware of any significant resistance to the order, which would be punishable as a misdemeanor. Its daily crime recap sent to reporters Wednesday morning — which covers reported crimes with violence or the threat of violence — included a single reported entry from the previous day: Three suspects had punched a woman and taken her bicycle.
Full coverage of the coronavirus outbreak
The quiet has been partly deceiving, as Bay Area hospitals have begun to see more COVID-19 patients, the leading edge of what they fear could be a wave of people with severe symptoms.
"This is a challenge unparalleled to any challenge I have faced in the last 28 years of my career," Dr. Baldev Singh, a pulmonary critical care physician in nearby San Jose, said after he finished a 24-hour shift Tuesday.
He warned that the area would be in danger of running low on health care workers who aren't infected. "Protecting your teammates is as important as ever, as the number of infected individuals needing support is anticipated to exceed the number of healthy providers able to serve those in need," he said.
For residents grappling with the public health order, there were immediate questions about what counted as "essential." They could exercise, but could they drive somewhere to exercise? Yes, the mayor's office told the San Francisco Chronicle.
City health officials, who initially told marijuana dispensaries that they had to close, mellowed their stance late Tuesday and said cannabis products were an essential medicine that justified the shops' staying open.
A battle over what's essential was brewing at automaker Tesla, which operates a factory in Alameda County across the bay from San Francisco. An executive said Wednesday that the company had received conflicting guidance from the government on whether it could stay open.
Grocery stores were limiting the number of people who could be inside at any one time, trying to reduce personal contact and allow staff to restock shelves. A Whole Foods Market advised people wanting to buy milk or eggs to be in line before the store opens at 8 a.m., while another grocer posted a summary to social media of what's available: bread but no toilet paper.
Commuter traffic, typically among the worst in the nation, was suddenly not a problem for those who had to drive.
The city's massive tourism industry ground to a halt as authorities closed attractions like Alcatraz Island, the historic cable cars and the beat-poet bookstore City Lights. In Fisherman's Wharf, a neighborhood popular with visitors, the few open shops included a hardware store and an In-N-Out Burger, for takeout orders only.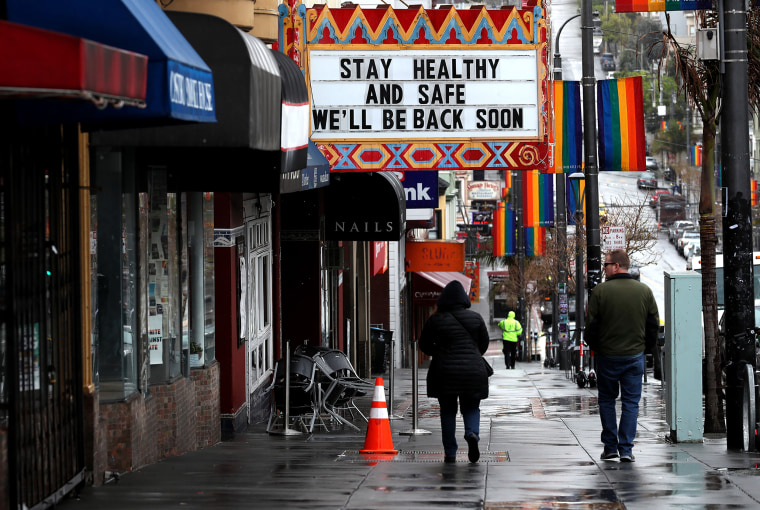 "I don't think there's an expectation that more people are coming into the city," said Kevin Carroll, president of the Hotel Council of San Francisco, a trade group for the city's 215 hotels. "It would be hard to sightsee. It would be hard to do anything, because you're not supposed to be out unless you're doing something that's needed."
Occupancy in some hotels was down to 10 percent, he said. Industry representatives planned to meet with city officials Wednesday to discuss using hotels to house people with the coronavirus in isolation, although Carroll said they hadn't been asked to provide shelter to the homeless.
Download the NBC News app for full coverage and alerts about the coronavirus outbreak
The 25,000 people who work in the city's hotels faced reduced hours, furloughs or more. Carroll said he knew of some layoffs so far but didn't know how many, and the situation was similar for people who work in other service industries, such as restaurants.
"We don't know how long this is going to last. We don't know how many people are going to be in need, and we need to have a game plan," said Chris Cosentino, one of San Francisco's celebrity chefs. He had closed his restaurant in the city and instead was planning to cook for health care workers and children.
Cosentino said the government needed to do more to help unemployed workers and others who are vulnerable. "We need to make sure they are taken care of, or we're not going to have anything left to come back to," he said.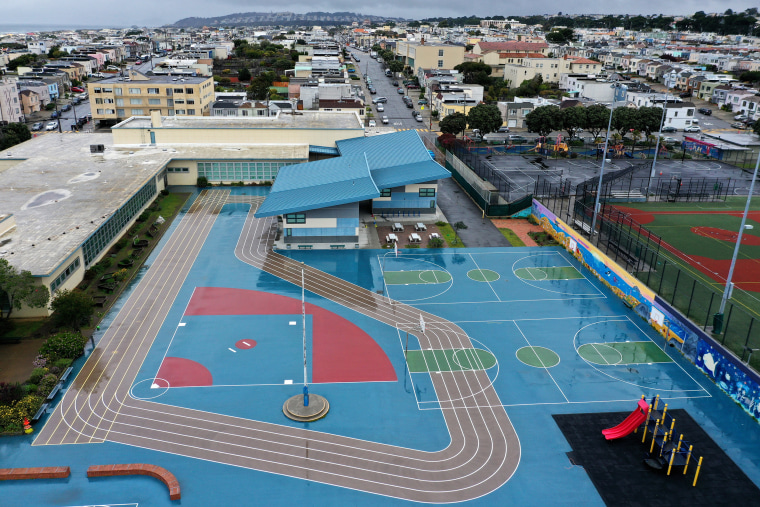 Social media posts from local gathering spots like Mission Dolores Park showed not the usual crowds but lone people eating lunch or walking their dogs at a distance from others.
And at a free outdoor gym in the Marina district, more than a dozen people were working out Tuesday evening, but with a twist: Many of them wore gloves. People jogging by seemed to be keeping at least 6 feet from one another, as required by the public health order.
There were other signs of bracing for danger. On Polk Street, a commercial strip that would otherwise have been full of people celebrating St. Patrick's Day, two bars instead featured plywood over their glass windows, as if they were expecting a storm or intruders.
"A guy walked up to me while we were putting the plywood up and said: 'You've been here forever. This sort of makes it look like the apocalypse,'" said Mark Jennings, co-owner of one of the bars, Shanghai Kelly's. He said he didn't intend to send a grim message to the neighborhood and plans to paint smiley faces on the plywood.
But in some places, there was also deep frustration with how the city appeared to freeze in time.
The city's homeless generally had no more options for where to go than they did before the order to take shelter. A ban on people tenting in parks, for example, remained in place despite a plea from homeless advocates to lift it.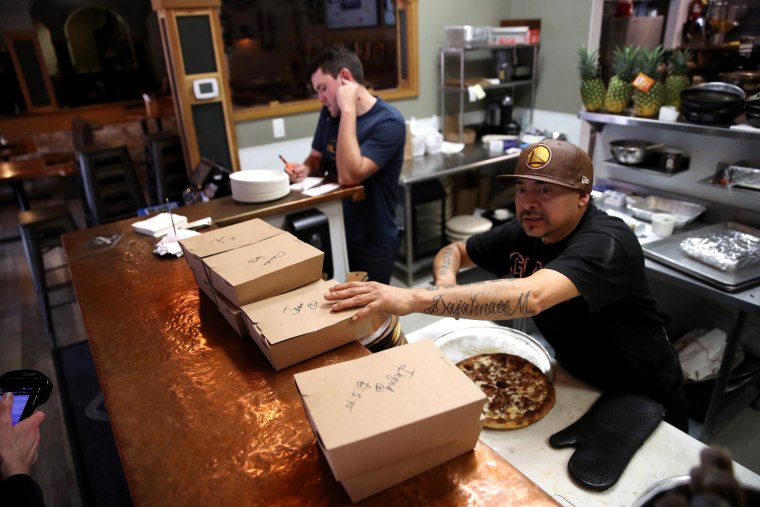 "We have 40,000 people who are unable to self-isolate who are living on the streets or in shelters or in single-room occupancies with shared bathrooms," said Jennifer Friedenbach, executive director of the city's Coalition on Homelessness.
She's urging San Francisco's elected officials to commandeer the vast number of empty hotel rooms for the homeless — something that nearby Oakland has already done with two hotels — or at least to pledge an end to sweeps of homeless camps.
Homeless people aren't more likely to get the coronavirus, but in general they are more likely to die if they do get it, Friedenbach said, because of chronic diseases such as heart disease and diabetes. "Homeless people present medically as 25 years elder their calendar year," she said.
There were signs of people building bridges between what can sometimes seem like warring factions within San Francisco.
A group of venture capitalists said they had organized a program to try to help two distressed groups of people: restaurants in need of customers and revenue, and hospital workers in need of hot meals. Tech industry workers and executives are donating money.
"I've found my friends in the tech community to be really, really giving, but sometimes they just don't know how," said Ryan Sarver, one of the organizers.
He said the meal program began over the weekend after a conversation with a friend who works in an emergency room. "Between the shutdown, child care at home and the stress and long hours, they don't have time to take care of themselves," he said. "It felt like there was an opportunity there to bring everyone together."