Could Zika become the next Ebola? Top public health experts say the fast-spreading virus has caught the world unprepared again and they are urging quicker action to stop what could become a devastating epidemic of a new disease.
Top health officials gathered to brief President Barack Obama Tuesday about the virus, while two experts on international health matters accused the World Health Organization of acting far too slowly in raising the alarm about Zika.
At the top of everyone's mind is the ponderous response to Ebola. WHO officials have admitted several times they were too slow to act when Ebola started to spread in Guinea, Sierra Leone and Liberia. More than 28,000 people were infected and more than 11,000 died.
"I think that's why you see people jumping all over the Zika problem right now," said Dr. Tony Fauci, head of the National Institute of Allergy and Infectious Diseases.
"It's past time to act. It's past time now just like it was with Ebola," said Dr. Daniel Lucey of Georgetown University's O'Neill Institute for National and Global Health Law and the university's medical center.
In a commentary published Wednesday in the Journal of the American Medical Association, Lucey, along with Lawrence Gostin, who directs the O'Neill Institute at Georgetown, wrote, "WHO is still not taking a leadership role in the Zika pandemic."
"It's past time to act. It's past time now just like it was with Ebola."
Brazilian health authorities first started raising the alarm about Zika late last year. The virus had not been considered a problem, causing symptoms in only about 20 percent of people infected and then almost always very mild symptoms.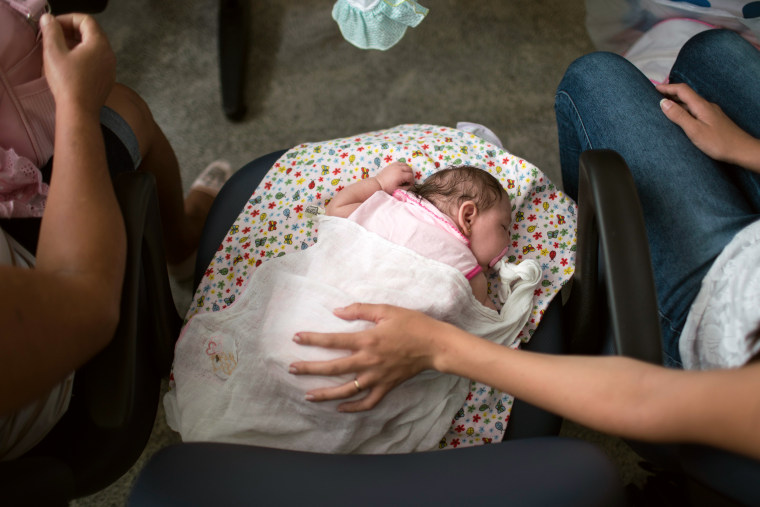 It arrived in Brazil last May. A few months later, doctors started reporting an unusually high number of cases of microcephaly, in which babies have underdeveloped brains and small heads. They often die and if not, they're disabled for life.
Related: More Countries Report Zika Virus — as Some Airlines Offer Refunds
Brazil declared a national health emergency in November, but WHO and its western hemisphere section, the Pan American Health Organization or PAHO, have said only circumstantial evidence links Zika with the birth defect. It had not been seen in previous outbreaks.
The U.S. Centers for Disease Control and Prevention expressed some doubts about the links in November and December, but after Brazil reported more than 3,500 cases of microcephaly, and after a few babies with the condition also turned out to have Zika, CDC issued a travel advisory January 15 suggesting pregnant women reschedule travel to affected countries.
Zika's currently circulating in two dozen Latin American and Caribbean countries and travelers have shown up in several U.S. states with infections.
CDC's now scheduled two studies in Brazil: one looking at whether Zika might cause a paralyzing neurological condition called Guillain-Barre syndrome and another looking at microcephaly.
El Salvador's government has advised women to delay getting pregnant for two years, a problematic advisory in a Catholic country where birth control is often frowned on. Brazil's rolling out more than 200,000 troops to help control the Aedes aegypti mosquitoes that spread Zika as well as the dengue, yellow fever and chikungunya viruses.
WHO and PAHO said this week they expect Zika to end up in every western hemisphere country that has Aedes mosquitoes — which is everywhere but Chile and Canada.
"Are we going to have an epidemic of microcephaly nine months from now?" demanded Dr. Peter Hotez, dean of the National School of Tropical Medicine at Baylor College of Medicine.
WHO continues to stress what isn't known about Zika. But viruses often surprise even researchers who thought they knew all about them.
"You never say never and you never say always," Fauci said.
The evidence about microcephaly and perhaps other birth defects have "altered the equation", Gostin and Lucey said, making research on a vaccine an urgent matter.
"A safe and effective Zika vaccine is probably three to 10 years away even with accelerated research."
"A safe and effective Zika vaccine is probably three to 10 years away even with accelerated research," they noted.
Gostin and Lucey asked WHO director general Dr. Margaret Chan to at least call a meeting of the WHO committee that declares public health emergencies of international concern.
"We need harmonized international guidance for travelers, especially women who are pregnant. Why is she not doing this?" asked Lucey, who himself traveled to Liberia to help treat Ebola patients.
WHO has called a briefing of member states for Thursday but not a meeting of the coordinating committee.
Many reports have slammed WHO's response to Ebola in West Africa, saying the agency acted too slowly to declare an emergency and get help mobilized.
WHO didn't declare a global health emergency for Ebola until August 8, months after a true epidemic had started. The effects of the epidemic were worsened by the lack of a coherent health system in the affected countries, by poverty and by the lingering consequences of war.
Gostin says WHO and its member states should already be acting to prevent such a thing from happening again.
"The International Health Regulations require every country to develop core health system capacities, but most fail to meet international standards. To ensure national preparedness for Zika, countries — including the United States — should fund and adopt these strategies," he and Lucey wrote.
"In my view serious and deep preparation is always essential," said Gostin, who also directs the WHO Collaborating Center on Public Health Law & Human Rights. "The public will tolerate too much preparation. They won't tolerate a big public health threat on our shores."
One important move would be to fight the Aedes mosquitoes that spread so many diseases, Gostin said. They're found in tropical and subtropical zones from the southern United States, across the Caribbean and into much of South America.
"The important thing is that we don't keep fighting the last war. Instead our preparations need to be an 'all hazards' approach. If we did the right things with dengue, particularly in terms of mosquito control, that too will help with Zika."