A year after he got a face transplant, Patrick Hardison is driving, swimming with his kids and walking down the street without fear of getting stared at.
His successful recovery has surprised even his surgeons, who hope they're getting better at the tricky transplant procedure.
"There are no more stares, no more frightened children running away from me. I'm pretty much just a normal guy," Hardison, 42, told a news conference Wednesday.
"My life has changed and it's been renewed."
Hardison was a firefighter in 2001 when the burning roof of a house collapsed on him, causing extensive burns and injuries.
Related: Firefighter Adjusts to New Face
He needed breathing and feeding tubes and had no eyelids, so his vision deteriorated. The team at New York University's Langone Medical Center undertook the long and difficult transplant last year. Hardison's been through months of tweaking it.
"The road to recovery has been long and hard. But if I had the opportunity to do it again, I would in a heartbeat," Hardison said.
"My eyelids and my ability to blink have helped greatly to improve my vision. I can now see to drive," he said. Taking his children to school has become a great pleasure, he said. "In fact, my family and I took a trip to Disney World this past June and I swam in the pool with my children for the first time in 15 years," he added.
"I sleep better ... My life has changed and it's been renewed."
Related: See Zion Harvey and His New Hands
"We are amazed at Pat's recovery, which has surpassed all of our expectations," said Dr. Eduardo Rodriguez, who heads the plastic surgery department at NYU Langone.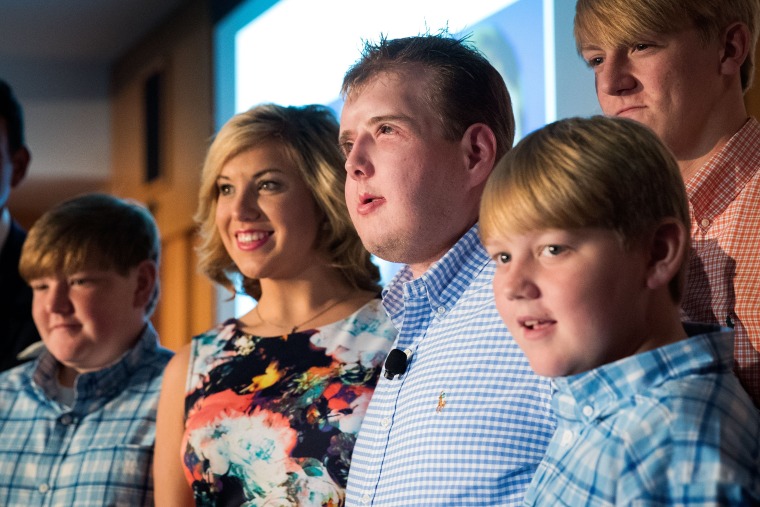 Surgeons have learned from the process, Rodriguez said.
"We have entered a new era in transplant surgery," he added. "The work being done, not only in face transplantation, but also in areas like hand, uterine and penile transplantation, is pushing the boundaries of medicine and surgery and opening up new avenues to restore the lives of people like Patrick. It's a very exciting time."
Not everyone has been so lucky. Charla Nash, who got a face transplant in 2011 after a vicious chimpanzee attack, has suffered severe rejection and was hospitalized in May.
Related: Charla Nash Opens Up About Her Face Transplant
But Hardison said it's well worth trying.
"Now, I want to help others to pursue this type of surgery, especially fellow firefighters and members of the armed services. There definitely is hope," he said.
Hardison now plans to meet the family of his donor, David Rodebaugh, to thank them for their decision to donate his face, as well as other organs to other recipients.
"With many successful transplants, there is a donor or donor family that makes these altruistic gifts possible, at the most trying time in their lives," said Helen Irving, president and CEO of organ recovery organization LiveOnNY.
"We look forward to arranging their meeting."