Face transplants can transform the lives of patients who need and get them, but doctors who have done several now say they have started to notice a troubling trend: patients are losing bone and muscle in their faces.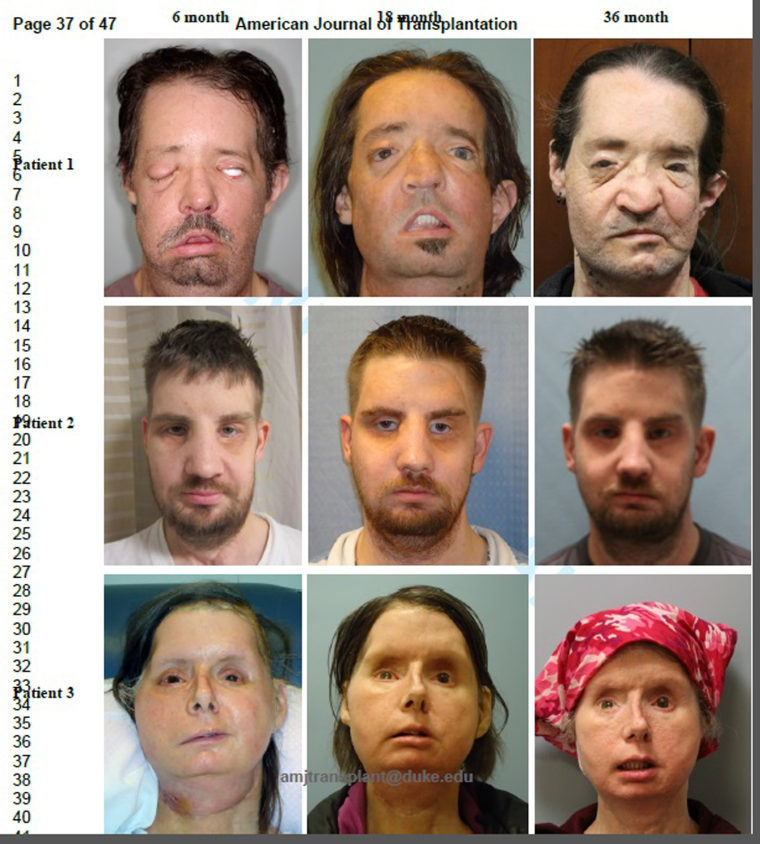 It looks like accelerated aging, causing the face to sag, a team led by Dr. Bohdan Pomahac of Brigham and Women's Hospital and Harvard Medical School reported.
They're not completely sure why it's happening, but some of the patients have started to lose bone in their skulls, the team reported in the American Journal of Transplantation. They reported on two men and a woman who got transplants in 2011.
They lost, on average, close to 20 percent of their volume within three years of the transplant, Pomahac said.
"There has been significant shrinkage or atrophy of the bone. That was the surprising part," Pomahac told NBC News.
It's not clear whether it's due to the use of immune-suppressing drugs, if the body's rejecting the transplants despite the drugs, or whether something else is going on, he said. "We are now at the stage where we are trying to describe what we are seeing and analyze it," he said.
"I think we have to admit we are a little bit puzzled by it."
The loss of muscle is not surprising, said Pomahac, whose team has done seven face transplants and two double hand transplants. Surgeons cannot connect every single nerve and muscle that's not stimulated by nerve impulses will wither.
While the results resemble aging – the jawline and eyes sag, for instance, it's clear the tissue is not aging, Pomahac said.
Related: Firefighter Adjusts to New Face Transplant
He said the patients themselves have not complained. "We definitely have not heard from the patients," he said. "They look quite different now (but) I would say they look better over time compared to what they started with."
Fewer than 30 people around the world have had face transplants but Pomahac said there's no doubt they are worth doing.
"We make a big difference in patient's lives," he said. "One went to a daughter's wedding. There is a great improvement in the quality of their lives."
But, the team noted, surgeons need to figure out how to stop the long-term effects.
"Countermeasures to reverse, delay or even prevent muscle and bone atrophy in facial allotransplants will help improve outcomes in the future," they wrote.