A New York woman with coronavirus symptoms died last week after being prescribed a drug cocktail with known cardiac side effects, and family members say she was not tested for COVID-19 or for heart problems before receiving the medication.
The family's experience suggests that at least some physicians are prescribing hydroxychloroquine and azithromycin — drugs President Donald Trump has promoted to treat the coronavirus — outside of hospital settings, underscoring why major medical organizations including the American Heart Association have issued warnings about the drug's potential to trigger heart arrhythmia in some patients.
In early April, Ligia, a 65-year-old Queens resident, was given the drug by her general practitioner after she reported having a bad cough, fever and shortness of breath. Ligia's last name is being withheld on the request of her children.
While Ligia's symptoms were consistent with those of COVID-19, the illness caused by the coronavirus, she was never tested for the virus, her brother-in-law, Lee Levitt, told NBC News. Ligia received the drug after speaking by phone with her doctor, Levitt said. She was never evaluated in person and received no heart screening or warning about the potential side effects.
"It was handed over like a bag of cookies," Levitt said.
NBC News made two attempts to reach Ligia's doctor for comment. A man who answered the office phone and identified himself as the doctor then said there'd been a misunderstanding and offered to take a message.
Levitt acknowledged that the family does not know that the drug caused Ligia's death. The family has not received a death certificate.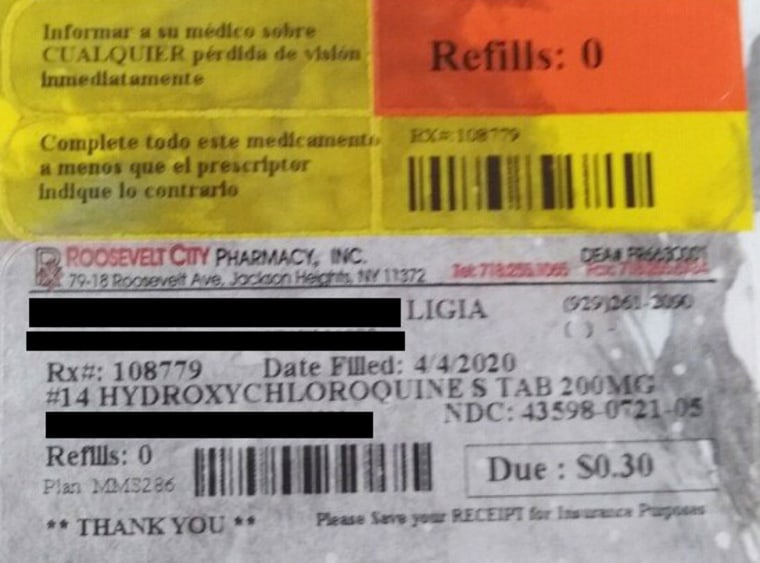 Trump's promotion of hydroxycholroquine, often in televised White House briefings, has led to a surge in demand even though it hasn't been approved by the Food and Drug Administration for the coronavirus and doctors say its effectiveness is inconclusive. The drug is typically used to treat malaria and lupus. Azithromycin — better known as a Z-pack — is an antibiotic.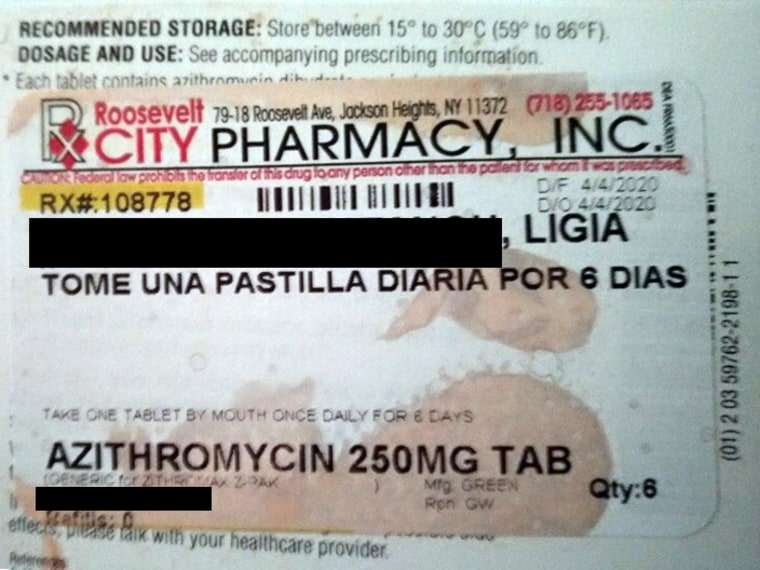 Since March 19, Trump has frequently touted the drug during his daily news conferences. On March 21 he even tweeted that the drug combination could be "one of the biggest game changers in the history of medicine." In one three-day period last month, the liberal watchdog group Media Matters says it found over 100 mentions of hydroxychloroquine and chloroquine on Fox News, which Trump often watches.
The fanfare around the untested drug combination raised alarms among U.S. cardiologists. In an interview with NBC News last week, cardiologist Michael Ackerman of the Mayo Clinic warned physicians may be prescribing the drugs without pre-screening the cardiac health of patients.
Ligia's story, Ackerman said Tuesday, showed the concerns were real.
"We knew that there would be either unawareness of, disregard to, or disrespect for the drug-induced cardiac effects, he said, and that even "well-intended efforts to treat COVID-19 could in fact cause the patient's sudden death."
"Unfortunately, we may have been proven correct already," he said.
Ligia filled her prescription on April 4, four days before the American Heart Association and American College of Cardiology issued guidance for physicians prescribing hydroxychloroquine and azithromycin. The AHA, in its guidance, urged caution given that "each have potential serious implications for people with existing cardiovascular disease," including increased risk of sudden death. The effect of the two combined has not been studied, the AHA stated.
Ligia was diabetic and had high blood pressure but no known history of heart disease, Levitt said.
After taking three doses of the drug combination, Ligia suffered cardiac arrest early on the morning of April 7, and died before paramedics could reach her. Her 40-year-old daughter, guided over the phone by emergency medical technicians, had tried unsuccessfully to revive her.
About the same time, the daughter of one of Levitt's co-workers who tested positive for COVID-19 was prescribed the same drug cocktail despite a history of heart problems.
Lynn Donawald happened to call Levitt the morning after Ligia's death.
Donawald's 32-year-old daughter, who had recently been diagnosed with myocarditis, an inflammation of the heart muscle, was given the prescription by a telemed doctor she'd never seen her before and who asked no questions about her underlying health conditions, Donawald said.
Donawald recalled her conversation with Levitt, which took place as her daughter's husband was en route to fill the prescription.
"Stop. Stop him right now," Levitt told Donawald, who hung up and immediately called her son-in-law.
"When I called Lee back he was sobbing, telling me the story about his sister-in-law who had died during the night," said Donawald, whose daughter is now recovering from the virus. The daughter declined NBC's request to identify the doctor.
Levitt said he believed it was essential for families to speak out publicly about the dangers associated with taking the drug.
"If nobody is willing to stand up and say 'This drug killed my loved one,' then others will assuredly die as Ligia did," Levitt said. "It's basically a game of Russian roulette; we don't know who can tolerate the drug and who can't."
It is unclear how many Americans have been given prescriptions for hydroxychloroquine and azithromycin and its potential for treating COVID-19 is still being explored. Scientists have warned of major flaws in an initial study suggesting the drug might be effective in treating the illness, and the journal that published the study announced on April 3 that it did not meet its standards.
More recently, a study of 150 hospitalized patients by doctors at 16 centers in China found hydroxychloroquine did not help patients better than standard care and was much more likely to cause side effects. While the World Health Organization and labs in numerous countries are conducting larger clinical trials, the drug's efficacy remains anecdotal. Still, the FDA granted an emergency use approval late last month to distribute millions of doses of the drugs to hospitals across the country, to be used specifically in hospitalized patients.
The Donawald and Levitt family stories show the drug is being administered outside the hospital setting.
"This is happening," Donawald said. "Not once did they ask if my daughter had heart conditions or any underlying ailments. They were just focused on the fact that she was positive" for COVID-19.