The Food and Drug Administration approved a new pill Tuesday that can track whether people have taken their medications — and report back to the patient or the doctor.
The idea is to help people remember to take their pills, but some critics are already calling it a "biological Big Brother" and are suspicious because the drug it's combined with treats mental illness.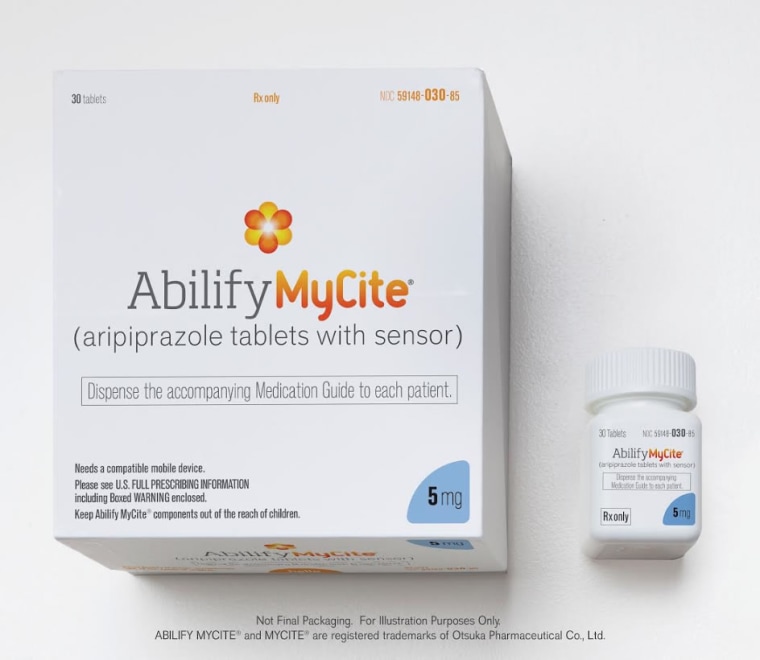 "The product is approved for the treatment of schizophrenia, acute treatment of manic and mixed episodes associated with bipolar I disorder and for use as an add-on treatment for depression in adults," the FDA said in a statement.
Dr. John Torous, a psychiatrist at Beth Israel Deaconess medical center and Harvard Medical School, said many patients will welcome the new pill.
"Most people with schizophrenia want to feel better. They want to be able to hold jobs. They want to be able to function well," he said.
Related: Too Many People Stop Taking Heart Drugs
Some critics worried whether such a high-tech approach is necessary. "Interesting, but isn't a plastic pill organizer more cost effective? At the end of a week/month you just count how many you missed!" Dr Richard Rathe, a family medicine specialist at the University of Florida, asked in a post on Twitter.
But patients often stop taking drugs because of side-effects, such as foggy thinking, Torous said. Then they can get into trouble. "They may not be able to reach out to their care team in time," he said. "This could be used as an early warning system to help provide small corrections to help patients before they go too far off."
But the FDA also notes that the drug's maker, Otsuka Pharmaceutical Co., has not shown that people using the special pill are more likely to take their drugs.
And Torous is worried about misuse. "You cannot ignore the ethical issue here," he said.
"That is going to require a lot of active collaboration between the patients, between clinicians, between insurers and policymakers to make sure this technology isn't used to spy on people, to coerce them."
The pill delivers a drug called Abilify, known generically as aripiprazole. It includes a tiny sensor that transmits to a wearable patch, which in turn can transmit to a smart phone. Patients can decide whether to share data via a secure web portal to their doctors.
The company says the sensor is the size of a grain of sand and "is made up of ingredients found in food".
It's taken a while to approve. The FDA said no to Otsuka's first application in April of 2016, saying it needed more information.
Patients with schizophrenia and bipolar disease often have trouble remembering to take their medications or may not wish to take them, in part because of side-effects.
"The approval of Abilify Mycite, the first digital medicine system, means that for the first time in my years of experience as a psychiatrist, there is an innovative way to provide individuals with serious mental illness, and selected members of their families and care teams, with information on objective medication taking patterns to help inform the patient's illness management and personalized treatment plan," Dr. John Kane, chairman of the psychiatry department at Hofstra/Northwell in New York, said in a statement released by Otsuka.
"This information allows the opportunity for an open dialogue with the patient."
The issue of compliance — whether patients take their drugs — is a big one. People report skipping medications because their prescriptions are expensive, and doctors complain people stop taking pills because they have conditions that don't cause clear symptoms, such as high blood pressure.
Trackers pills could help solve this problem and alert doctors to patients who may not want to admit they've been skipping medications for various reasons.
Arthur Caplan, a bioethicist at New York University, is worried about what else companies might track.
"It's nice to keep track of taking your pills but what else are you keeping track of?" he asked.
"We need some rules about what you can collect."
And, Caplan noted, the pills don't address another problem.
"It could set up a more hostile environment between doctors and patients," he said.
"It is one thing to be able to lie to your doctor. It is another thing to be called a liar or be yelled at. It sounds amusing but doctors are going to have to learn how to manage non-compliant behavior in a way they haven't had to do before."