Federal advisers voted Thursday to recommend approval of the first prescription cannabidiol medicine — to treat rare and severe forms of epilepsy.
The advisory committee to the Food and Drug Administration unanimously voted to recommend approval of the drug, known as Epidiolex.
Cannabidiol — CBD for short — is a cannabis derivative and the approval would be limited to treating seizures caused by Lennox-Gastaut syndrome and Dravet syndrome in patients aged 2 and older.
"Epidiolex represents hope for the many individuals living with intractable seizures and rare epilepsies, who every day face incredible challenges and disabling seizures, and live with the continual risk of serious injury and death," said Philip Gattone, president and CEO of the Epilepsy Foundation.
The internet is awash in CBD products. It's being sold as a sleep aid and cancer cure, pain medicine and anxiety reliever. Most of the claims are unsubstantiated by careful medical studies and have become so blatant that the FDA has issued warnings to companies that make them.
This product is different.
A British company, GW Pharmaceuticals, has gone through the testing necessary to be considered for FDA approval.
Its carefully formulated syrup-like oral medicine will have to be made under guidelines, called good manufacturing practices, so that buyers can count on getting what is supposed to be in the bottle.
"It's incredibly important as a physician prescribing to patients that we know what we're giving them and we know we give them one month will be the same that we give them three or six months later," said Dr. Orrin Devinsky, director of NYU Langone Epilepsy Center.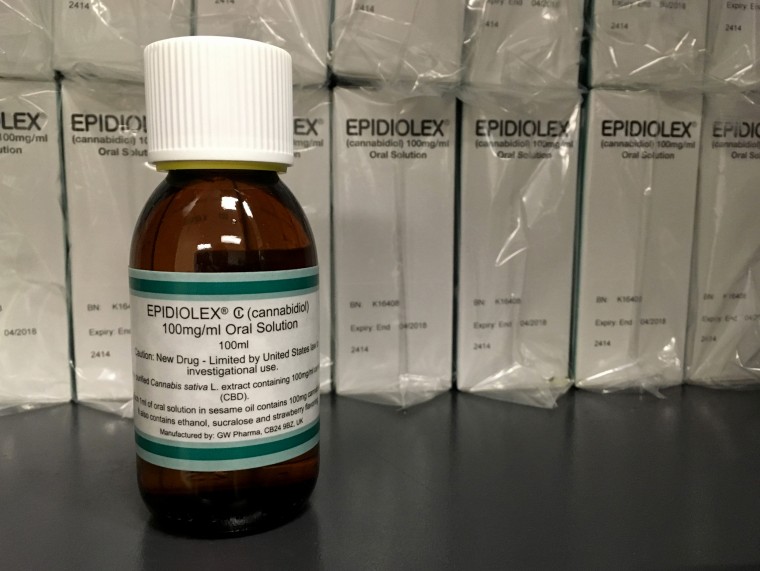 "It's very important to highlight that the drug used in this study, cannabidiol, was derived from cannabis plants, and purified to 99 percent purity," Devinsky told NBC News.
"This is not something you can get from a dispensary today in the United States. It's not something that you can get by smoking marijuana. It is a very specific pharmaceutical grade product derived from marijuana, but quite different than what is available anywhere else right now in the United States."
The FDA has indicated that it would approve the drug. Although doctors may prescribe any FDA approved product as they see fit, the recommended use for this particular product is very limited.
"Both by Lennox-Gastaut syndrome and Dravet syndrome are rare, severe, refractory epilepsy syndromes with onset in early childhood," the FDA said.
It's not clear how or why CBD works, but studies show it does, the FDA said.
"The results from these three studies provide substantial evidence of the effectiveness of CBD for the treatment of seizures associated with Lennox-Gastaut syndrome and Dravet syndrome (LGS and DS)," the FDA said in briefing documents given to the advisory committee ahead of Thursday's meeting.
"In general, the risks associated with CBD treatment appear acceptable, particularly given the findings of clinical efficacy in LGS and DS, which are serious, debilitating, and life-threatening disorders."
The panelists heard from desperate parents, including Lisa Smith of White Stone, Virginia, whose teenaged daughter Haley has Dravet Syndrome and has suffered thousands of seizures.
"By the time she was 14, she had tried and failed 17 medications and combinations of them. The doctors said there was nothing left," Smith, an activist for the legalization of marijuana-based medicines, told the panel.
"So what do you do, when you have a 14-year-old, and there was nothing? They said they'd prescribe CBD only if they wouldn't be arrested."
Dravet syndrome is a very rare and often deadly form of epilepsy caused by a genetic mutation. These kids have multiple, prolonged seizures that cause brain damage. Lennox-Gastaut syndrome is also rare, causes various types of seizures and can also cause severe cognitive impairment.
Devinsky has seen how CBD works.
"There are some children I take care of who are literally wheelchair-bound, having hundreds of seizures a day on high doses of other medicine and who are either sleeping or seizing most of their life," he said.
"Some of these children are now out of the wheelchair running around, kicking soccer balls, going to school -- able to enjoy life with their family. It has been an amazing transformation for some of these children."
Doctors are interested in also trying CBD to treat autism, anxiety, inflammatory and autoimmune disorders.
It's different from medical marijuana, because it does not contain THC, the compound that causes the most notable effects of marijuana used recreationally.
Medical marijuana is legal in 29 states, as well as in Guam and Puerto Rico. Studies have shown that it can have some benefits in reducing anxiety, counteracting some types of nausea, and that it may relieve some symptoms of glaucoma and multiple sclerosis.
And the FDA has approved several marijuana-based products, including the synthetic formulation Marinol, prescribed to treat severe appetite loss and nausea in conditions such as AIDS.
Separately, the Centers for Disease Control and Prevention reported Thursday that epilepsy is becoming more commonly reported in the U.S. Three million adults report they have epilepsy, up from 2.3 million in 2010.