The Food and Drug Administration launched an ad campaign Tuesday aimed at scaring teenagers away from vaping using snark and special effects.
The unusual campaign, which FDA officials described as "irreverent," will target teens on social media and even in school bathrooms while staying below the radar of adult smokers who might want to use e-cigarettes as a way to help them quit.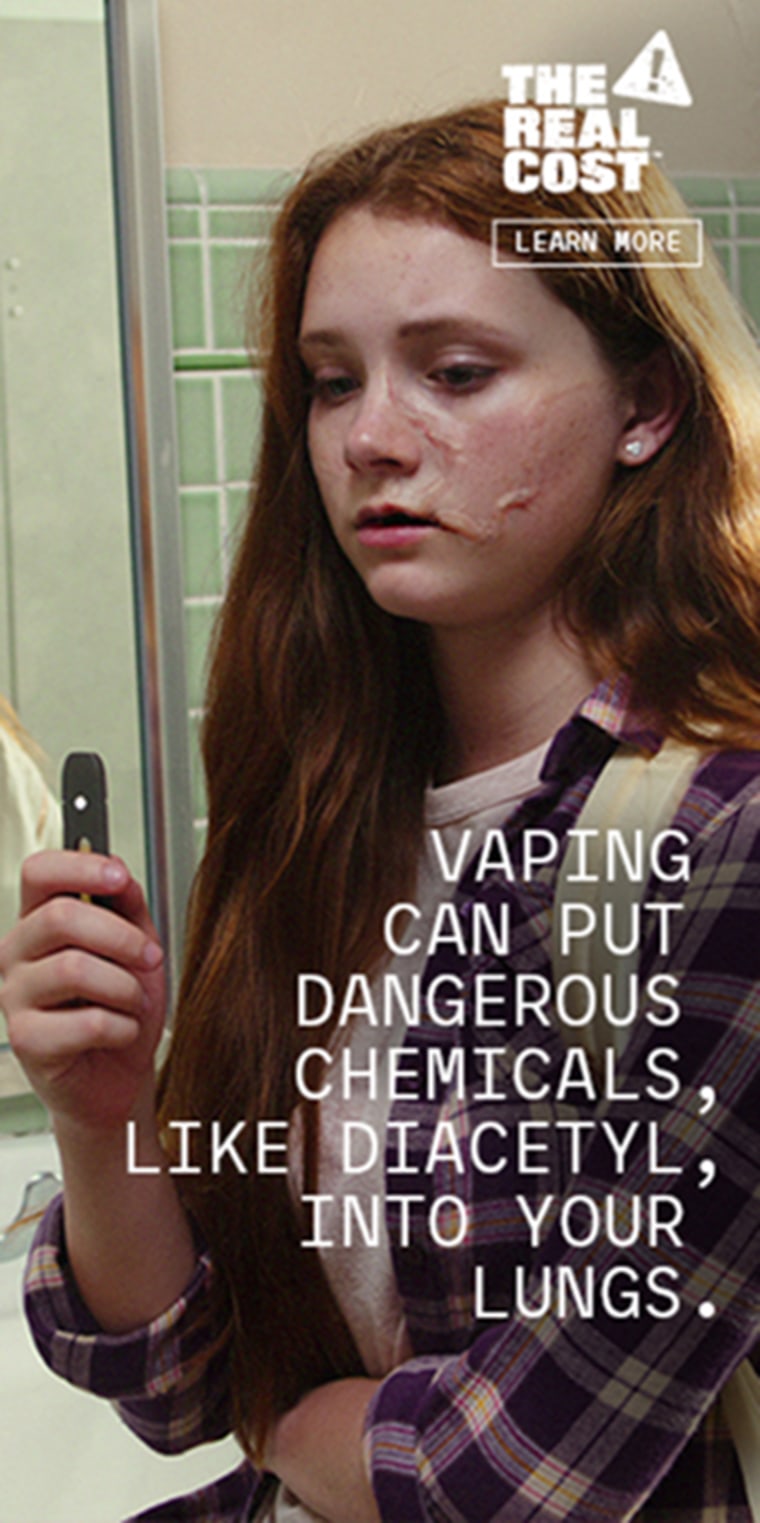 The message: e-cigarettes deliver nicotine to addict you, and toxins that could have unexpected health effects.
"We are acting on very clear science that there's an epidemic on the way," FDA Commissioner Dr. Scott Gottlieb told a gathering of "stakeholders" interested in tobacco control.
The FDA and other health agencies also took a strong stand on where they come down on e-cigarettes, calling them a tobacco product.
"E-cigarettes are now the most commonly used tobacco product among young people in the United States," Mitch Zeller, director of the FDA's Center for Tobacco Products, said at the event.
"We need to get the word out about the dangers of e-cigarette use among adolescents."
Last week, the FDA called e-cigarette use among teen an epidemic, and gave the five major makers two months to come up with a plan for keeping their products out of the hands of teens. The FDA also threatened to ban flavored vape products, saying that flavors such as mango and bubble gum were clearly aimed at hooking teens.
The Centers for Disease Control and Prevention also says vaping is unsafe, delivering addictive nicotine, which can harm the adolescent brain, as well as heavy metals such as lead and other potentially damaging chemicals.
Teen use of e-cigarettes has risen from about 1.5 percent of high school students in 2011 to 12 percent in 2017, the CDC says. In 2017, 2.1 million high school students used e-cigarettes. More than 3 percent of middle school students said they had recently used an e-cigarette.
Gottlieb said the numbers have risen even more in the past year. "We're in possession of data that shows a disturbingly sharp rise in the number of teens using e-cigarettes in just the last year," he said.
"We've had to start taking some actions before the final results of this data can be made public. We will make these results public very soon. But we have an obligation to act on what we know. And what we know is very disturbing."
Thus the ad campaign, the FDA's Kathy Crosby said. It includes "snarky and irreverent" posters in school bathrooms, she said, with messages such as "Strangely enough, some kids come here to put crap into their bodies".
Other ads will go to social media channels such as YouTube, with geotargeting to try to focus on users aged 12 to 17 while they are in school. Ads will also go onto websites used by students to see their grades or get assignments, Crosby said.
"When teens are on a break, during lunch, when they actually pull up a video on YouTube, they'll get served our ad," she said.
The ads depict nicotine as crawling through the bodies of teenagers, disfiguring their faces. Previous research on anti-smoking ads has shown that teens are more affected by threats to their appearance than by threats to their health.
Crosby said the ads were shown to focus groups, including a group of adult smokers who want to quit. She said they made these smokers cautious about trying e-cigarettes as an aid to stop smoking combustible cigarettes, so the FDA will not be running the ads on mainstream media such as television.
Gottlieb, who once served on the board of directors for vaping retailer Kure, said it's still possible that e-cigarettes provide a less deadly alternative for adult smokers.
"To be clear, the FDA remains committed to the idea that e-cigarettes have the potential to help adult smokers transition away from combustible cigarettes," he said.
"But we may have to narrow the off-ramp for adults to close the on-ramp for kids."
Gottlieb said the FDA, which can regulate e-cigarettes but has not exercised this full power yet, would explore ways to make tobacco products less toxic, less addictive and less appealing.
"We'll examine flavors and designs that appeal to kids and child-resistant packaging and product labeling to prevent accidental child exposure to liquid nicotine," he said.