The Food and Drug Administration released its long-awaited plan Thursday for regulating e-cigarettes and other tobacco products — and says it will ban their sale to anyone under 18.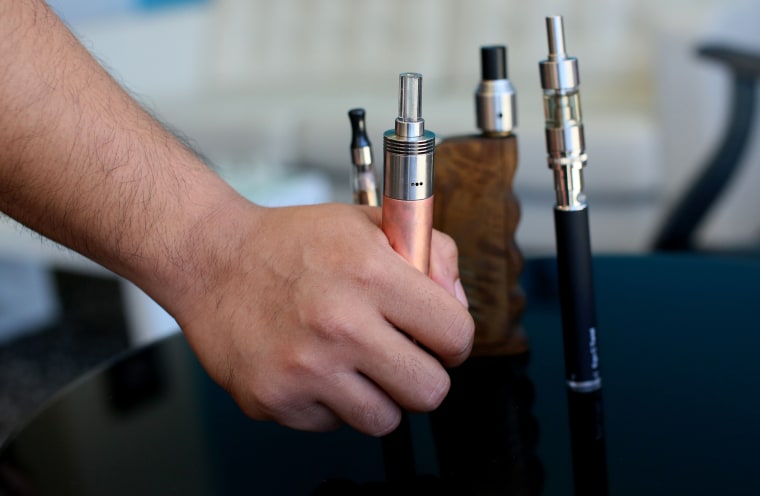 The sweeping new rule gives FDA authority to regulate — but not to ban — all tobacco products, from e-cigarettes to cigars and hookahs.
Anti-tobacco advocacy groups had feared the FDA would exempt cigars from the final rule, which will be open for public comment before it becomes final.
"The Wild West is starting to be over."
The ban on sales to people under 18 will take effect in August, 90 days after the rule is published. Other provisions will take years to put into place as the agency gives manufacturers and sellers time to adjust.
Under a 2009 law passed by Congress, the FDA can regulate, but not outlaw, cigarettes and roll-your-own tobacco. The new rules extend its authority to all tobacco products that FDA "deems" it may regulate.
Health and Human Services Secretary Sylvia Burwell said it's just a first step, but an important one.
"In the absence of federal restrictions, enforcement is uneven and in some cases non-existent," Burwell told a news conference.
The new rules mean no more free samples, and the products may not be sold in vending machines accessible to people under 18. E-cigarettes and cigars will have to carry prominent warning labels.
"This rule will help us tackle the alarming increase in youth use of tobacco products," FDA administrator Dr. Robert Califf told the news conference.
Related: Here's What You Need To Know About the New Tobacco Rule
"Tobacco use is a significant public health threat. In fact, smoking is the leading cause of preventable disease and death in the United States and responsible for 480,000 deaths per year," the FDA said in a statement.
"We cannot let enormous progress for a tobacco-free generation be undermined by products that impact our health and economy in this way," Burwell said.
E-cigarette makers have argued that their products are far less harmful than cigarettes are and say they provide an alternative that not only keeps people from using traditional tobacco products, but may even help them quit smoking.
"Youth use e-cigarettes more than any other tobacco product on the market today, serving as an entry point to more traditional tobacco products."
The FDA says it's happy to evaluate and regulate these claims. In the new rule, FDA notes that e-cigarettes may be less harmful than burnt tobacco, but says they're not completely safe. Plus, they can get people — especially children — addicted to nicotine.
"The jury is still out other than anecdotal reports about the role that e-cigarettes can play in helping smokers quit," said Mitch Zeller, who directs FDA's Center for Tobacco Products.
The most immediate concern is kids, the FDA said.
"While there has been a significant decline in the use of traditional cigarettes among youth over the past decade, their use of other tobacco products continues to climb," the FDA said.
Related: E-Cigarettes Deliver Harmful Chemicals
"A recent survey supported by the FDA and the Centers for Disease Control and Prevention shows current e-cigarette use among high school students has skyrocketed from 1.5 percent in 2011 to 16 percent in 2015 (an over 900 percent increase) and hookah use has risen significantly."
Flavored cigars are a special concern, Zeller said.
"What is stunning to us is today more teenage boys will light up a cigar for the first time than will light up a cigarette for the first time," Zeller told NBC News. More than half of the time, it's a flavored cigar.
Related: What's So Bad About E-Cigarettes?
Advocacy groups welcomed the rules, although they say they do not go far enough.
"The Wild West is starting to be over," said Robin Koval, CEO of the anti-tobacco Truth Initiative.
"Youth use e-cigarettes more than any other tobacco product on the market today, serving as an entry point to more traditional tobacco products and placing kids at risk to the harms and addiction of nicotine and other tobacco products," said Harold Wimmer, CEO of the American Lung Association.
"Ending the tobacco epidemic is more urgent than ever, and can only happen if the FDA acts aggressively and broadly to protect all Americans from all tobacco products."
"It's a critical first step but only a first step," said Matthew Myers, president of the Campaign for Tobacco-Free Kids.
Related: E-Cigarette Ads Target Kids, CDC Says
The groups want limits on sales of flavored cigars and e-cigarettes, saying they lure kids to try them. FDA said it would take on the issue of flavors later and will study the science of whether flavored e-cigarettes help smokers quit.
The FDA banned fruit- and candy-flavored cigarettes soon after the agency was given regulatory power over tobacco in 2009.
Myers says there are other loopholes in the rule.
"It does not restrict e-cigarette marketing, which often mimics tactics long used to market regular cigarettes to kids, nor does it take strong steps to prevent online sales of e-cigarettes and refill liquids to youth, despite studies showing many online vendors have inadequate age verification. The FDA must quickly develop follow-on regulations to address these challenges," he said.
It also does not address television advertising.
E-cigarettes contain nicotine and compounds such as propylene glycol, as well as water, to make a flavored mist that looks like smoke and that users can inhale like they would a cigarette.
Vaping has taken off in a big way, with sales hitting an estimated $3.5 billion. An e-cigarette product ranges from $10 to $120, depending on how many charges it provides.
One provision could potentially be rolled back. Congress voted to include a "rider" on future spending bills that would exempt "premium" cigars from FDA regulation. Congress has not voted through an intact appropriations bill since 2010, but it could happen.
"We are on record as opposing that rider," Zeller said. "There is absolutely no public health justification to exempt premium cigars."
The Smoke-Free Alternatives Trade Association said the rules will burden small businesses
"These new regulations create an enormously cost-prohibitive regulatory process for manufacturers to market their products to adult smokers and vapers," it said in a statement.
"It also limits access to the 40 million adult smokers in the U.S. yet to make the switch to vaping and cripples a multi-billion dollar job-creating industry, the majority of which are made of small businesses."