Tuesday was a bad day to be a dummy or a watermelon.
The annual Consumer Products Safety Commission fireworks safety demonstration on the National Mall should give anyone a healthy respect for the explosives. The CPSC team blows the heads, arms and hands off mannequins to demonstrate the dangers of everyday fireworks sold at stands across the U.S. in June and July.
The climax comes when an M-1000 firework blasts a watermelon into smithereens.
Fireworks accidents sent more than 11,000 Americans to emergency rooms last year, two-thirds of them in the weeks before and after the July 4 holiday, the CPSC said Tuesday.
The commission said 250 people on average end up in the ER with fireworks-related injuries every day in the month around July 4.
Related: 4th of July Fireworks Sales Hit New High
Most injuries are burns, and the fingers or hands are the most vulnerable as people handle bottle rockets, firecrackers and other explosives, the CPSC said in its annual report on fireworks injuries. But 900 of the bad injuries were from sparklers, which smolder at very high temperatures and which should not be given to small children, the CPSC said.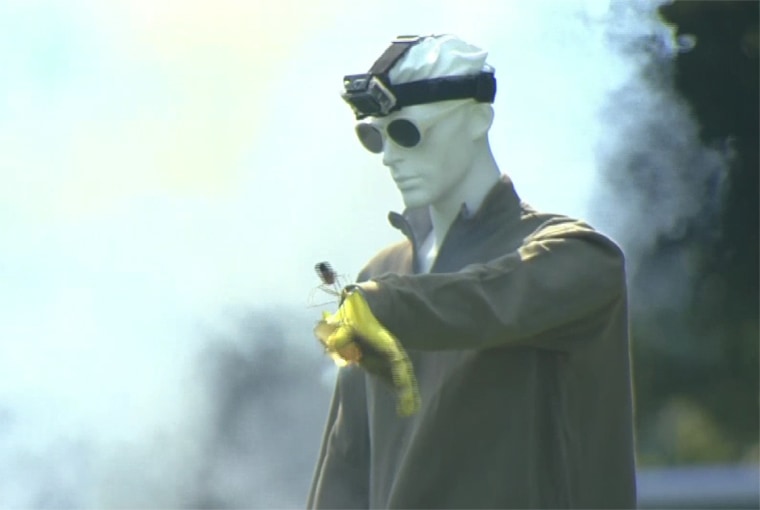 And horrific fireworks accidents killed at least four men last year, the CPSC said. One of them was 27-year-old Stephen Goodman of Douglas, Georgia — killed on New Year's Day 2016 when he put a rocket in a tube upside-down and set it off over his head. "The firework exploded from the bottom and struck the victim in the neck. The victim suffered a large laceration to his neck," the CPSC said.
The CPSC says 67 percent of the injuries happened when fireworks malfunctioned, going off too soon or blowing up in place or exploding sideways, for instance. A 28-year-old woman suffered burns over her chest when a friend lit a multiple-tube fireworks device and it fell over, shooting the blazing shells sideways, CPSC said.
Related: 31 Die When Fireworks Market in Mexico Explodes
But improper use of fireworks can also injure innocent bystanders.
"In Case 20, a 29-year-old male and his family were outside lighting fireworks. The family across the street was doing the same thing as well," the CPSC said.
"The neighbor family set up a mortar not on a flat level of plain but on a hill. The mortar fell over and shot across the street into the victim's yard, right next to one of the victim's young cousins. The victim picked his cousin up to shield her and the mortar went off," the CPSC report said.
"The victim suffered burns on the left side of his face and neck. Moreover, some of the embers from the firework got into the victim's left eye and caused blurred vision."
The CPSC's advice:
Never relight a dud. They can go off in your face
Don't buy unlicensed or illegal fireworks. They're more likely to explode unexpectedly
Don't let children light or play with fireworks
Light fireworks one at a time and step back from each one each time
Leave fireworks shows to the professionals