Pregnant women who got a flu shot were 40 percent less likely to end up in the hospital with a serious influenza infection, researchers reported Thursday.
The study of women around the world adds to a large body of evidence that shows the flu vaccine protects women and their babies both before and after birth.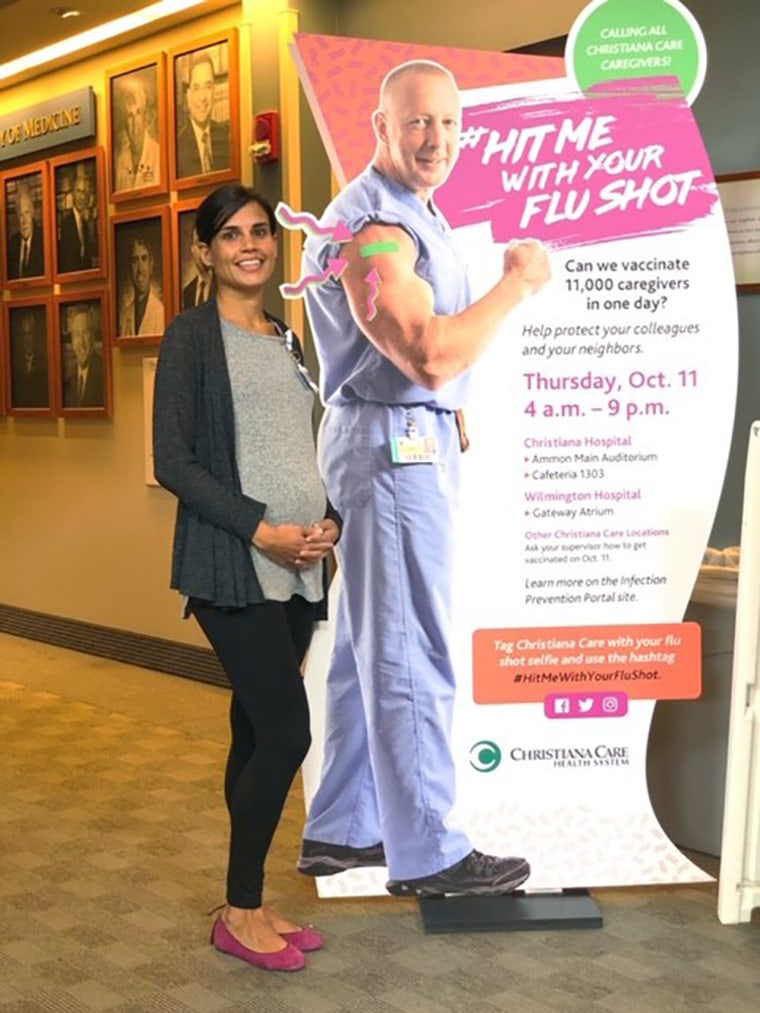 "Expecting mothers face a number of threats to their health and the health of their baby during pregnancy, and getting the flu is one of them," Allison Naleway of the Kaiser Permanente Center for Health Research, who worked on the study, said in a statement.
"This study's findings underscore the fact that there is a simple, yet impactful way to reduce the possibility of complications from flu during pregnancy: get a flu shot."
Pregnant women are high on the list of people who should get a flu shot every year.
"It is very important for pregnant women to get the flu shot," the Centers for Disease Control and Prevention says.
Pregnant women are often worried about getting vaccines, especially as they are cautioned against taking many medications that may affect the unborn baby.
"I've never got a flu vaccine. I know they push it a lot when you're pregnant. Being I've never had one before I feel like I probably wouldn't benefit from it & would have side effects.. idk I'm just nervous & don't know what's best," one expectant mother wrote in an online forum hosted by "What to Expect".
But the CDC notes that pregnant women are more likely to end up in the hospital or even to die from influenza, and also points out that vaccination during pregnancy can help protect a newborn too young to get a flu shot.
Nicole Harrington, a pharmacist at Christiana Hospital in Wilmington, Delaware, didn't hesitate to get a flu vaccine Thursday as part of a mass vaccination event. She's six months pregnant.
"I got the vaccine not only to protect myself but, more important, to protect my peers who I work with, and of course, my baby too," Harrington told NBC News.
It's Harrington's second pregnancy. "Even in pregnancy, I think it well worth the little pinprick to really protect ourselves," Harrington said.
Yet last year, just 35 percent of pregnant women in the U.S. recieved a flu vaccine by the beginning of November, the CDC found.
Naleway, along with Dr. Mark Thompson of CDC's influenza division and others looked at medical records covering 2 million pregnant women in the U.S., Canada, Australia and Israel between 2010 and 2016.
They found 1,000 women who had been hospitalized with flu-like symptoms and who had also been given an influenza test to confirm the diagnosis. Of those, about half actually tested positive for flu. Just 13 percent of them had been vaccinated, the study found.
In comparison, 22 percent of the pregnant women who tested negative for flu had been vaccinated.
After adjusting for age, season and other factors, the researchers said the vaccine lowered the risk of being hospitalized by 40 percent.
They also found a very low vaccination rate. Just 16 percent of the pregnant women overall had been vaccinated against flu, they reported in the journal Clinical Infectious Diseases.
Pregnant women are more vulnerable to several flu complications because their immune systems are suppressed, and because pregnancy affects the heart and lungs.
"Flu also may be harmful for a pregnant woman's developing baby. A common flu symptom is fever, which may be associated with neural tube defects and other adverse outcomes for a developing baby," the CDC says.
One 2017 study suggested that some pregnant women who got flu vaccines two years in a row might have had a higher risk of miscarriage. The CDC says it is still analyzing that study, which involved two specific flu seasons.
That study is an outlier, the CDC said.
"Multiple studies have shown that women who have gotten flu shots during pregnancy have not had a higher risk for spontaneous abortion (miscarriage)," the CDC adds. "Flu shots have been given to millions of pregnant women over many years with a good safety record."