The popular, needle-free FluMist influenza vaccine has not protected kids or adults against flu for years and should not be used this coming flu season, experts said Wednesday.
The surprise decision, sure to dismay children and needle-phobes, could also leave pediatricians short of vaccine, the Centers for Disease Control and Prevention said.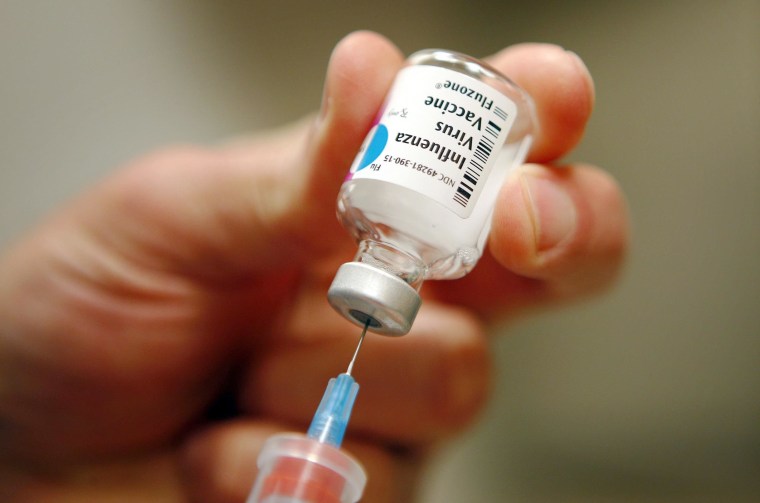 "Nasal spray flu vaccine accounts for about one-third of all flu vaccines given to children," CDC said in a statement.
Flu vaccines are different from most other vaccines. Their effectiveness varies from year to year and they must be made fresh each flu season to match circulating strains of influenza, which also change.
FluMist, made by MedImmune, uses live but weakened strains of flu virus to stimulate the immune system. It's sprayed up the nose and in some seasons it had been reported to be more effective than some injected vaccines.
"Nasal spray flu vaccine accounts for about one-third of all flu vaccines given to children."
But the Advisory Committee on Immunization Practices reviewed the data from the past few flu seasons and found it didn't work in recent years. In fact, FluMist was only 3 percent effective last flu season, CDC said.
"This 3 percent estimate means no protective benefit could be measured," the CDC said. It says it's not clear why it hasn't worked well.
Related: New, Boosted Flu Vaccine Hits Market
"In comparison, inactivated influenza vaccine (flu shots) had a vaccine effectiveness estimate of 63 percent against any flu virus among children 2 years through 17 years."
AstraZeneca, which owns MedImmune, said other research contradicts ACIP's and the CDC's findings.
"These findings demonstrate FluMist Quadrivalentwas 46-58 percent effective overall against the circulating influenza strains during the 2015-2016 season," the company said in a statement.
The CDC recommends that just about everyone should be vaccinated against influenza every year. Even when the vaccines on the market do not work perfectly, vaccinated people are less likely to get severely ill and die from flu.
"How well the flu vaccine works (or its ability to prevent flu illness) can range widely from season to season and can be affected by a number of factors, including characteristics of the person being vaccinated, the similarity between vaccine viruses and circulating viruses, and even which vaccine is used," the CDC said.
"CDC will be working with manufacturers throughout the summer to ensure there is enough vaccine supply to meet the demand," it added.
"Vaccine manufacturers had projected that as many as 171 million to 176 million doses of flu vaccine, in all forms, would be available for the United States during the 2016-2017 season. The makers of (FluMist) had projected a supply of as many as 14 million doses of nasal spray flu vaccine, or about 8 percent of the total projected supply."
AstraZeneca said it would continue making and distributing FluMist in other countries. "AstraZeneca is working with the CDC to better understand its data to help ensure eligible patients continue to receive the vaccine in future seasons in the U.S.," it said.
Related: Flu Vaccines 60 Percent Effective This Year
Flu usually hits the very young and the very old the hardest. Depending on the season, it kills anywhere between 4,000 and 50,000 people a year in the United States.
The flu vaccines on the market deliver a cocktail to protect against three or four strains of flu. It takes months to make flu vaccines and they have to be formulated freshly every year.
Six companies make flu vaccines for the U.S. market. They include shots with either three of four flu strains.