Foster Farms, a California poultry firm linked to a salmonella outbreak that has sickened nearly 600 people during the past year, is voluntarily recalling certain products sold in March after contamination was confirmed.
U.S. Department of Agriculture officials said late Thursday they had "conclusive evidence" linking Salmonella Heidelberg in Foster Farms chicken to an illness in someone who ate the meat. It's the first time the agency has been able to verify the pathogen in both chicken consumed and in a person with food poisoning.
Until now, the USDA's Food Safety and Inspection Service (FSIS) said there was no confirmed link to the tainted poultry and some 574 Salmonella Heidelberg illnesses in 27 states since March 2013.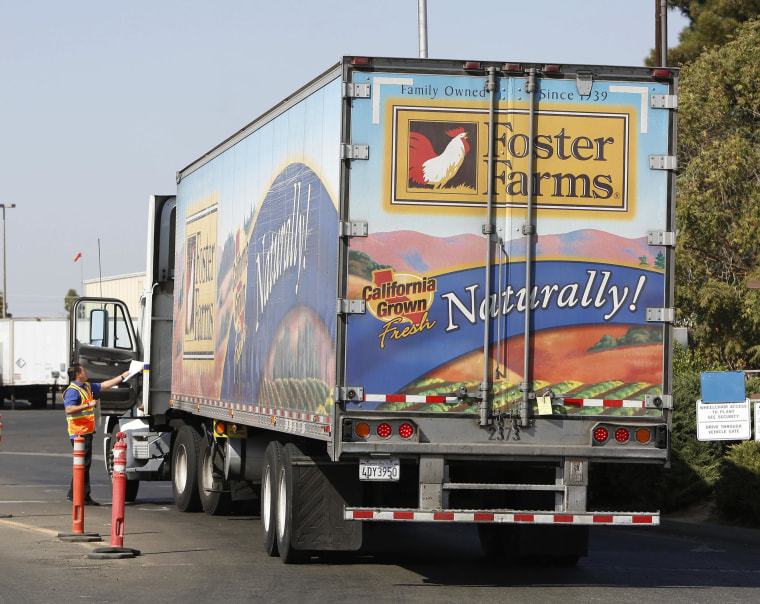 Given the new evidence, FSIS officials urged Foster Farms to recall all chicken parts produced during certain days at three of the firm's plants in central California. Foster Farms officials said the affected products have best-by dates of March 16 to March 29, 2014.
FSIS officials said the amount of chicken was undetermined, but the plants produce thousands of pounds of chicken daily.
FSIS said the illness was reported June 23 and that the chicken packaging was picked up the next day at the victim's home. Tests found a match for the outbreak strain of salmonella on Wednesday and the recall was initiated late Thursday, said Adam Tarr, an FSIS spokesman.
The recalled chicken is past its sell-by date, but some consumers may still have it in freezers, Tarr noted.
The recall includes chicken products sold in March with "use or freeze by" dates ranging from March 16, 2014 to March 29, 2014 and with plant codes P-6137, P-6137A, and P-7632.
It also includes some limited frozen Sunland chicken products that may be contaminated, Foster farms officials said in a press release. The products were distributed in California, Hawaii, Washington, Arizona, Nevada, Idaho, Utah, Oregon and Alaska.
The outbreak has included seven strains of Salmonella Heidelberg resistant to many of the common antibiotics used to treat the infections. Nearly 40 percent of those sickened have been hospitalized, according to the Centers for Disease Control and Prevention.