The stomach cancer that killed 9/11 survivor Marcy Borders is one of dozens of illnesses covered by a federal fund for survivors of the attack and disaster that followed.
But the fund runs out of money next year and one of the doctors who fought to get it established says he's worried.
"More than 33,000 9/11 responders and survivors have an illness or injury caused by the attacks or their aftermath."
Borders, 42, died Wednesday. She became known as the "Dust Lady" after a photograph showing her covered with finely ground debris from the World Trade Center collapse was seen around the world.
That dust was loaded with toxic chemicals, including asbestos, ground glass, lead, gypsum and calcite — all known to cause irritation and many of which can cause cancer and neurological damage.
After years of battles in which victims and survivors tried to get compensation for their health care, Congress set up a $4.2 billion fund to create the World Trade Center Health Fund in 2010. It covers people for health conditions that have been shown to be more common among people who were at Ground Zero during the collapse of the two skyscrapers.
However, it didn't cover cancer until 2012.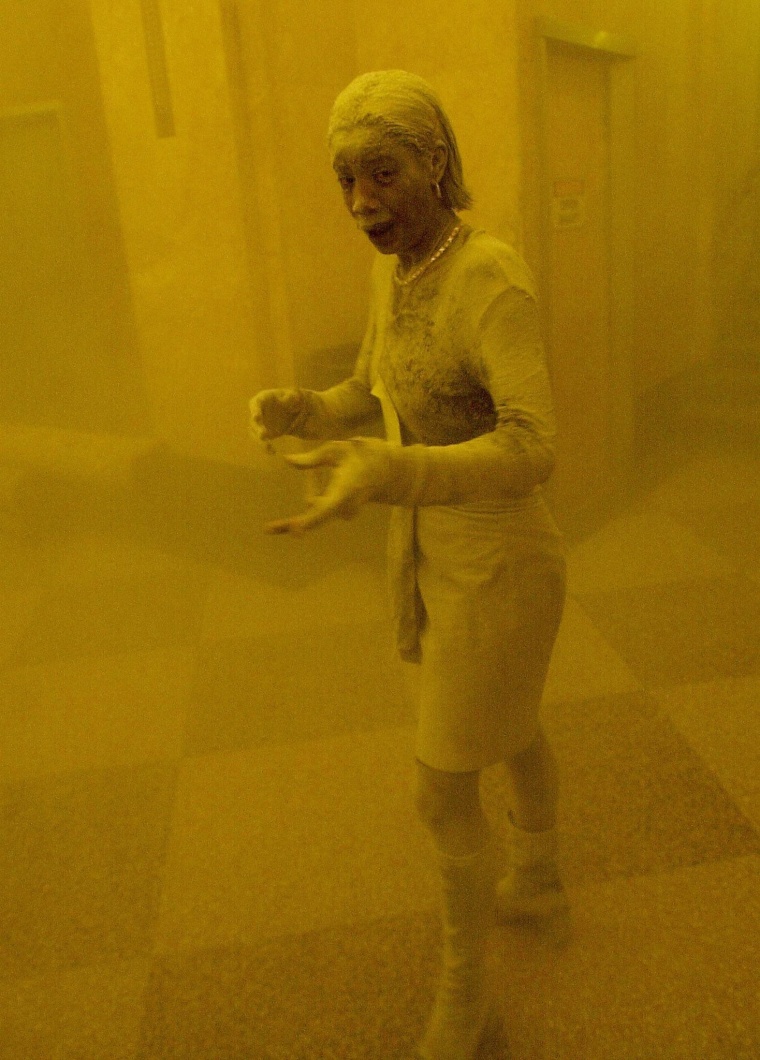 Dr. David Prezant, the New York City Fire Department's chief medical officer, helps head the fund. But the supply of money for the program runs out in just over a year.
"At that time, which is one year from now, there will be approximately 70,000 enrolled patients or persons or members ... who are in that program who have had documented exposures that were certified by the federal government who will no longer have coverage under that program unless it is re-certified," Prezant told NBC News.
"More than 33,000 9/11 responders and survivors have an illness or injury caused by the attacks or their aftermath, and over two-thirds of those have more than one illness," New York Senator Kirsten Gillibrand, a New York Democrat who's sponsoring renewal of the program, says in a statement on her website.
"Many are disabled and can no longer work. They are suffering from a host of chronic diseases: asthma, obstructive pulmonary disease, gastroesophageal reflux disease, cancer and many more, caused by exposure to toxins and carcinogens at Ground Zero."
Gillibrand and a large, bipartisan group of members of Congress in both the House and Senate are pushing to make the program permanent.
The program covers 50 different types of cancer, including stomach cancer, brain cancer and lung cancer. It covers asthma and other lung diseases such as pulmonary fibrosis, and it covers mental health conditions including depression and post-traumatic stress disorder (PTSD).
"They would say that they would do it all over again."
Prezant says 16,000 of those who are signed up are firefighters or emergency medical services personnel.
"Of our 16,000, we have thousands who have been certified by the federal government with at least one condition, typically lung disease, sinus conditions, gastrointestinal problems or PTSD," he said. "That's about 10,000 of our people who have at least one certified disease. Of that group, 1,100 have been certified as having a cancer."
Many more are likely to develop cancer, Prezant added. It can take years for some types of cancers to become apparent.
On 9/11 itself, 343 firefighters and paramedics died. Another 100 have died in the 13 years since — mostly from cancer, Prezant said. Three died on the same day last year.
And more than 2,000 have retired with related disabilities, he added.
Despite the risks, there are few regrets, Prezant said.
"They would say that they would do it all over again."