Genetically modified crops on the market are not only safe, but appear to be good for people and the environment, experts determined in a report released Tuesday.
But the National Academies of Sciences, Engineering, and Medicine are not just asking people to take their word for it. They're putting the evidence up on a website so skeptics — and they know there are plenty of them — can check for themselves.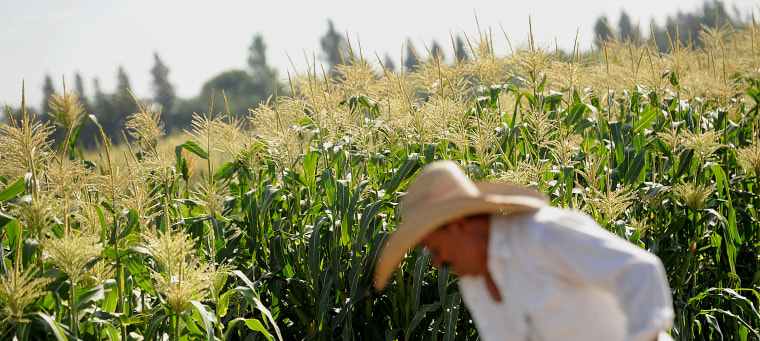 "You can't just continue to have an opinion without backing it up with data," said Fred Gould, distinguished professor of entomology and co-director of the Genetic Engineering and Society Center at North Carolina State University.
"Part of our approach here was to make this not just a report," added Gould, who chaired the expert committee that released the report. "This is all on a website. We hope that this report will open a conversation, not make some kind of a proclamation."
It's aimed not only at regulators, industry and other experts, but at the general public, as well.
"You can't just continue to have an opinion without backing it up with data."
"They really want somebody to say this is good or this is bad, we came to the conclusion that making any sweeping generalizations about genetically engineered crops is not appropriate," Gould told NBC News.
Perhaps surprisingly, given the huge debate over GMOs, only two types of genetically engineered crops are in wide use – one engineered to carry genes from a common bacteria called Bacillus thuringiensis (or Bt for short) that kills insects that eat it, and one that makes crops resistant to weedkillers.
But more than 90 percent of corn, soybeans and cotton grown in the U.S. is genetically modified.
Related: FDA Says No Need to Label GM Plants
"The committee delved into the relevant literature, heard from 80 diverse speakers, and read more than 700 comments from members of the public to broaden its understanding of issues surrounding GE crops," the report reads. Panel members read more than 900 reports.
"It was tiring but worthwhile, because it really brought to our attention a lot of studies we would not have looked at," said Dominique Brossard, chair of the department of Life Sciences Communication at the University of Wisconsin.
"Our process was really, really inclusive and attempted to address as much as possible the concerns that were raised by public comments."
Related: Congress Orders FDA to Label GM Food
A lot of concern centered on health effects. "The committee received a number of comments from people concerned that GE food consumption may lead to higher incidence of specific health problems including cancer, obesity, gastrointestinal tract illnesses, kidney disease, and such disorders as autism spectrum and allergies," the report reads.
"The committee also examined epidemiological data on incidence of cancers and other human-health problems over time and found no substantiated evidence that foods from GE crops were less safe than foods from non-GE crops."
Their conclusions:
There is no evidence of large-scale health effects on people from genetically modified foods
There is some evidence that crops genetically engineered to resist bugs have benefited people by reducing cases of insecticide poisoning
Genetically engineered crops to benefit human health, such as those altered to produce more vitamin A, can reduce blindness and deaths die to vitamin A deficiency
Using insect-resistant or herbicide-resistant crops did not damage plant or insect diversity and in some cases increased the diversity of insects.
Sometimes the added genes do leak out to nearby plants – a process called gene flow – but there is no evidence it has caused harm.
In general, farmers who use GM soybean, cotton, and corn make more money but it does depend on how bad pests are and farming practices.
GM crops do reduce losses to pests
If farmers use insect-resistant crops but don't take enough care, sometimes pest insects develop resistance
Outside experts said the report was thorough.
"I would certainly hope the report will reduce public concern about the safety of GE foods," said Ruth MacDonald Chair of the Department of Food Science and Human Nutrition at Iowa State University.
"This is yet another document that adds to the long list of those that have reached the same conclusion that there is no evidence that GE foods are a risk to human health."
"They can look to see if something we reference is funded by industry."
David Stern, president of the Boyce Thompson Institute for Plant Research at Cornell, said the report will not end the debate.
"The report will provide fodder for friends and foes of GE, because each conclusion is accompanied by caveats," he said.
Related: GMO Salmon Ruled Safe to Eat
Gould said now people can look up the facts to answer their concerns. "Up until now we have been arguing in a content-free environment," he said.
And the report likely will not end arguments that all the experts are tainted because they work with companies that stand to profit from selling GM foods.
"Unfortunately, we can expect charges of industry bias in the Academy, even though this panel specifically sought input from well-known anti-GE activists," said Alan McHughen, a geneticist at the University of California, Riverside.
"The academy came under criticism (by academics including me) for engaging such non-experts with little or no scientific expertise, but that criticism now seems misplaced," McHughen added. He said it was important to listen to and to then rebut arguments.
And Gould said all the vested interests are revealed on the website. "They can look to see if something we reference is funded by industry," he said