Mandisa Madikane was just six years old when her neighbor grabbed her outside her mother's home.
"All I saw was black coming out of my legs, his big body on top of my small body," says Madikane, now 21. "I had no power to fight back. I kicked, screamed, cried but nobody heard. He had all the power to do what he wanted to do."
That assault in Soweto, South Africa, the sprawling, crowded township where much of Johannesburg's blacks live, left her more than traumatized. Her attacker gave her HIV.
Now 21, Madikane sees the chance for some power for herself.  As she covers AIDS2012 in Washington, D.C, the giant international AIDS conference that brings together policymakers, advocates, protesters and scientists, Madikane is throwing questions at leaders. 
"I want answers from people in government," Madikane told NBC News in an interview. "I had a chance to ask the minister of health for South Africa about discrimination."
The answer she got from Health Minister Dr. Aaron Motsoaledi might have come across as a bit patronizing to some, but not to Madikane.
"He said if I got discriminated against, to put it on Facebook and people would let me know," she said. "It was the most beautiful experience," she said. "I love the feeling of being a journalist."
Madikane was chosen to work with a non-profit called GlobalGirl Media, which trains high school girls from underprivileged backgrounds in digital media. Madikane and Sthokozo Mabaso, a 22-year-old  who is also from Soweto and who is also HIV-positive, take turns interviewing conference delegates, operating their small digital camera and doing stand-ups. (Pronounced sto-KO-zo)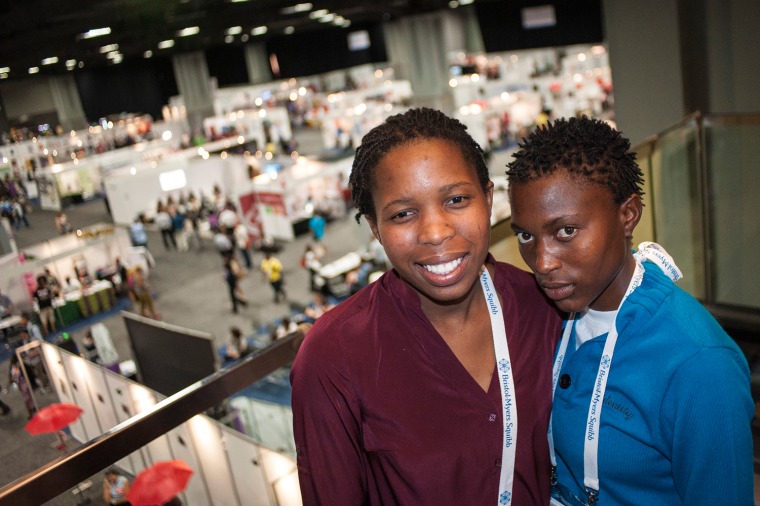 They both looked a little dazed as they negotiated the hordes of conference attendees at the Washington Convention Center, some in outrageous costumes. Madikane's head turned as she heard some African rhythms in the Global Village, part of the conference open to the public that features noisy demonstrations, plays about HIV, violence and discrimination and booths offering everything from free condoms to crafts made by sex workers. Soon she was dancing to pop music while Mabaso interviewed passers-by.
Mabaso was attending the University of Johannesburg on a scholarship, studying management, when she applied to join GlobalGirl Media a year ago. Her reports about domestic abuse caught some eyes and she is not only covering the conference, but presenting at it.
"Everyone likes to be in front of a camera," she said. "Without this, I wouldn't have the opportunity to be on a panel talking about abused women."
Tumi Mosadi, a filmmaker who works with Global Girl Media in Johannesburg, said the girls and young women get opportunities and training that can change their lives -- and perhaps change the lives of the people they report about.
"We give them a platform to talk about what is happening in their community," Mosadi said as she watched Mabaso and Madikane interview AIDS workers. "It's stuff that affects them."
Neither young woman had been out of South Africa before. "It was wonderful, watching them get on a flight for the first time, watching them step off in the United States," Mosadi said.
After the conference ends Friday, they head to New York for some intensive training in digital editing. Then it's back home to Johannesburg.
Mabaso is not entirely happy with the conference coverage.
"I wanted to hear scientists say they actually have a cure for AIDS," she said.
Scientists told those attending the conference this week that they have some tantalizing clues, but predicted a cure would be at least a decade away, if not more.
Madikane hopes to get in some shopping on her first trip abroad. She isn't sure what career opportunities might come from her year with Global Girl Media. She's a high school graduate but her family doesn't have money for college.
"I don't know if my life will change," she said softly. "What I know is my voice is out there."
 More AIDS conference coverage: