There's good news for kids who haven't received all their HPV vaccines yet – they only need two doses of the vaccine instead of three, federal government advisers said Wednesday.
The new recommendations should make it easier to get more children vaccinated against the human papillomavirus (HPV), which causes a range of cancers including cervical cancer, throat cancer and mouth cancer, officials said.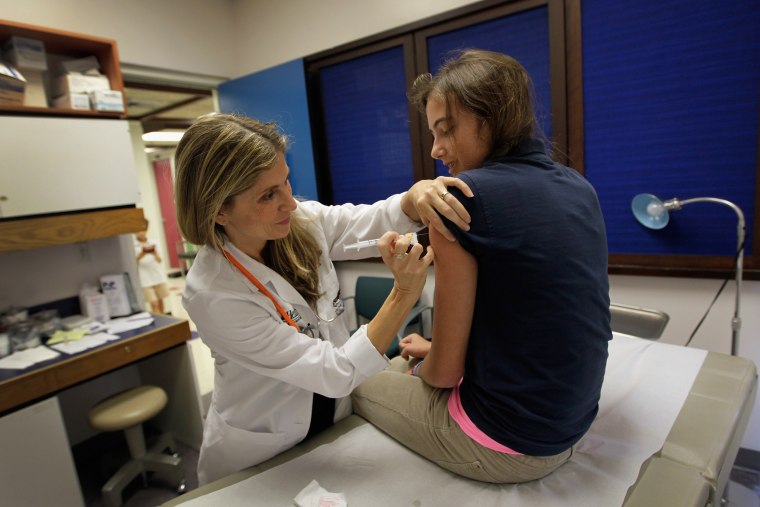 "It's not often you get a recommendation simplifying vaccine schedules," said Dr. Nancy Messonnier, Director of the National Center for Immunization and Respiratory Diseases at the Centers for Disease Control and Prevention.
The CDC immediately accepted the recommendations from its Advisory Committee on Immunization Practices.
"Safe, effective, and long-lasting protection against HPV cancers with two visits instead of three means more Americans will be protected from cancer," said CDC Director Dr. Tom Frieden. "This recommendation will make it simpler for parents to get their children protected in time."
Related: HPV Cancers Epidemic in Men, CDC Finds
The CDC says every pre-teen boy and girl should get the vaccine, but fewer than a third have received all three doses.
"It's not often you get a recommendation simplifying vaccine schedules."
Messonnier says the three-dose schedule was based on the earliest studies of the vaccine. New studies show that two doses protect people for decades from the cancer-causing virus.
And studies also suggest that spacing the two doses a year apart is at least as effective, if not more effective than giving them more closely together – something that could also make it easier to get kids fully vaccinated.
Older teens who have not been vaccinated at all before age 15 should still get three doses, because there's not enough evidence to show whether two doses fully protect them, ACIP said.
Related: HPV Infects Two-Thirds of Americans
Adults can also get the HPV vaccine. "Young women can get HPV vaccine through age 26, and young men can get vaccinated through age 21," the CDC says.
"The vaccine is also recommended for any man who has sex with men through age 26, and for men with compromised immune systems (including HIV) through age 26, if they did not get HPV vaccine when they were younger."
HPV is extremely common, but rates of HPV-related disease have fallen among vaccinated people.
Related: HPV Raises Head Cancer Risk Seven-Fold
"About 14 million people, including teens, become infected with HPV each year. HPV infection can cause cervical,vaginal, and vulvar cancers in women; penile cancer in men; and anal cancer, cancer of the back of the throat (oropharynx), and genital warts in both men and women," the CDC says.
The original two vaccines on the market protected against either two or four of the strains of HPV known to cause cancer. Now the only vaccine available in the U.S. is Merck's Gardasil 9, which protect against 9 strains of HPV.
Messonnier says it's too soon to say whether teens vaccinated with the older vaccines should get a top-up dose with the new formulation.