Hand, foot and mouth disease, notorious for closing down kindergartens and making small children cranky, is hitting college campuses.
College students across the East are hunkered down in dorm rooms, waiting for the unsightly blisters that characterize the infection to clear from the faces and hands, university spokespeople said.
Health officials say the unusual outbreaks are marked by a particularly nasty set of symptoms that include the usual blisters in the mouth and on the hands and feet, but also on the genitals.
"I have never seen this before," said Dr. Roanna Kessler, medical director of the wellness center at Johns Hopkins University's Homewood campus, which has been hit hard by the outbreak. So far, 129 students at the north Baltimore campus have been diagnosed with the illness.
"In previous years we have usually seen it in only a handful of people."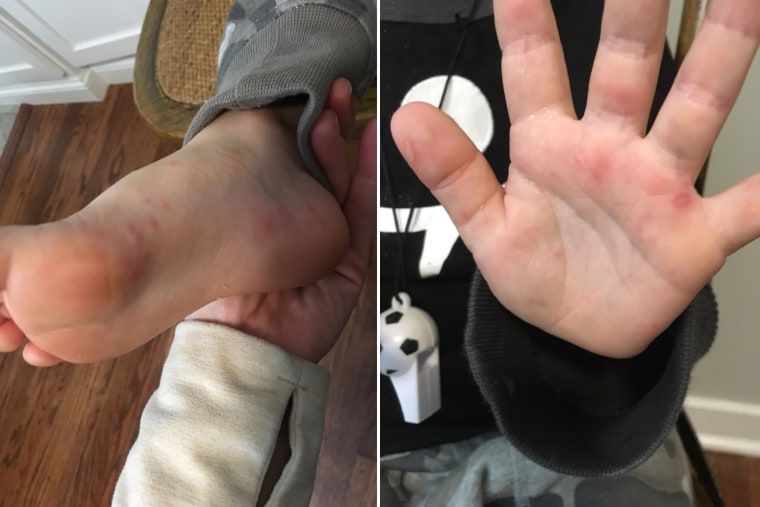 Health officials in several states are testing samples to determine which virus is responsible. Several different viruses, including coxsackie viruses and other enteroviruses such as EV-A71, can cause the symptoms of hand, foot and mouth disease. Kessler said at Johns Hopkins, a strain called coxsackie A6 appears to be causing the infections.
Outbreaks of hand, foot and mouth disease are common in the fall, winter and spring, especially at elementary schools and daycare centers. Small children are especially susceptible because they have never been exposed before to the viruses that cause it.
Teens and young adults can also develop hand, foot and mouth disease but it usually doesn't cause widespread outbreaks like it does among young kids.
But so far this year, Johns Hopkins, Princeton, Dartmouth, West Virginia University, Lehigh University, Wesleyan University in Connecticut and Mars Hill University in North Carolina and other schools have all reported outbreaks. Florida State University battled an outbreak in 2016.
Three Major League Baseball pitchers — Brad Peacock of the Houston Astros, Noah Syndergaard of the Mets and J.A. Happ of the Yankees — also lost playing time because of the virus.
It's not clear why so many older teens and young adults are being affected, Kessler said.
"We are wondering if it is a strain that people were not exposed to when they were younger," she said. Medical journals have carried reports of a mutated strain of coxsackie virus A6 causing severe outbreaks in Asia and Europe.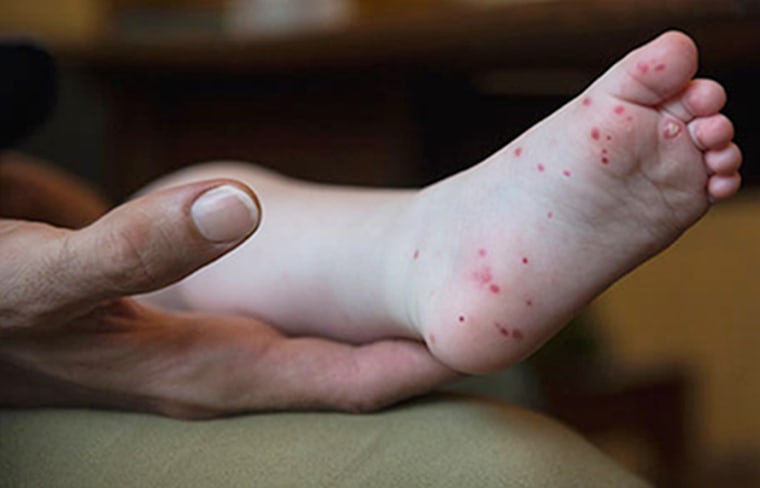 Kessler also wonders if the unusually warm fall weather experienced across the eastern United States has helped the virus stay around and spread more than it normally would.
However college campuses — where students share bathrooms, desks, equipment and where they frequently share food and drink, embrace and kiss — are perfect grounds for spreading infectious diseases of all kinds.
Usually, freshmen are prone to "mono," Kessler said. Mononucleosis is usually caused by Epstein-Barr virus or cytomegalovirus. This year, it may be hand, foot and mouth disease that hits students, she said.
Most people with hand, foot and mouth disease recover after a few days. There's no specific treatment for it and the universities are telling students to stay in their dorms or at home if they have symptoms.
That's not difficult to get them to do, Kessler said.
"It is very upsetting for them, especially if they develop lesions around the face," she said. "They usually self-isolate in that situation because they don't want to be seen out and about."
Severe rashes on the hands can also make nails fall out, she said. Students have complained that lesions in the mouth make it uncomfortable to eat and drink, and this strain is causing genital rashes as well, adding to the embarrassment.
"It's bad enough when little toddlers get it," Kessler said.
Johns Hopkins has put up signs and distributed information about the virus.
"Facilities has been doing extra cleaning in affected areas," a spokesman added.
"We are giving out disinfectant wipes at the health center to any student with symptoms of hand, foot and mouth, so they can wipe down areas that they may have touched."