The U.S. Food and Drug Administration is expected to issue its first regulations governing electronic cigarettes by the end of the month, and health experts are anxious about what the rules may look like.
While they're hoping for sweeping limits on a quickly growing industry, they're also realistic about what to expect. And it's all mired in uncertainty about whether e-cigarettes might help people kick the habit — or keep smokers hooked and attract a new generation of nicotine addicts.
Congress gave FDA the power to regulate tobacco products in 2009, but the legislation does not give the agency the authority to ban tobacco products outright. It can require them to list ingredients and regulate warning notices on the packets.
But few expect the agency to assert a firm hand just yet, despite concerns about the chemicals the devices contain and the way they seem to target teens.
This disappoints Matthew Myers, president of the Campaign for Tobacco-Free Kids. "The failure of FDA to act before this has allowed the e-cigarette market to explode in uncontrolled ways," Myers told NBC News. "People are not using e-cigarettes to quit smoking but are using them to maintain their smoking habits."
One big challenge for both the FDA and health experts: E-cigarettes are fairly new. The little metal or plastic tubes that look like cigarettes have been around in some form since 1963, but only became popular within the past decade. Now more than 250 brands have proliferated, and enthusiasts call their habit "vaping."
They heat up a mixture of water, nicotine and propylene glycol — mixed with other flavors and chemicals. Right now, e-cigarette makers don't have to say what's in them. All the experts NBC News spoke with want the FDA to force makers to disclose ingredients at the very least.
They also want FDA to ban sales to anyone under 18 and to limit or ban ads — especially ads that seem geared to children and teenagers. Any more than that is unlikely, says Gregg Haifley, federal relations director for the American Cancer Society's lobbying arm, the ACS Cancer Action Network.
"We are faced with this initial hurdle of FDA asserting its authority over these products. It is going to be a long and cumbersome process," Haifley said.
FDA did try once before, saying e-cigarettes were medical devices. But the tobacco companies challenged this and won in federal appeals courts, which said they should be regulated as tobacco products. And FDA launched its first anti-smoking campaign earlier this year, with graphic images targeting teens. The agency took a tentative first regulatory action against a tobacco product in February, ordering a company to stop selling cigarette-like products called bidis.
While FDA scrambled to build a whole tobacco regulation division, vaping took off big-time, with sales hitting an estimated $2 billion in 2013. An e-cigarette product ranges from $10 to $120, depending on how many charges it provides.
"Every day that tobacco products go without regulation, more people become addicted and suffer the consequences associated with those products."
"Every day that tobacco products go without regulation, more people become addicted and suffer the consequences associated with those products," Haifley said. "We are grateful that it is finally happening."
Some studies have suggested that e-cigarettes could help people quit smoking regular cigarettes.
"The jury is out on that," says Dr. Thomas Glynn, director for cancer science at the American Cancer Society. "Some studies suggest they are about as effective as a nicotine patch. Other studies suggest they are not helpful at all."
Dr. Neil Schluger, Chief Scientific Officer at World Lung Foundation, says if the makers really thought their products were aids to quitting, they'd market them that way.
"They could have gone to FDA and said 'we have a terrific tobacco cessation device,'" Schluger said. Instead, they sued the FDA. "I don't think tobacco companies deserve the benefit of the doubt," he added. "All they are really selling is nicotine addiction."
Schluger sees vaping as little more than a new way to keep people using tobacco. "The e-cigarettes could be the greatest thing to get you through the day if you work somewhere like New York City where cigarettes are heavily restricted," he said. In fact, he said, vaping could kill any motivation to quit smoking.
Ellen Vargyas, legal counsel to the anti-tobacco group Legacy, agrees. "People are using these e-cigarettes when they cannot otherwise smoke," she said.
And there are other dangers. "There is, literally, nicotine juice sloshing around in peoples' homes," she said. Federal health officials said earlier this month that calls to U.S. poison control centers about people sickened by e-cigarettes containing liquid nicotine have soared in the past four years, climbing from just one a month in 2010 to at least 215 per month."This is real toxic stuff," Vargyas said.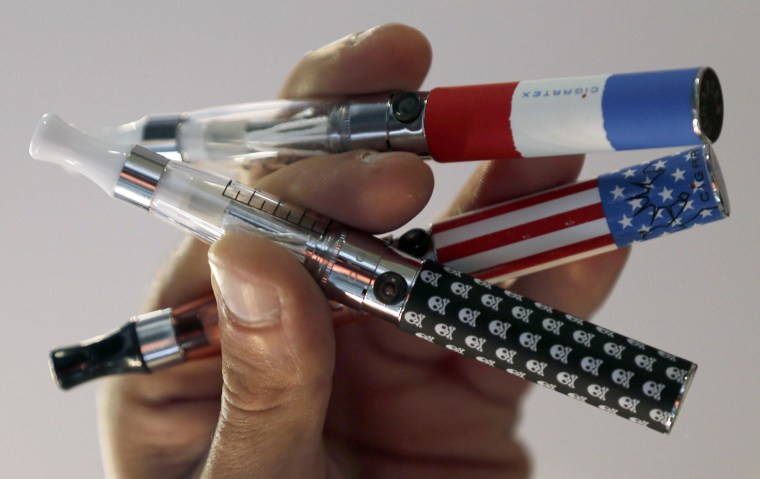 The biggest concern, however, is that the colorful, flavored products attract kids. "It seems to me clear that the marketers have kids on their minds," said Vargyas.
"You are seeing advertising across the board on television where it hasn't been for decades," said Legacy's Julie Cartwright. "We are seeing flavorings that are most appealing to kids — cookies and cream, strawberry. These are not flavors that are going to appeal to adults who have been smoking for decades."
The Centers for Disease Control and Prevention and FDA say 10 percent of high school students have tried vaping, with numbers rising steadily. More than 21 percent of adults have tried them at least once.
The science on nicotine is not clear, either. It may not be dangerous in moderate amounts in healthy adults, says Glynn of the American Cancer Society.
"For youths and pregnant women, nicotine is an unhealthy chemical," Glynn said. It can slow the development of a fetus and hurt its uptake of oxygen. And nicotine can slow brain development in teenagers, he said.
Plus, it's not clear what else is in some of the e-cigarette products. Some appear to contain cancer-causing substances, Glynn said. "One of the main things we looking for with regulation of e-cigarettes and other tobacco products is to be able require the manufacturers to disclose what the ingredients are," Glynn said.
Some of the health experts feel despondent after decades of battling tobacco companies, which successfully fended off the FDA and Department of Justice for decades with deep pockets and astute use of the courts.
Science has proven beyond any doubt that smoking causes most cases of lung cancer, most heart disease and lung disease as well as stroke and a range of cancers from breast to bladder. Earlier this year the Surgeon-General's office released an even longer list of diseases caused by smoking and blaming tobacco for killing 20 million people.
Researchers have also proven that nicotine is one of the most addictive substances known, and that tobacco companies deliberately manipulate nicotine levels in their products to get people hooked for life.
Tobacco is the leading preventable cause of dis­ease, dis­ability, and death in the United States, the CDC says, killing 443,000 people a year.