The U.S. Agriculture Department released a new school lunch rule Wednesday that would let cafeterias skip the whole grains and serve salty food, as well as sweetened milk.
Health experts gave the new rule an "F" and said a return to unhealthy standards is not the way to get kids to eat better.
The USDA included similar rules in May as part of temporary budget legislation. Wednesday's announcement would solidify the rules.
"Schools need flexibility in menu planning so they can serve nutritious and appealing meals," U.S. Secretary of Agriculture Sonny Perdue said in a statement.
"This new rule deserves an 'F.' It fails the test when it comes to helping our kids eat healthier at school."
"The interim final rule published today gives schools the option to serve low-fat (1 percent) flavored milk. Currently, schools are permitted to serve low-fat and non-fat unflavored milk as well as non-fat flavored milk," the USDA added.
Related: School lunches are getting healthier
"States will also be allowed to grant exemptions to schools experiencing hardship in obtaining whole grain-rich products acceptable to students during School Year (SY) 2018-2019."
The new rule also gives schools a break until 2021 to provide "more time to procure and introduce lower sodium food products, allow food industry more time for product development and reformulation, and give students more time to adjust to school meals with lower sodium content."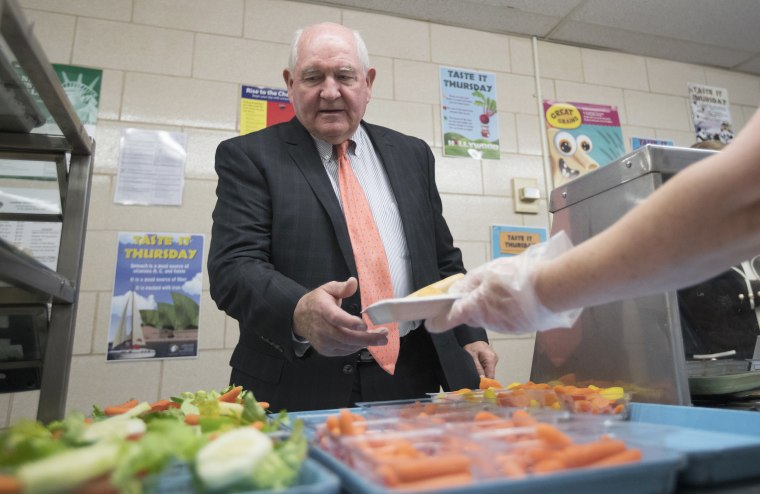 Perdue said kids are just throwing food away, but American Heart Association CEO Nancy Brown said that's untrue and said schools are not struggling to meet the Obama-era standards aimed at getting kids to eat more nutritious meals.
Related: Agreement in Congress would loosen school lunch rules
"In the last five years, nearly 100 percent of the nation's participating schools have complied with updated school meal standards. Kids across the country have clearly benefited from these changes," Brown said in a statement.
"Their meals have less salt, sugar and saturated fat, and they eat 16 percent more vegetables and 23 percent more fruit. Why would the USDA want to roll back the current standards and reverse this excellent progress?"
The rules were part of the 2010 Healthy, Hunger-Free Kids Act signed by President Barack Obama and promoted by his wife, Michelle, as part of her "Let's Move" initiative.
The Centers for Disease Control and Prevention checked in 2015 to see how the new rules worked. More than 97 percent of schools offered a whole grain option at breakfast and 94 percent did at lunch in 2014, they found.
Nearly 80 percent offered two or more vegetables and two or more fruits for lunch although only just over half had moved from salty canned vegetables to low-sodium options.
"This new rule deserves an 'F,'" Brown said. "It fails the test when it comes to helping our kids eat healthier at school."
Related: Schools rethink lunch policies that humiliate kids
Howell Wechsler, CEO of the Alliance for a Healthier Generation, agreed.
"The changes proposed by the Flexibility Rule do not reflect the tremendous progress and success we have seen from schools across the country in meeting or exceeding national guidelines for healthier school meals," he said in a statement.
"This rule will be in effect for school year 2018-2019," the USDA said. "USDA will accept public comments on these flexibilities via www.regulations.gov to inform the development of a final rule, which will address the availability of these three flexibilities in the long term."