Perhaps the most important thing to know about 2021 is that it will be different from 2020.
Unfortunately, the pandemic will not magically end when the clock strikes midnight on New Year's Eve —one year since a mysterious pneumonia spreading in Wuhan, China, was first publicly disclosed. More cases will be diagnosed in the new year, and more people will die from the illness we now know as Covid-19.
Full coverage of the coronavirus outbreak
Some predictions are bleak. According to the Institute for Health Metrics and Evaluation, an independent global health research center at the University of Washington, the death toll in the U.S. will surpass 500,000 by March.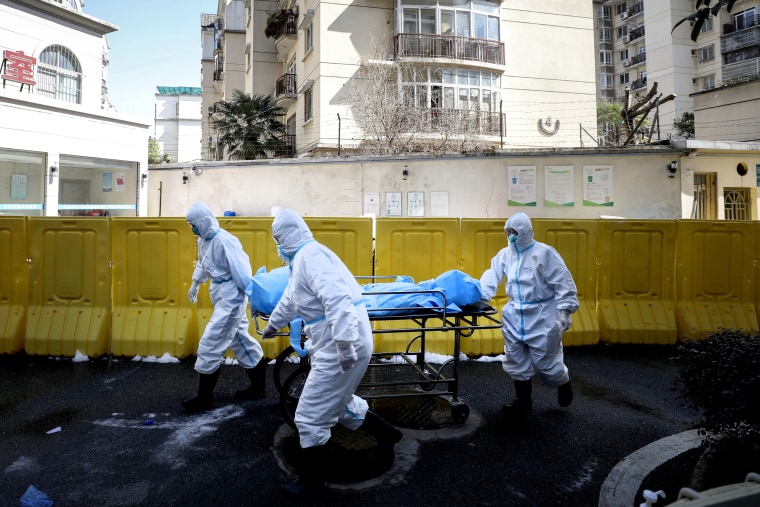 But there is some good news. Reasons for hope. Promise that an end is in sight.
"Once we get to the back half of 2021, we can probably begin relaxing" the precautions, said Dr. Tom Frieden, former director for the Centers for Disease Control and Prevention and current president of Resolve to Save Lives, a global public health initiative.
Highly effective vaccines are imminent. Therapies have been shown to help the sickest patients, and some can even stave off hospitalization in the first place. Testing, once a major blind spot, has become more available.
President-elect Joe Biden plans to make taking on the coronavirus a priority for his administration, particularly during his first 100 days in office.
"In 100 days, we can change the course of disease and change life in America for the better," Biden said at an event Tuesday. But, he added, "my first 100 days won't end the Covid virus. I can't promise that."
Indeed, much more work is needed. NBC News spoke with public health and infectious disease experts about what lies ahead for the first half of 2021 — and how Americans can bring the pandemic to its knees.
'Help is on the way'
On Thursday an independent committee of experts took a major step forward, recommending that the Food and Drug Administration grant emergency use authorization for Pfizer's Covid-19 vaccine. The FDA agreed Friday, and the first vaccines could be distributed nationwide within the coming week.
"Help is on the way," Dr. Anthony Fauci, director of the National Institute of Allergy and Infectious Diseases, said recently on NBC's "Meet the Press."
"Traditionally and historically, highly efficacious and effective vaccines have crushed epidemics like smallpox and polio and measles," Fauci said. "We can do that with the vaccines that are going to be coming online."
Dr. Ofer Levy, director of the Precision Vaccines Program at the Boston Children's Hospital, said such an achievement is "not a trivial task."
"I'm not sure the country has ever done this before," Levy said.
Even those who are often critical of the Trump administration give Operation Warp Speed — the White House initiative focused on developing vaccines and therapies for Covid-19 — credit for devoting resources to vaccine research to accelerate the historically slow process of vaccine development.
The administration "invested big time in vaccines and medications, telling companies: Go for it, start the manufacturing even before the studies are done, because hopefully some of these will turn out to be keepers," said Dr. Richard Besser, president of the Robert Wood Johnson Foundation and former acting director of the CDC.
Those bets paid off. The first vaccines in the U.S. are expected to be rolled out imminently, and Secretary of Health and Human Services Alex Azar said Wednesday during a call with journalists that the administration is confident that "we will have enough doses for any American who wants a vaccine by the end of the second quarter of 2021."
Moncef Slaoui, chief scientific adviser for Operation Warp Speed, predicted this month that 100 million people could be vaccinated as soon as early spring.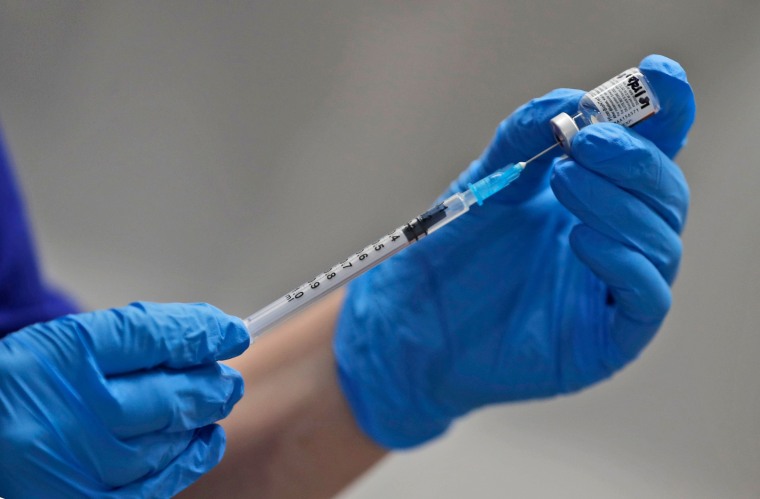 Slaoui said he felt "confident that we will be able to distribute enough vaccine to immunize 20 million people in the U.S. in December, then 30 million people" in January, adding that 50 million more people could be vaccinated by March.
Still, much hinges on several unknowns.
"There are a lot of 'ifs' there: if there aren't any safety problems, if there aren't any production problems, if there is good acceptance, if immunity turns out to be long-lasting," Frieden said.
And not everyone will be able to get vaccinated as soon as they'd like it.
Operation Warp Speed documents obtained by NBC News show that 40.5 million doses could be available by the end of 2020 — enough to vaccinate just over 20 million people. That's 18 million doses from Moderna and 22.5 million from Pfizer. Each person will need two doses of vaccine for full protection.
Health care workers and residents of long-term care facilities will be first in line to get the shots, according to recommendations from the CDC.
The recommendations were developed by an advisory panel that will reconvene in the coming weeks to determine which groups should get a vaccine next, including teachers; emergency personnel, such as police officers and firefighters; and other workers deemed essential in the transportation and food industry.
Levy, of Boston Children's, said that while the goal would be to immunize the entire country against Covid-19, estimates show that giving the vaccine to at least 70 percent of the population "would make a major dent in the pandemic and allow some loosening of certain restrictions." The prediction came with a warning: "We're probably talking months — not days, not weeks — but months to get that many people immunized."
'The problem is getting to that point'
Dr. Michael Saag, associate dean for global health at the University of Alabama at Birmingham, is excited by the rollout of the vaccines. "By summertime, we could see the curve of the epidemic start to bend," he said.
The excitement comes with a caveat. "The problem is getting to that point," Saag said. "Tragically, we're headed for the absolute worst experience with this epidemic so far."
Hospitals across the country are at or near a breaking point. The number of very sick patients requiring hospitalization is on track to outpace the number of health care workers to care for them. The number of patients hospitalized across the U.S. crossed 100,000 this month, according to the Covid Tracking Project.
Tragically, we're headed for the absolute worst experience with this epidemic so far.
Indeed, Dr. Vin Gupta, a critical care pulmonologist who has been treating seriously ill Covid-19 patients at UW Health in Seattle throughout the pandemic, believes one of the biggest drivers of loss of life nationwide is a shortage of critical care personnel. "There's just not enough doctors, nurses and respiratory therapists to staff intensive care unit beds," he said. "People are going to get suboptimal care."
Hospital systems are scrambling to open additional intensive care units and floors dedicated to Covid-19 patients.
"At some point, there's going to be a place where we can't expand anymore," Saag said. "That's what I'm worried about."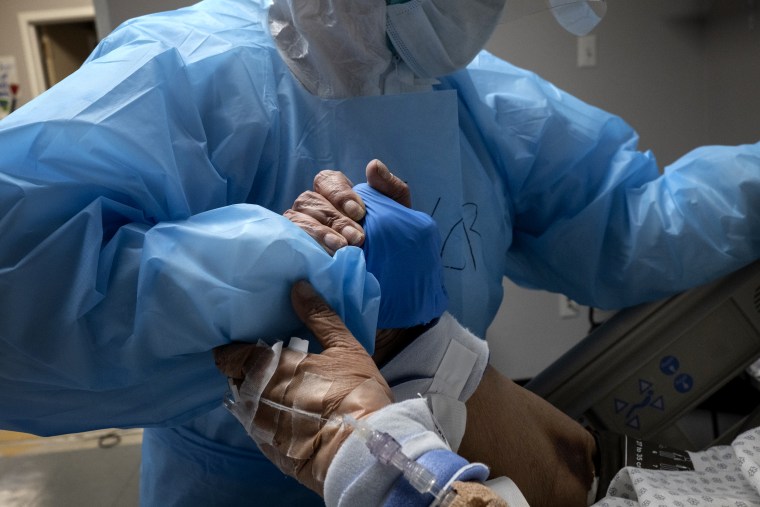 The Vanderbilt University Medical Center in Nashville, Tennessee, is feeling the effects of an overwhelmed system.
The hospital typically gets referrals from about a 200-mile radius. But increasingly, the radius has more than doubled, to 500 miles.
"The circle has just gotten bigger, because there aren't any other available options," said Dr. Todd Rice, the director of Vanderbilt's medical intensive care unit. Rice said one patient traveled eight hours to his facility because no closer hospital had the appropriate resources.
The increase in patient load worries critical care physicians like Rice, who say exhausted health care workers will not be able to continue high levels of care into the new year. The number of Covid-19 patients in the Vanderbilt system is projected to swell by 40 percent more in the coming weeks and months.
Dr. Jeff Pothof, chief quality officer and emergency medicine physician at UW Health in Madison, Wisconsin, said his hospital system is so overwhelmed that his team has had to redirect some Covid-19 patients to makeshift "field hospitals" in the local exposition center, normally used for the Wisconsin State Fair. These are patients who are on the road to recovery but still require oxygen support before they're able to be sent home.
Other than during times of natural disasters, such as hurricanes or tornadoes, Pothof said, field hospitals in the U.S. are "new territory."
The United States spends more money on "health care than any other country," he said. "You just shake your head and wonder: How did we get to the point where, here in the United States, we need to turn exposition centers into field hospitals?"
"We are putting Band-Aids on the system now," Rice said, warning that "we'll pay for it in the safety of patients."
"Medicine is a lot of attention to detail. When you get overwhelmed with work, you tend to be less able to pay attention to detail," he said.
'Help lessen the load'
A common approach to treating viruses is to give treatments as early as possible, when there's a lesser amount of virus in the body, making it easier for drugs to vanquish it. It's why, for example, the antiviral drug Tamiflu is meant to be given within 48 hours of a person's coming down with the flu.
But drugs like this — which could prevent people from being hospitalized in the first place — are in very limited supply for Covid-19.
Although progress has been made on therapeutics — with one authorized drug, the steroid dexamethasone, shown to help severely ill hospitalized patients, and another, Gilead's remdesivir, which has been approved by the FDA, which may shorten hospital stay — the FDA has authorized just two therapies designed to keep Covid-19 patients out of the hospital.
The treatments — monoclonal antibodies from drugmakers Regeneron and Eli Lilly — are meant to mimic the body's immune response to SARS-CoV-2, the virus that causes Covid-19, and are authorized for patients at high risk of getting much worse and needing hospitalization.
Regeneron executives have said the company has 80,000 doses ready now to distribute and will ramp up to 300,000 doses in January. Eli Lilly expects that it will supply the U.S. with 350,000 doses of its monoclonal antibody treatment by the end of the month.
But the supply of either treatment so far is not enough to meet demand.Over the past week, the average number of daily cases has surpassed 200,000. And the treatments must be given early, before a patient is sick enough to require hospitalization. That means testing must be readily available, with results delivered quickly.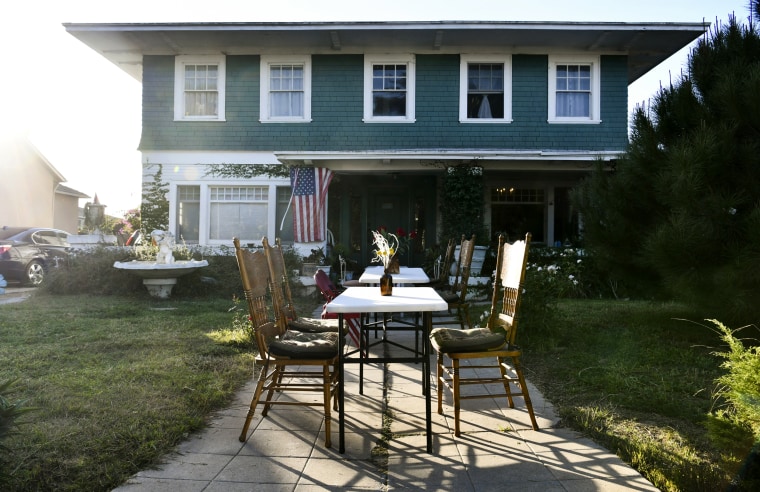 Indeed, that idea of societal adaptation may be the thing that propels Americans through the pandemic, and not only survive, but also to thrive.
Dr. Bernard Chang, an associate professor of emergency medicine and a psychologist at Columbia University, said the human behavior he's witnessed gives him hope for a brighter 2021.
"People are adapting to this new world that we're living in," he said. "People who were untethered from their traditional social connections found new ways to engage with people," such as videoconferencing, going on walks, even reading books.
"People are revisiting what it means to interact with their families and their friends."
Follow NBC HEALTH on Twitter & Facebook.