Facebook founder Mark Zuckerberg and his wife, Dr. Priscilla Chan, have made headlines and earned praise for their pledge to spend at least $3 billion over the next 10 years "to cure, prevent or manage all disease within our children's lifetime."
Zuckerberg and Chan admit the task won't be easy. But that may be an understatement.
The National Institutes of Health, which funds much of the same basic biomedical research that Zuckerberg and Chan's new initiative will, spends 10 times that much every year — and there is still plenty of disease to go around.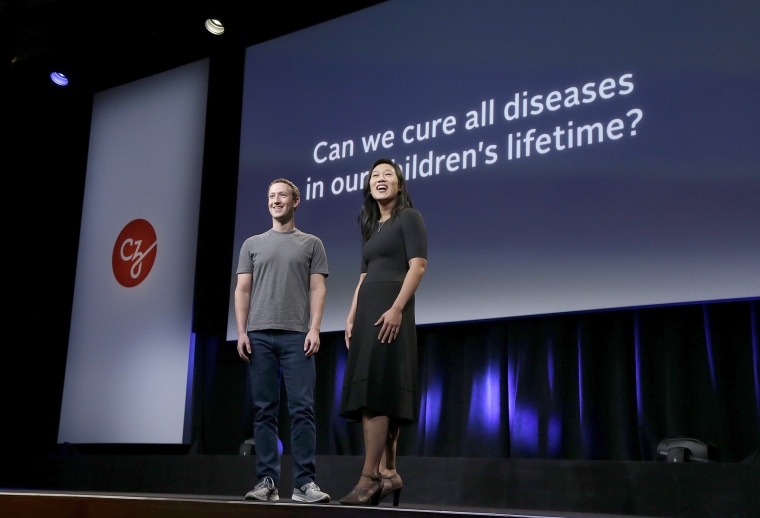 What's more, many other organizations have already been spending far more than that with the same goals.
Here's a quick look at some of them:
National Institutes of Health
The NIH has a 2016 annual budget of $32 billion, which goes to researching causes of disease, treatments for them and vaccines to prevent them. It helps find and develop early stage drugs and looks at a variety of ways to help prevent diseases ranging from Alzheimer's to Zika.
Centers for Disease Control and Prevention
The CDC's annual budget of $7 billion goes to helping fight disease outbreaks but also pays for research and action on ways to prevent both everyday diseases, such as diabetes and heart diseases, as well as outbreaks of the weird stuff like Ebola and bird flu.
Related: Facebook Founder's Pledge to End All Disease
Food and Drug Administration
The FDA's annual budget of $4.7 billion goes to approving new drugs, vaccines and other treatments, as well as policing products to make sure they are being used properly. The FDA also does its own research into diagnosing, preventing and treating diseases.
Howard Hughes Medical Institute
The privately funded, virtual institute supports individual investigators who want to work a little outside the traditional lines of academia, as well as those firmly in the mainstream. It's got $18.2 billion in assets, and says it has paid out $8 billion in direct support over 10 years.
Gates Foundation
The Bill & Melinda Gates Foundation has given more than $10 billion to various efforts to fight AIDS, malaria and tuberculosis, among other ills.
Related: White House Pitches Brain Mapping Project
Wellcome Trust
Britain's Wellcome Trust charity has a pot of about 18 billion pounds — about $23.4 billion at current exchange rates — and has committed to spending $1.3 billion a year over the next five years on research into the biosciences and "the discovery, invention, improvement, development and application of treatments, cures, diagnostics, and other medicinal agents, methods and processes that may in any way relieve illness, disease, disability or disorders of whatever nature in human beings or animal or plant life."
Private drug companies
The Pharmaceutical Research and Manufacturers of America (PhRMA), which represents drug and vaccine companies, says its members spent $58.8 billion in research and development in 2015. IMS Health calculates that U.S. spending on drugs was about $374 billion in 1979.