Las Vegas is betting on a new approach to combat rising heroin and HIV rates: vending machines of clean needles.
But the syringe exchange vending machines, a first in the United States, aren't open to just anyone walking by. They are accessible to clients of Trac-B Exchange, a program run by the Las Vegas Hard Reduction Center.
And the machines don't take money. Instead, drug users scan a card and enter a unique ID number in order to vend one of the colorfully gift-wrapped boxes inside.
"This is a harm reduction approach," said Chelsi Cheatom, program manager for Trac-B Exchange, in an interview with NBC Las Vegas affiliate KSNV. "People are already exchanging in these behaviors, and anytime someone's engaging in a behavior that could cause them some potential health side effects, we want to encourage them to reduce their risk of harm."
The center worked in collaboration with the Southern Nevada Health District and the Nevada AIDS Research and Education Society (NARES) to install the new machines, which will be available at three different locations by the end of May. Each client will be limited to two kits a week; each box contains syringes, alcohol wipes, safe sex supplies, and a sharps disposal box.
"Providing clean needles and supplies is a proven method for limiting disease transmission in a community," said Dr. Joe Iser, Chief Health Officer of the Southern Nevada Health District, in a statement Wednesday.
Nevada is the first U.S. state to launch a vending machine program for clean syringes, but the vending machine model has been in use for several years in Puerto Rico, Europe, and Australia.
In 2014, a harm-reduction group installed crack pipe vending machines in Vancouver, Canada. But that program operated differently, with full access to anyone for just a quarter.
Here in the U.S., harm reduction groups — which offer clean drug paraphernalia to users in order to lower rates of disease transmission and illness — are usually required to keep track of their clients.
According to the Centers for Disease Control and Prevention (CDC), heroin use among young people ages 18-25 has more than doubled over the past decade. And between 2002 and 2013, the rate of heroin overdose deaths more than quadrupled.
In January 2016, Congress ended a ban on federal funding to syringe exchange programs. The move was made partially in response to the highly publicized 2015 HIV crisis that hit a tiny county in rural Indiana — where nearly 200 people were diagnosed with HIV in relation to a "close network" of drug users sharing hard-to-find needles.
"The debate over whether syringe exchanges are beneficial has long been settled," said Daniel Raymond, Deputy Director of Planning and Policy at the Harm Reduction Coalition. "The issue now is more, what method is appropriate for my community?"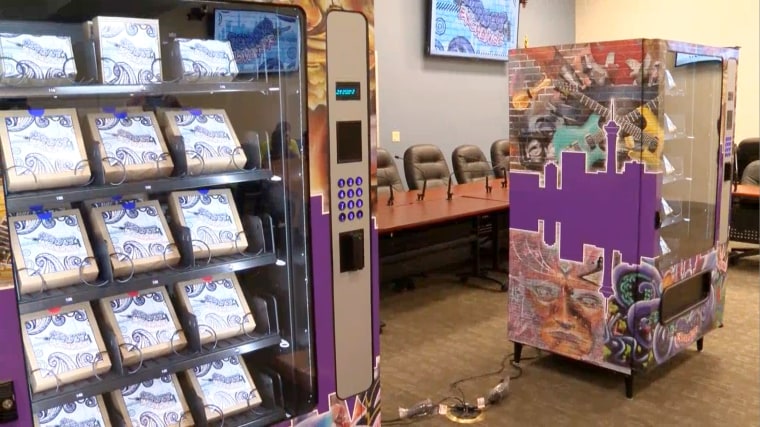 Injection drug use is actually low on the scale when it comes to HIV transmission: only about 6 percent of new HIV cases in 2015 were attributable to syringes, said the CDC. But as many as 45 percent of young injection drug users carry the Hepatitis C virus, with rates rising in rural and suburban areas.
In Clark County, where Las Vegas is located, HIV transmission rates among needle users are higher than the national average at 9 percent.
For harm reduction workers, though, needle exchange is about a lot more than just lowering disease rates.
"It's a philosophy of service at the front end, and adjusting the way we look at drug users," said Liz Evans, the Executive Director at New York Harm Reduction Educators. "Too often we fail to see drug users as human beings, and they become defined by that and get called all these names like junkies and addicts. It becomes harder as a society to respond to them with kindness."