Many Baby Boomers already dread "the talk" –- suggesting their aging parents surrender car keys –- but now two geriatric experts say another thorny, family question must be asked of some elderly folks.
Is it time to give up your gun?
In a recently published paper, the two physicians offer a five-point checklist meant to help caregivers assess whether firearms remain safe in the hands and homes of older Americans, particularly if the gun owners are exhibiting unclear thinking or depression.
Sign up for top Health news direct to your inbox.
"Just like with some (older) people, it's not if you should stop driving, but when," said Dr. Ellen M. Pinholt, a co-author and former chief of geriatric medicine at Walter Reed National Military Medical Center. "If we find some dementia present in a patient, it can be about when to lock up the weapon or whether we have the family take it away.
"But nothing else has really been out there to help families to begin that conversation," added Pinholt, a retired Army colonel who practices medicine in Rapid City, South Dakota. Her recommendations were informed by past home-health visits, including: one grandparent who kept a loaded handgun under a bed, a 97-year-old woman who didn't know how to unload her weapon, and an older firearm owner who appeared confused.
The paper, published June 4 in the Journal of the American Geriatrics Society, lists "5 Ls" to ask an older gun owner: Is his or her gun "loaded" and "locked;" do "little" children visit the home; is the owner feeling "low," and is he or she "learned" about proper use?
Pinholt, a firearm owner, said she and her co-author, a retired Army Ranger, "are not against guns," and simply are seeking to reduce suicide risk and boost safety for visitors –- including home-health professionals. Some gun-rights advocates assert, however, the paper's focus on the elderly is another attempt to try to chip away constitutional freedoms.
"The '5 'L's' suggest that senior citizens must automatically be considered safety risks if they are firearms owners –- a notion we find rather insulting if not preposterous."
"The '5 'L's' suggest that senior citizens must automatically be considered safety risks if they are firearms owners –- a notion we find rather insulting if not preposterous," said Alan Gottlieb, founder of the Second Amendment Foundation, based in Bellevue, Washington.
"Should we prevent people from serving in public office into their 70s or 80s? Decisions they make could affect millions of citizens," Gottlieb added. "Simply because someone is older does not mean they should begin to lose their firearms rights … One doesn't lose his or her civil rights merely because we turn the page of a calendar."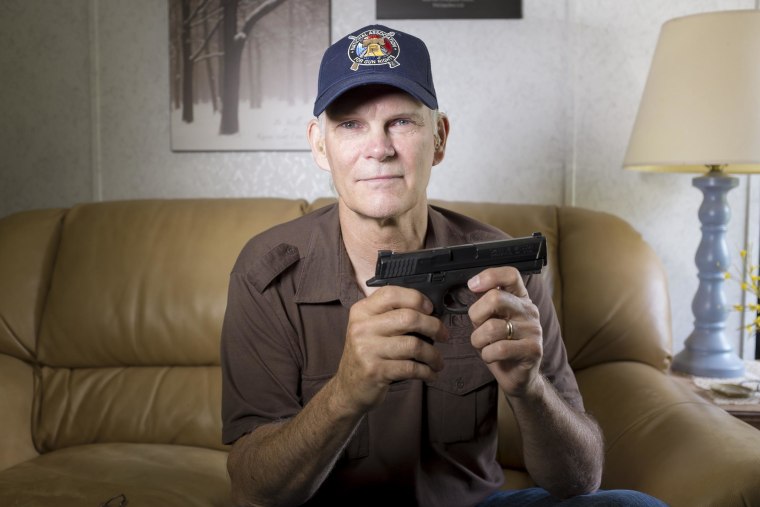 About three hours north of New York City, former paramedic and gun owner Warren Johnson, 65, said he would become instantly leery should any medical professional delve into a line of questioning regarding firearms.
"If I go to a doctor's office and the first thing out of his mouth is: 'So, do you own a gun?' the first thing that goes through my mind is: He is being coerced (to ask that) by a government agency, whether that's Medicare, Medicaid," Johnson said. "It's none of his business.
"It's a family matter. It doesn't belong within the government context, and it doesn't belong within the healthcare context," he said.
In the green wilds near his home, Johnson enjoys the age-old process of loading and shooting his .45 flintlock rifle, which exudes a hot burst of orange when fired. Flintlocks were used by American soldiers during the Revolutionary War –- and Johnson espouses ownership rights as vintage as his favorite weapon.
In fact, his affection for black-powder rifles ultimately led him to research the birth and purpose of the Second Amendment, which states: "… the right of the people to keep and bear Arms, shall not be infringed."
"Now, when you try to compare gun ownership to driving, gun ownership is a guaranteed constitutional right. And I don't know of any (age) qualification statements in the Second Amendment," Johnson said. "Driving is a privilege, whether you're young or old."
Older Americans are more likely to own firearms, according to aggregated Gallup surveys conducted between 2007 and 2012. Those polls found that 32 percent of people age 65 and above have guns.
In fact, a clear demographic dividing line exists on this issue. Among Americans who are 50 and above, two-thirds own firearms, Gallup pollsters found. Among Americans between the ages of 18 and 49, about half own guns.
Does age have a place in the broader national conversation on gun ownership?
"From a practical standpoint, sure. I don't think that a 5 year old has the experience or wisdom to own a firearm," Johnson said.
"On the other end of the life scale, do you think it would be worthy to deny a 67 year old the right to own and use a firearm against home invaders who are in their 30s?" Johnson asked. "A gun is probably the only tool available to the elderly that equalizes the danger a 30-year-old perpetrator represents to them."