The Food and Drug Administration announced Thursday it will begin the process of banning menthol tobacco cigarettes, as well as all flavored cigars — a move heralded as one expected to improve the health of groups most likely to smoke menthol products, including children and Black Americans.
"With these actions, the FDA will help significantly reduce youth initiation, increase the chances of smoking cessation among current smokers, and address health disparities experienced by communities of color, low-income populations, and LGBTQ+ individuals, all of whom are far more likely to use these tobacco products," acting FDA commissioner Dr. Janet Woodcock said in a statement.
Groups that have fought for a menthol ban for decades applauded the move.
"It's been a long road, but we're here now," said Delmonte Jefferson, executive director of the Center for Black Health & Equity. "This is victory."
The FDA action has potential to impact the health of Black smokers in particular, 85 percent of whom use menthol cigarettes, compared to just 30 percent of white smokers.
"Black smokers are more likely to die of tobacco-related disease than white smokers," Mitch Zeller, director of FDA's Center for Tobacco Products said during a media briefing Thursday. "And while we've seen declines in menthol cigarette use among non-Hispanic, white youth, we have not seen the same decline in use from communities of color."
"The FDA has taken a historic, lifesaving step," Dr. Richard Besser, president of the Robert Wood Johnson Foundation and former acting director of the Centers for Disease Control and Prevention, wrote in a statement. "Banning menthol cigarettes will most assuredly save lives, eliminate great suffering, and reduce health care costs."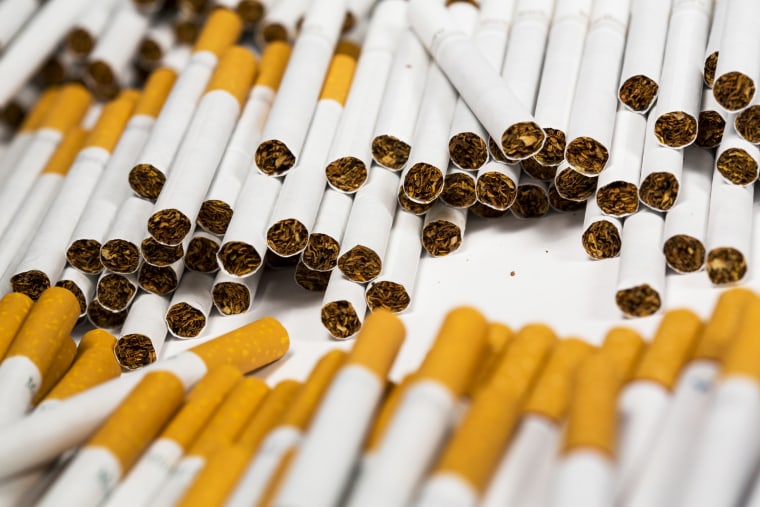 Valerie Yerger, a professor of health policy at the University of California at San Francisco and a founding member of the African American Tobacco Control Leadership Council, also praised the FDA's action. But she also recognized the 47,000 Black Americans who have died of smoking-related diseases annually since 2010.
"That's more than 47,000 who are not here with us to enjoy this morning," Yerger said during a briefing.
It was Yerger's group, the African American Tobacco Control Leadership Council, as well as the group Action on Smoking and Health, that sued the FDA when the agency failed to respond to a 2013 citizen petition urging for a ban on menthol cigarettes.
Thursday's announcement is just the first step in a long regulatory process to transition the market away from menthol products. It is expected that menthol cigarettes will be available for at least two more years.
Advocates of the ban say that's not necessarily a bad thing, because it provides time for more smoking cessation programs to develop plans targeting menthol smokers.
Menthol is used in tobacco products to create a cooling sensation in the throat, making it easier to inhale the smoke and nicotine.
Harold Wimmer, president of the American Lung Association, said Thursday's announcement was "game-changing."
"For generations, the tobacco industry has intentionally targeted Black and other communities with marketing of menthol cigarettes, resulting in tobacco-related death and disease as well as health disparities," he wrote in a statement, adding that close to half of all kids start smoking with menthol cigarettes."
Because the vast majority of adult smokers start smoking as teenagers, experts say a ban on menthol has the potential to dramatically reduce the number of people who begin smoking.
According to the Centers for Disease Control and Prevention, menthol leads more young people to start experimenting with tobacco products. Teenagers often then turn to cigars in "flavors like banana smash, cherry dynamite and chocolate," Matthew Myers, president of the Campaign for Tobacco-Free Kids, said in a statement.
The 2020 National Youth Tobacco Survey found that cigars are "the most popular tobacco product among Black high school students and the second most popular tobacco product, after e-cigarettes, among all high school students," Myers said.
Thursday's action stopped short of including menthol-flavored e-cigarettes. Meredith Berkman, co-founder of Parents Against Vaping E-cigarettes, said that while she is "thrilled" about the FDA action, "there's more to be done."
"There's no secret that we have a youth vaping epidemic," Berkman said. "Removing menthol immediately from the market in e-cigarettes will prevent further youth initiation."
There was some pushback to Thursday's proposal from the National Newspaper Publishers Association, which says it represents "more than 200 African-American owned community newspapers from around the United States."
The NNPA, which has received funding from the tobacco industry, said such a ban would further exacerbate tensions between the Black community and law enforcement. "Daily interactions between police and people of color demonstrate that a menthol ban would give police pretext to approach a smoker to find out where cigarettes were purchased in order to get to the seller of the counterfeit tobacco," the group wrote online.
The FDA's Zeller addressed those concerns during Thursday's briefing.
"This is a critical, and understandably sensitive issue, as our society confronts matters related to systemic racism and social justice," Zeller said, adding that any FDA rule prohibiting menthol tobacco products would only apply to manufacturers, distributors, wholesalers, importers and retailers.
"The FDA cannot and will not enforce against individual consumer possession or use of menthol cigarettes or any tobacco," Zeller said.
Anyone wishing to quit smoking can visit the National Cancer Institute's website, smokefree.gov, or call 1-800-QUIT-NOW, which connects callers to state-specific quit lines.
Follow NBC HEALTH on Twitter & Facebook.