Hospital plumbing is a "vast" reservoir of drug-resistant superbug germs, which share their superpowers with other bacteria down there, researchers reported Tuesday.
Checks of the plumbing at the National Institutes of Health's flagship hospital outside Washington, D.C. show drains can be loaded with dangerous bacteria. It's likely other hospitals have the same problem, the NIH researchers said.
And they're breeding down there, passing along their drug-resistant properties to other species of germs on little cassettes of genetic material called plasmids, the study found.
The good news is that the superbugs are not common elsewhere in the hospitals. And they are unlikely to be a threat to the general public.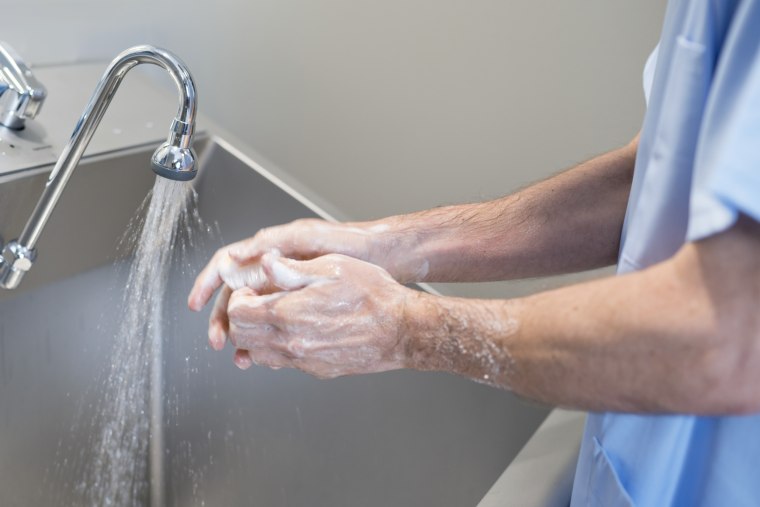 But it's good for hospitals to be aware of the potential problem and get out ahead of it, the NIH team said.
"We are not trying to send a scary message to people in their kitchens," said Dr. Karen Frank, chief of microbiology at NIH's clinical center hospital.
The NIH began a big investigation into where germs live in hospitals after an outbreak of antibiotic-resistant infections killed 7 patients at the Clinical Center in 2011-2012.
The bug involved was carbapenem-resistant Klebsiella pneumoniae. They produce an enzyme called carbapenamase, which disables the "last resort" carbapenem calls of antibiotics.
Related: Nightmare superbug found in U.S.
It's still not entirely clear how the vulnerable patients became infected in every case, but clinical center officials thought it was important to try to find out.
They discovered many of the bugs were living in the plumbing, and scrubbed out sink drains. And an independent team found that the bacteria can splash back out of sink drains.
A second NIH survey, published in the journal mBio, finds the superbug germs are not very common in places where patients might touch, such as bed rails, counters, doorknobs or wheelchairs. Just 1 percent of samples had bacteria with carbapenem resistance, they reported.
"Healthy people tend to be resistant against this."
However, drains were a common source of the bacteria, as well as housekeeping storage closets.
"All seven wastewater samples collected from the intensive care unit (ICU) piping system contained at least one carbapenamase-producing organism," they wrote. That's even though very, very few patients in the ICU had been infected with these bacteria.
"All samples from the intensive care unit pipe wastewater and external manholes contained carbapenemase-producing organisms (CPOs), suggesting a vast, resilient reservoir," they wrote.
"The wastewater pipe system appears to be a reservoir for carbapenamase-producing organisms."
Related: Here's why doctors are afraid of superbugs
Frank does not think the general public should worry.
"I would say it is not a huge concern in the United States," she said. "Healthy people tend to be resistant against this." But patients in intensive care, including premature babies and people with compromised immune systems such as certain cancer patients, are very vulnerable to such infections.
And one patient with a rare infection from a bacteria called Leclercia appears to have been infected in the hospital — mop buckets carried a genetically similar sample.
"The finding leads one to consider what might be found if more hospitals were investigated to this extent," they wrote.
"It is likely that most hospitals have some carbapenamase-producing organism colonization in wastewater and drains that remains undetected," they added.
Infections caused by antibiotic resistant bacteria kill 23,000 people every year, make 2 million more sick and cost $35 billion in productivity lost to sick days, the Centers for Disease Control and Prevention says.
And CDC says people often get infections in hospitals — 722,000 in 2011, the CDC says. It said 75,000 of the patients died.
Related: Nevada woman dies of near-ultimate superbug
It's impossible to sterilize hospitals and Frank said her team did not expect to find the Clinical Center was "100 percent clean". Janitorial closets, especially, will be home ot many germs.
The important thing is to keep wastewater, dirty mops and anything else that may spread these germs away from patients.
NIH has changed its own practices and other hospitals should, too, she said.
"They can pay attention to the particular cleaning agents that are used," Frank said.
"We upgraded our cleaning agents." Drains stay cleaner if they are regularly flushed with water, she added. And every hospital needs an infection control officer, she said.