Eric Smith comes from the part of Ohio where fizzy soft drinks are called "pop." He also called them his beverage of choice — for lunch, dinner and snacks.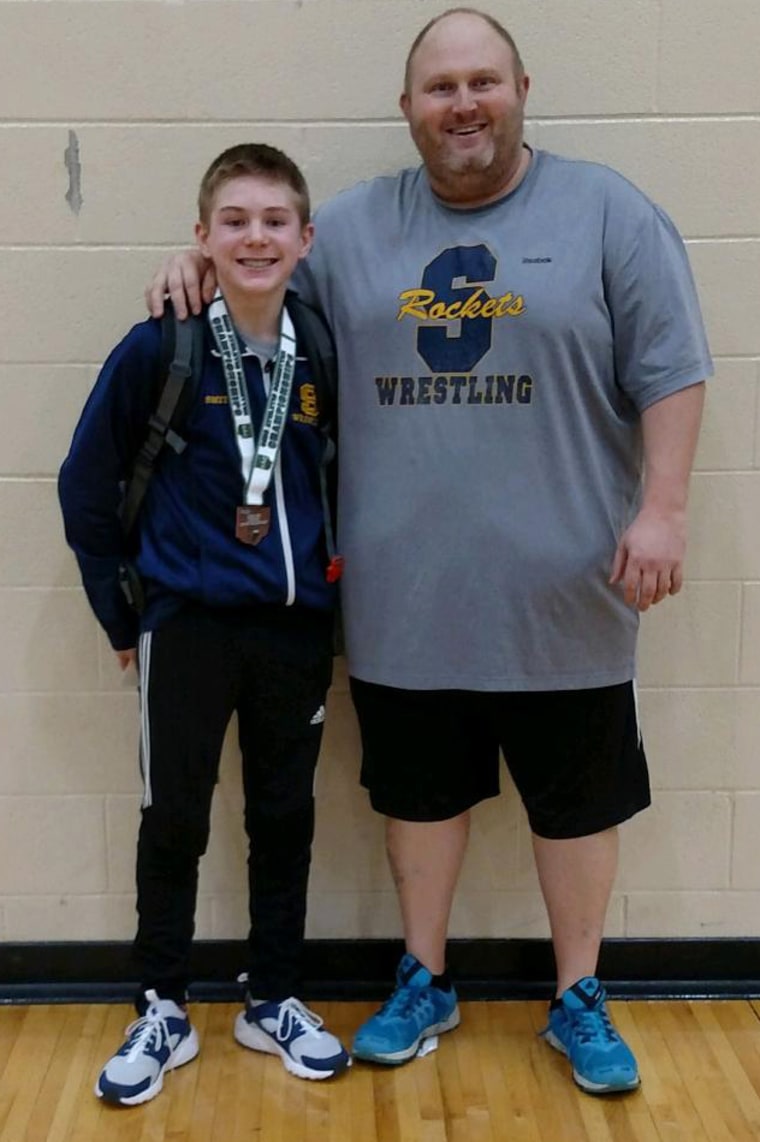 So when he was diagnosed with Type 2 diabetes in November 2016, Smith knew he was going to have to cut down. In fact, he cut out all sugary soft drinks and switched to water.
He stopped eating fast food, white bread and other junk and, in the space of a few months, he turned around his diabetes and has normal blood sugar now.
On Tuesday, a large study confirmed what Smith and other people like him have found — a strict weight-loss diet can reverse the progression of Type 2 diabetes and bring many people back to normal.
"I was drinking maybe six cans of pop a day if you averaged it out," said Smith, a 40-year-old bookkeeper.
"Every meal I would have one, maybe two with lunch, two with dinner. If it wasn't pop it was a sugary drink somewhere."
And Smith was, like so many Americans, obese. "I was up to 390," he said.
He joined the Cleveland Clinic's Lifestyle Essentials program, which includes a series of six appointments to help people learn how to improve their habits. By changing his diet and adding in just a little exercise, he's dropped weight and controlled his blood sugar.
"I am down to 345, 350 right now," Smith said, and his blood sugar is in the normal, healthy range.
Related: Half of Americans have diabetes or high blood sugar
It's more evidence that weight loss alone can control diabetes, which kills more than 70,000 Americans every year.
Other studies have shown that weight-loss surgery can help reverse diabetes. But that's an extreme option. The study released Tuesday showed people can do it with diet.
"If this study shows that a low-calorie diet is an effective and practical way to put Type 2 diabetes into remission, now and in the longer-term, it could completely transform the way Type 2 diabetes is treated," said Diabetes UK, a charity for people affected by diabetes that paid for and sponsored the study.
"Bariatric surgery can achieve remission of diabetes in about three-quarters of people, but it is more expensive and risky, and is only available to a small number of patients," said Roy Taylor of Britain's Newcastle University, who helped lead the study.
"The weight loss goals provided by this program are achievable for many people," Taylor said.
The Britons in the study went on a much stricter weight-loss diet than Smith's do-it-yourself regime, managed with the help of the Cleveland Clinic.
"If this study shows that a low-calorie diet is an effective and practical way to put Type 2 diabetes into remission, now and in the longer-term, it could completely transform the way Type 2 diabetes is treated."
The British researchers recruited and tested nearly 300 people who agreed to be randomly assigned to a strict diet program, or the usual care, which includes weight-loss counseling, but they stayed on their diabetes medications. Everyone was overweight and had been diagnosed with Type 2 diabetes in the past six years
Half the patients went off all their diabetes and blood pressure medications and followed a strict diet. "The low-calorie diet of 800 calories a day is made up of four soups or shakes. These have all the essential vitamins and minerals," Diabetes UK said.
"Our findings show that, at 12 months, almost half of participants achieved remission to a nondiabetic state and off anti-diabetic drugs," the researchers wrote in their report in the Lancet medical journal.
Related: Weight loss surgery reverses diabetes
After three to five months of this liquid diet, volunteers gradually were allowed to eat small amounts of normal food.
"The diet was very difficult. I can't say otherwise," said Isobel Murray, 65, of North Ayreshire in Scotland. She was the first patient to try the diet.
"Having just liquid rather than actual food for such a long time (17 weeks in total) is odd," Murray added in a statement.
"And as part of the trial I had to come off all my medication, which was initially a little daunting. But I was absolutely determined."
Liquid diets can be very effective for weight loss but they are difficult to follow.
"I made a lot of sacrifices," Murray said.
"My husband did all the cooking and food shopping. My husband and any guests would eat in the dining area and I ate separately in the living room. It was also around the time my first grandchild was born, but I still stuck to it," she added.
"Having a liquid diet made it easier in some ways, as I didn't have to think about food. I also had great support from all my family and friends."
Related: Groups agree on using surgery to reverse diabetes
Smith also got support from friends and family, and he's enlisted his 14-year-old son, Ashton.
They had been in the habit of stopping for fast food after Ashton's wrestling practice.
"Before, he ate what I ate. What I ate or what I bought, he did. Now he still does that," Smith said.
"Before I didn't eat breakfast. Now I am trying to eat something. It may be a protein bar during the week but on the weekend we'll have eggs, maybe wheat toast, or have some oatmeal," he added.
"You get a plan, you plan your meal ahead of time and know what you are going to cook."
"Lunch — some kind of chicken and a salad. He may have a chicken sandwich but I usually eat my chicken on the salad. Dinner we'll have chicken or turkey or sometimes a pork chop. We'll have salad, we'll try to have a vegetable with it or maybe rice or a small potato with it."
It's not as easy as grabbing a burger at the drive-thru, but Smith was determined to change his life.
"It's hard. I figured out where I get home earlier than he does from practice so I start cooking ahead of time. Monday I can start prepping for on Sunday, which is great," he said.
"You get a plan, you plan your meal ahead of time and know what you are going to cook."
In Britain, the people who lost the most weight were more likely to see their blood sugar levels go down. About a quarter of those who tried the diet lost more than 30 pounds, the researchers found.
"Additionally, nearly half of the weight management group (68 out of 149) achieved diabetes remission at one year, compared with six (4 percent) in the control group," the team wrote.
"On average, participants in the weight management group shed 10 kg (22 pounds) of body weight compared to (two pounds) in the control group."
While diabetes symptoms disappeared, patients are not considered cured. It's been shown if people regain weight, the diabetes comes back.
About 30 million Americans have diabetes, mostly Type 2, in which the body gradually loses the ability to produce or use insulin to turn food into energy. That's more than 9 percent of the population. And more than a third have blood sugar so high they're almost diabetic.
About three-quarters of Americans are overweight or obese, both conditions that often cause diabetes.
Diet, exercise, medication or insulin can all help control diabetes, but if it's poorly controlled, it can cause damage that leads to heart attacks, strokes, kidney failure, amputations or blindness.
Studies have shown that bariatric surgery can improve blood sugar control in obese people with diabetes. Some can even stop taking medications.
That's the goal for the people in the British study.
"The big challenge is long-term avoidance of weight re-gain," Taylor said. The volunteers will be studied for four years to see if they can control their diabetes long term.
And that's Smith's goal, too. After a divorce last year, he has sole custody of Ashton.
"The big turnaround was being divorced, being diabetic, being overweight. It was like, I am all he has," Smith said.
"I need to be healthy for him and make sure I am staying around for him."