Fewer babies are dying in the U.S., federal researchers reported Tuesday.
The infant mortality rate has fallen by 15 percent in the past 10 years, a rare bit of good news. The U.S. infant mortality rate has been a source of both embarrassment and concern for the United States, which has a much worse record than other developed countries.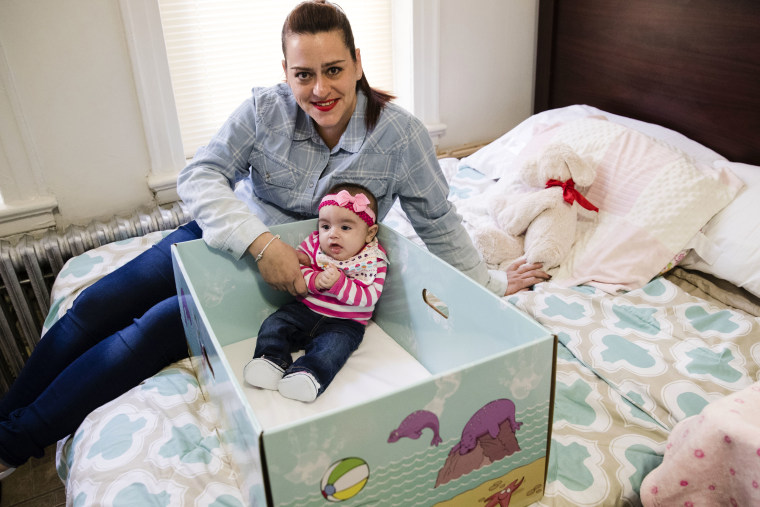 The biggest drop — 29 percent — is for deaths from sudden infant death syndrome, also known as SIDS, the team at the National Center for Health Statistics found.
"Infant mortality is considered a basic measure of public health for countries around the world," wrote Anne Driscoll and T.J. Mathews of the NCHS, part of the Centers for Disease Control and Prevention.
Related: U.S. States Giving Out Baby Boxes to Curb Infant Deaths
"Over the past decade, the overall infant mortality rate in the United States has improved, declining 15 percent from 6.86 infant deaths per 1,000 live births in 2005—a recent high—to 5.82 in 2014," they added.
"From 2005 through 2014, the infant mortality rate for sudden infant death syndrome declined 29 percent, which was the largest decline observed among the top five leading causes of infant death."
"From 2005 through 2014, the infant mortality rate for sudden infant death syndrome declined 29 percent."
The report simply looks at numbers, not reasons. But researchers have been concerned about infant mortality in the U.S. and point to several factors, including a high rate of teen pregnancies, a lack of planning and a lack of healthcare.
There is a very high teenage pregnancy rate in the U.S. compared to other countries, and teenagers are more likely to have small and premature babies. The teen pregnancy rate has been dropping in recent years, however, and is hitting new lows.
Related: U.S. Infant Mortality Still Highest in Developed World
The U.S. has a high rate of unintended pregnancies in general. More than 40 percent of pregnancies in the U.S. are unplanned, and that means women are not preparing to become mothers. They may not take prenatal vitamins as early as they should, may not get early checkups, and may not be in the best of health themselves.
The U.S. has an extremely high rate of obesity, which can cause difficulties with pregnancy and gestation.
And one factor may be how the U.S. measures infant mortality, says the Organization for Economic Cooperation and Development (OECD), which keeps comparisons on how countries do with health care.
Related: More U.S. Babies Die on Their First Day
"Some of the international variation in infant mortality rates is due to variations among countries in registering practices for premature infants. The United States and Canada are two countries which register a much higher proportion of babies weighing less than 500 grams, with low odds of survival, resulting in higher reported infant mortality," the OECD says.
"In Europe, several countries apply a minimum gestational age of 22 weeks (or a birth weight threshold of 500g) for babies to be registered as live births."
"On the surface, this seems like good news. But it is far from time to celebrate."
In the U.S., any fetus or baby delivered alive is registered as a live birth, no matter how premature or how quickly death follows.
Nonetheless, according to OECD data, the U.S. does not stack up well. In 2014, India's infant mortality rate was 39 per 1,000 live births; South Africa's was 34 and Britain's was 3.9. It's 1.8 in Slovenia.
The new U.S. rate of 5.8 deaths per 1,000 live births puts it on a par with the Slovak Republic, which ranks about 30th out of 40 countries the OECD ranks.
"On the surface, this seems like good news. But it is far from time to celebrate," said Dr. Paul Jarris, chief medical officer for the March of Dimes, a charity that works to prevent birth defects.
"While this report shows overall improvement to infant mortality rates, women of color and their children continue to bear a disproportionate burden," Jarris added.
Related: Colorado Teen Pregnancy Rate Falls With Birth Control
"This report highlights the need to strengthen programs that serve low income and at-risk communities, especially those with the highest infant mortality rates."
The report shows African-American babies by far are the most likely to die as infants, with an infant mortality rate in 2014 that's just under 11 percent. Still, that's down from 13.6 percent in 2005.
For white babies, the rate's 4.89 percent and it's 5 percent for Hispanic babies.
For 2005–2014, the highest infant mortality rates were observed among infants of non-Hispanic black women, and the lowest rates were observed among infants of API women
The causes of infant deaths remain the same: Birth defects are the no. 1 cause, although the rate fell by 11 percent between 2005 and 2014.
"The second leading cause of infant death (infant deaths due to short gestation and low birthweight) declined 8 percent, "Driscoll and Mathews wrote.
"The infant mortality rate for sudden infant death syndrome had the largest decline of 29 percent, from 54 in 2005 to 38.6 in 2014."