A veteran badly injured by a roadside bomb in Afghanistan is recovering from the first-ever transplant of a penis and scrotum, doctors said Monday.
The soldier lost both legs above the knee, his penis and the area around it when the IED — improvised explosive device — blasted him.
But thanks to a donor and a team of transplant specialists who have been rehearsing for five years, the patient should recover near complete function of his penis, the doctors said.
"He is expected to be discharged from the hospital this week, and we are optimistic that he will regain near-normal urinary and sexual functions following full recovery," Dr. Andrew Lee, the chairman of the Department of Plastic and Reconstructive Surgery at Johns Hopkins University, told reporters in a telephone briefing.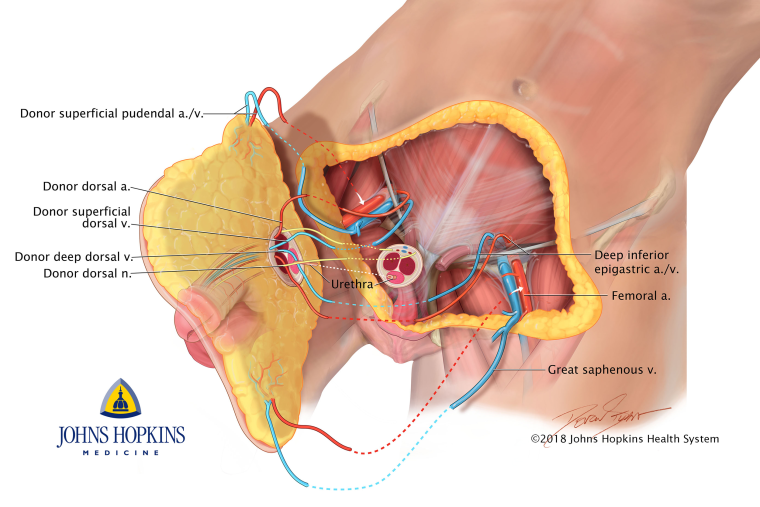 "For reasons that we can all understand, the patient wishes to remain anonymous and requests to have his privacy respected."
The operation to replace the patient's penis and lower abdominal area took 14 hours, the research team said.
"It's a real mind-boggling injury to suffer, it is not an easy one to accept," the patient said in a statement released by the university.
"When I first woke up, I felt finally more normal… a level of confidence as well. Confidence… like finally I'm okay now."
Penis transplants are not completely new. In 2016, a 64-year-old man who lost his penis to cancer got a new organ and in 2015, a South African university said it had performed a successful penis transplant and said the patient had fathered a child.
According to a 2017 report in the Journal of Urology, more than 1,300 male veterans had suffered genital injuries sustained during action from 2001 to 2013 in Afghanistan and Iraq. "An unprecedented number of U.S. service members sustained genitourinary injury while deployed to Operation Iraqi Freedom/Operation Enduring Freedom," the researchers, led by Dr. Steven Hudak of the San Antonio Military Medical Center, wrote.
Such transplants are very complicated. The penis has many blood vessels and nerve endings, and also must connect the urethra to the bladder and to the prostate inside the body.
Plastic surgeons can perform penile reconstruction using a patient's own skin but a transplant of an entire organ is much trickier.
The Johns Hopkins team also gave the patient an infusion of the donor's bone marrow to help his immune system accept the transplant. The hope is to reduce the need for anti-rejection drugs.
It wasn't easy finding a donor because the patient had a rare blood type, the surgeons said.
"I would like to take a moment to acknowledge the incredible generosity of the donor family. In their period of grief they were able to think of others in need, and we are deeply grateful for their gift," said Dr. Rick Redett, professor of Plastic and Reconstructive Surgery at Johns Hopkins.
"We also want to recognize the personnel from the two organ procurement organizations for their compassionate and professional assistance in making the donation possible."
Most organ transplants require the family to make a quick decision to donate after someone dies. There is a severe shortage of such donors in the U.S.
The family of the donor, who worked with New England Donor Services, wished the patient well.
"We are all very proud that our loved one was able to help a young man that served this country," they said in a letter released by the donor group.
"We are so thankful to say that our loved one would be proud and honored to know he provided such a special gift to you. As a family, we are very supportive of all the men and women who serve our country and grateful for the job you did for this nation."
The surgeons said the operation appears to have been a success.
"Our patient is recovering from the transplant well. He is up walking and the graft shows no signs of infection or rejection. He is expected to be discharged from the hospital this week," Redett said.
The doctors will know if the patient can urinate normally soon, as soon as his catheter is removed. It may be longer before they know if sexual function has returned.
"We think it will take about six months," Redett told reporters.
The surgeons did not transplant new testicles for the patient or any germline tissue that could produce sperm, citing ethical issues. Transplanted testicular tissue would create sperm genetically related to the donor, not the patient recipient.
The team said they have no plans to use their techniques for gender reassignment surgery.
Other researchers are working on the problem of restoring damaged sexual organs, including a team trying to grow personalized transplants so that rejection is not a problem. A team at Wake Forest Institute of Regenerative Medicine engineered artificial penises in rabbits in 2009 , using cells from the animals, who then used their new organs to father baby rabbits.