Six months before Michigan's governor declared a state of emergency over high lead levels in the water in Flint, his top aide wrote in an email that worried residents were "basically getting blown off by us."
"I'm frustrated by the water issue in Flint," Dennis Muchmore, then chief of staff to Gov. Rick Snyder, wrote in the email to a top health department staffer obtained by NBC News.
"I really don't think people are getting the benefit of the doubt. Now they are concerned and rightfully so about the lead level studies they are receiving," Muchmore said.
"These folks are scared and worried about the health impacts and they are basically getting blown off by us (as a state we're just not sympathizing with their plight)."
The problem began in April 2014 when Flint switched from Detroit's water supply to save money and began using water from the Flint River, which has a high salt content.
That corroded the pipes it flowed through and lead from those pipes — which had been undisturbed by Detroit's less corrosive water — leached into the system.
Marc Edwards, a professor at Virginia Tech who has been testing Flint water, says treatment could have corrected much of the problem early on — for as little as $100 a day — but officials in the city of 100,000 people didn't take action.
"There is no question that if the city had followed the minimum requirements under federal law that none of this would have happened," said Edwards, who obtained the Muchmore email through a Michigan Freedom of Information Act request.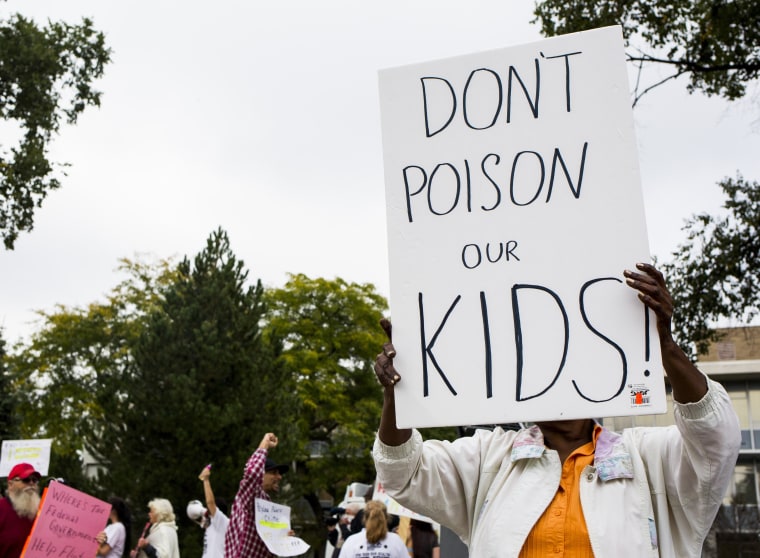 Even after tests in February 2015 showed alarming levels of lead in a Flint home, officials publicly assured residents there was no threat.
Pediatrician Mona Hanna-Attisha didn't buy it. She began an independent study and discovered that lead levels in children had doubled or even tripled since the city switched its water supply.
READ: Feds investigate Flint's lead-tainted drinking water
The effects of the lead poisoning — which harms mental and physical development — could reverberate for years.
"In five years, these kids are going to have problems with special education. They're going to have cognition problems," Hanna-Attisha said. "Seven to 10 years, they're going to have behavioral problems."
Flint switched back to Detroit water in October. In December, the city began adding phosphates to the supply, to coat the insides of pipes and prevent metals like lead and copper from leaching out.
Sean Kammer, assistant to the city administrator, told NBC News those additives cost $80 to $100 a day, but said he could not estimate how much it would have cost to treat the water from the river.
Edwards said the cost would likely have been about the same.
"One hundred dollars per day and nearly none of this would have happened," he said.