It's going to feel like a steam bath in parts of the country over the next few days.
Meteorologists are predicting a "brutally" hot and humid weekend in many regions, with temperatures hitting triple digits. New York City is bracing for a daytime Saturday high that will feel like 106 Fahrenheit because of the humid tropical air mass hanging over the entire east coast like a wet blanket.
Too much heat can be dangerous, but when you combine it with high humidity, your body has an even harder time cooling itself off. Humidity can also affect your brain.
Why are we so sensitive to humidity?
Humidity is how much water vapor is in the air. When we perspire, our bodies normally rely on air to get rid of the sweat that accumulates on the skin. This allows the body to cool down. When the humidity in the air is high, the warm moisture stays on our skin longer, making us feel even hotter. Meteorologists call this the "heat index".
According to the National Weather Service, the heat index is a measure of how hot it really feels when humidity is factored in with the actual temperature.
For example, if the thermometer in your yard reads 96°F and the relative humidity is 65 percent, the heat index — how hot it feels to your body —is 121°F.
Look at the NWS Health Index chart and you can see that temp/humidity combo is putting your body in danger of suffering from a heat disorder.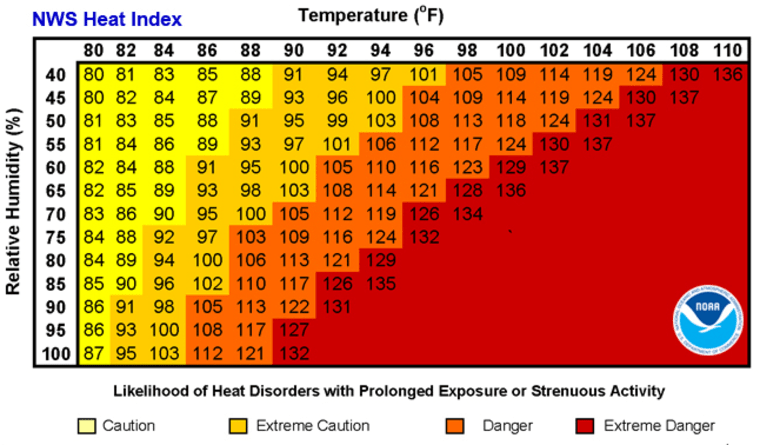 Health Risks of High Humidity
High humidity can have a number of adverse effects on the human body. It can contribute to feelings of low energy and lethargy. In addition, high humidity can cause hyperthermia — over-heating as a result of your body's inability to effectively let out heat. Hyperthermia can cause:
Dehydration
Fatigue
Muscle cramps
Heat exhaustion
Fainting
Heat stroke
If you or someone you are with shows symptoms of heatstroke, such as headaches, confusion, or vomiting, seek medical attention immediately.
A bad mood
According to psychologists, humidity can put you in a bad mood. The science is still pretty limited, but some interesting studies say it might influence brain chemicals that regulate mood.
Doctors also report they have patients who seem to experience a summer version of seasonal affective disorder. People with this condition feel depressed and can experience anxiety and in some cases, even feel suicidal. If you experience any of these symptoms it's important to talk to a health care professional.
Even in less drastic ways, humidity can disrupt some basic functions like sleeping or staying hydrated. Not enough sleep and dehydration can both greatly impact our mood. To make matters worse, not feeling in control of the situation make some people even crankier.
Here are 5 things you can do to stay cool this weekend:
Slow down. Doing more in this weather will make you sweat more and feel more bothered. Strenuous physical activity should be reduced, eliminated, or rescheduled to the coolest time of the day. Individuals at risk should stay in the coolest place available.
Dress appropriately. Lightweight, light-colored clothing reflects heat and sunlight, and helps your body maintain normal temperatures.
Drink plenty of water or non-alcoholic fluids. Even if you don't feel thirsty. Your body loses more water when it's hot, especially with the high heat index from the humidity. Avoid caffeine, alcohol and sugary drinks because they cause you to lose more body fluid.
Avoid alcohol. Some studies have shown that drinking too much in hot weather increases your risk of dying.
Spend more time in cool environments. Air-conditioned spaces markedly reduces danger from the heat. This is critical for those at higher risk, like the elderly or sick or debilitated people. If you cannot afford an air conditioner, spending some time each day in an air-conditioned place will give you some protection.
Be extremely careful about hot cars. Never leave anyone, especially children in a closed, parked vehicle. Don't forget your pets either!
Don't get too much sun. Not only because you'll get hotter. If your skin is damaged from a sunburn, you'll have a harder time dissipating the heat.