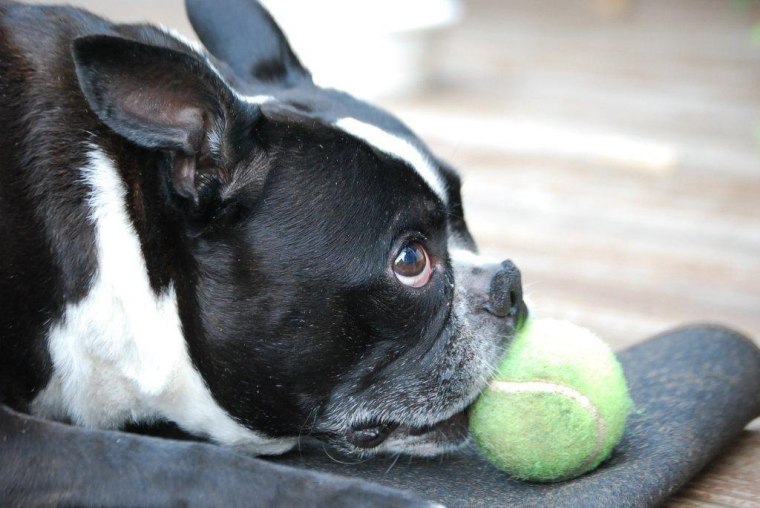 Nearly 600 pets have died and more than 3,600 have been sickened in an ongoing, mysterious outbreak of illnesses tied to jerky treats made in China, federal animal health officials said Tuesday. 
Most of the cases have been in dogs of all breeds, ages and sizes — although 10 cats have been sickened, too — after eating chicken, duck and sweet potato jerky treats. The pace of the reported illnesses appears to have slowed, but federal Food and Drug Administration officials are now seeking extra help from veterinarians and pet owners in solving the ongoing puzzle.
"To date, testing for contaminants in jerky treats has not revealed a cause for the illnesses," Martine Hartogensis, a deputy director for the FDA's Center for Veterinary Medicine, said in the new report. "Despite these warnings, we have continued to receive reports of illnesses in both cats and dogs."

The new numbers are up from some 500 deaths and 3,200 illnesses tallied in January, but the rate of reports has fallen sharply since then, mostly because two of the largest sellers of pet jerky treats announced recalls tied to the presence of unapproved antibiotic residue detected in the products.
Fast facts on the jerky treat investigation
FDA officials don't think that antibiotic residue is the big problem that has stumped the agency since 2007, when pet owners started reporting their animals were suffering gastrointestinal and kidney problems after eating the popular jerky treats. 
Instead, it's likely that the recall of Nestle Purina PetCare Co.'s Waggin Train and Canyon Creek Ranch treats, plus Del Monte Corp.'s Milo's Kitchen Chicken Jerky and Chicken Grillers home-style dog treats simply resulted in fewer treats being available. Three other smaller retailers also recalled the treats because of the problem. 

In fact, FDA officials remain as uncertain as ever about the source of the problem that has led to reports of illnesses and warnings about the possibility of Fanconi syndrome and other kidney problems in animals that ate jerky treats.
"We still are extensively testing treats for a number of things," Hartogensis told NBC News. "We do seem to be getting some leads, but we still have a little bit of a ways to go."
Kendal Harr, a veterinary clinical pathologist who has been tracking the problem, says that the specific compound responsible for the illnesses continues to elude experts. 
"I think that what it tells us is that the intoxicant is something that we're not used to dealing with as a toxin in North America," she said. 
Now, in an open letter to US veterinarians, FDA officials are asking the vets to track and send detailed information about any animals sickened by jerky treats, including results of blood and urine tests. In addition, the agency is asking vets to send urine samples from suspect pets for analysis.
"This testing will allow FDA to get a better idea of how many of the suspected cases involve Fanconi syndrome, whether or not the pets display symptoms of kidney or urinary disease," the report said.
About 60 percent of reports cite gastrointestinal illness in the animals, and about 30 percent flag kidney or urinary troubles, the report said. About 135 cases of Fanconi syndrome, a specific kind of kidney disease, have been reported.
At the same time that they're seeking help from vets, FDA officials are putting out a fact sheet for owners that can be posted at veterinary hospitals, pet supply stores and other sites.
The agency has repeatedly cautioned that the treats are not necessary for a balanced diet, but the warnings stop short of a recall, Hartogensis said. The agency is still validating tests to detect the same kind of antibiotic residue that New York officials found earlier this year.
"If we do find an adulterated product, we will recall them," Hartogensis said. "In terms of doing a blanket recall, at this point we don't have enough evidence to do a blanket recall within the authority that we have."
Because there's no formal recall, it's not possible to list affected brands, although a previous FDA analysis indicated that three of the top-selling brands of jerky treats sold in the U.S. were mentioned in connection with pet illnesses. 
That doesn't sit well with pet owners like Robin Pierre of Pine Bush, N.Y., who contends that Waggin' Train chicken jerky treats were responsible for the sudden death in 2011 of her previously healthy 2-year-old pug, Bella, who developed kidney failure. She has long called for FDA to crack down on treat makers — and manufacturers. 
"I am disgusted that our government continues to protect corporate American and China," she told NBC News. "They need to start protecting the American consumer so that this does not happen again. As soon as a product is in doubt, a warning label should be placed at the point of sale so that consumers can make an educated choice."
If a pet does become ill after eating the treats, FDA is asking owners to provide detailed information — up to and including results of a necropsy to test an animal's tissues after death.
In the meantime, officials are trying to reach pet owners who might still have treats on hand to make sure they know about the potential problems.
"Right now, the focus for us is to make the public aware that these cases are still coming in," she said. 
Pet owners can report problems with jerky treats at the FDA's consumer safety portal. 
JoNel Aleccia is a senior health reporter with NBC News. Reach her on Twitter at @JoNel_Aleccia or send her an email.