Sticks poked into caramel apples release enough juice to make a nice, nourishing place for Listeria bacteria to grow, researchers reported Tuesday.
They believe their findings help explain an outbreak of Listeria linked to caramel apples last winter that killed seven people and made at least 35 sick.
"The outbreak took producers, public health officials, and food safety experts by surprise: caramel-coated apples are not a food on which Listeria monocytogenes should grow," Kathleen Glass, of the University of Wisconsin-Madison, and colleagues said.
Apples are too acidic for the bacteria to thrive, they wrote in their report, published in the journal mBio.
They wondered if putting a stick into the apples might release enough juice to make a moist place for Listeria to grow. So they ran an experiment, putting Listeria bacteria on Granny Smith apples – the type implicated in the outbreak.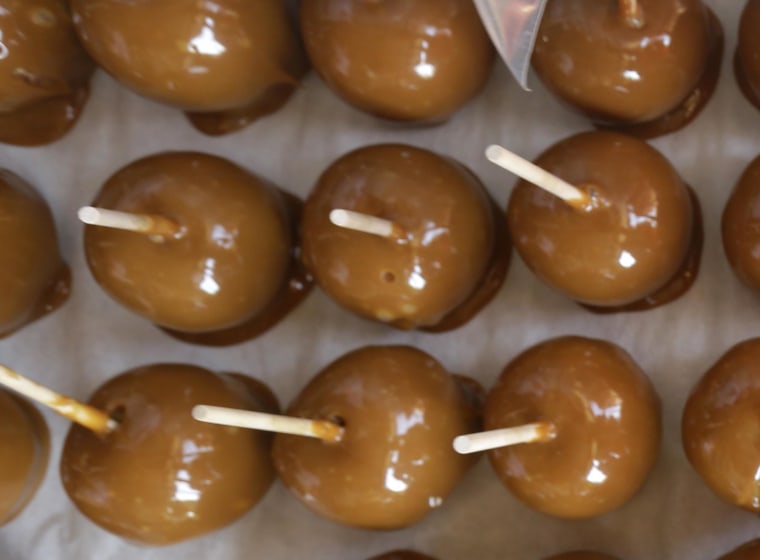 They shoved sticks into half the apples and left the sticks off half, and dipped them all into hot caramel.
"No growth of L. monocytogenes occurred on refrigerated caramel apples without sticks, whereas slow growth was observed on refrigerated caramel apples with sticks," they wrote.
"In contrast, significant pathogen growth was observed within three days at room temperature on caramel apples with sticks inserted."
Listeria can cause a nasty stomach ache but it can kill the very young, very old and people with weakened immune systems. It can also cause miscarriages and stillbirths. The Centers for Disease Control and Prevention estimates that Listeria makes 1,600 people sick every year in the U.S. and kills 260 of them.
The researchers said on obvious solution would be to leave the stick out of caramel apples, but noted that would make it almost impossible to eat them.
Perhaps apples used to make the treats should be given extra disinfection, they suggested. And refrigerating them is clearly a good idea.