Last week, U.S. marshals seized an estimated $3 million worth of kratom that was being sold as a supplement by an Oklahoma-based company. 
It's not the first time that authorities have seized kratom, which is considered a "drug of concern" by the Food and Drug Administration. The incident, however, highlights the ongoing demand for the drug, even as the FDA continues to warn about its potential dangers. 
Kratom is a plant that grows naturally in Thailand, Malaysia, Indonesia and Papua New Guinea, and has a long history of use in Southeast Asia. In the U.S. it's not approved for any purpose, but millions of Americans take it for myriad reasons, saying it boosts energy, treats pain and anxiety, provides a high and even relieves symptoms of withdrawal from opioids. 
The FDA, however, maintains that the drug is unsafe.
"There are no FDA-approved uses for kratom, nor have there ever been, and the agency has received concerning reports about the safety of kratom," Lauren-Jei McCarthy, an FDA press officer, told NBC News in an emailed statement. 
In 2016, the Drug Enforcement Administration moved to classify kratom as a Schedule 1 drug, meaning it has no medical uses and has a high potential for abuse, but reversed course after public outcry. Kratom is still unregulated at the federal level, but five states have bans on the substance, according to the American Kratom Association, a group that advocates for kratom access in the U.S.
In a statement from April 2022, the FDA warned the public against using kratom, or Mitragyna speciosa, which is the scientific name for the plant, saying that the substance "affects the same opioid brain receptors as morphine" and that it appears to have "properties that expose users to the risks of addiction, abuse, and dependence."
In the same statement, the agency said it was "actively evaluating all available scientific information on this issue and continues to warn consumers not to use any products labeled as containing the botanical substance kratom or its psychoactive compounds, mitragynine and 7-hydroxymitragynine."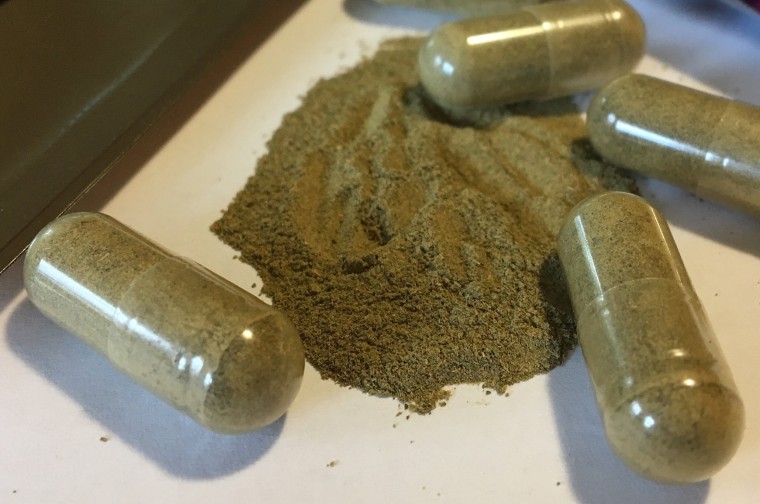 McCarthy said that in the year since that alert was issued, the agency has not come across any data that would warrant kratom's approval as a drug.
Dr. Alan Kaye, a professor of anesthesiology and pharmacology at LSU in Shreveport, Louisiana, said that "the concern is real." 
"Kratom has a number of pharmacologic effects and one is through activating opioid receptors, Kaye said. "That gives an analgesic effect, but also can lead to addiction."
The molecules in kratom also bind to serotonin receptors and calcium blocking channels, he said, which prevents calcium from entering the cells of the heart and arteries, which is how medications used to lower blood pressure work.
"When you have an herbal product like this, that is really used as an analgesic and also for psychoactive stimulation, it's ripe for abuse," Kaye said. "It's not surprising that there are cases of toxicity and death and it's a growing public health concern." 
A 2022 study found that nearly one-third of people in the U.S. who use kratom met the criteria for kratom use disorder, which included increased use, tolerance, withdrawal, unsuccessful quit attempts and craving.
In recent years, research has also linked kratom to liver damage and death, but has also recognized the plant as a safer option for pain management than opioids. 
A 2021 review published in The Journal of Clinical Pharmacology noted that research found kratom can relieve pain and cause mild euphoria, with a lower risk of adverse respiratory and nervous system effects compared to traditional opioids. However, its use has been linked to liver toxicity, seizures and death. A 2020 study also found that kratom users in the U.S. are typically more prone to substance abuse than people who use cannabis, alcohol or cigarettes. 
The National Institute on Drug Abuse says on its website that adverse side effects from kratom are rare but serious, and include psychiatric, cardiovascular, gastrointestinal and respiratory problems. They note that a very small number of deaths have been linked to kratom and nearly all deaths involved other drugs or contaminants — which Kaye said is one of the major concerns with kratom in the U.S.
Supplements and unregulated drugs do not have set standards or government-issued monitoring of their safety, and concerns over kratom's purity and toxicity in the U.S. triggered the 2022 FDA alert. Four years earlier, the FDA had issued a mandatory recall of kratom products after a salmonella outbreak was linked to kratom sold by Triangle Pharmanaturals, LLC. 
"If it is ever studied to a point that the FDA puts its thumb of approval on it, it will be in a purified form and there will be data that shows its safety," Kaye said.
For now, the FDA continues to tell people not to take kratom.
"The agency stands ready to evaluate data that could demonstrate evidence-based medicinal purpose for kratom," McCarthy said. "However, to date, we are not aware of any evidence that would meet the agency's standard for approval of kratom as a drug."
Follow NBC HEALTH on Twitter & Facebook.