After weeks of resistance, Florida Gov. Ron DeSantis issued a statewide stay-at-home order Wednesday to stem the spread of coronavirus, reversing a previous position that left closures up to local officials.
The state has reported nearly 7,000 confirmed cases and 86 deaths.
In Connecticut, a 6-week-old baby who died at a Hartford hospital is thought to be one of the youngest deaths linked to coronavirus. Gov. Ned Lamont said the newborn was brought to the facility last week and couldn't be revived.
And in Guam, 93 sailors aboard the USS Teddy Roosevelt have tested positive for COVID-19. Nearly a quarter of the more than 4,000 crew members on the ship have been tested, and nearly half of those results have been reported. The vast majority are negative.
Full coverage of the coronavirus outbreak
Download the NBC News app for latest updates on the coronavirus outbreak.
This live coverage has ended. Continue reading April 2 Coronavirus news.
Coronavirus greatest test since creation of U.N., says Guterres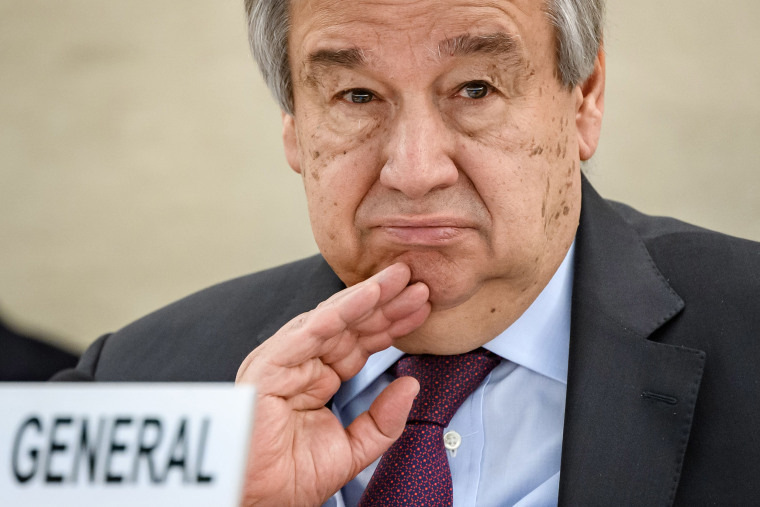 The head of the United Nations António Guterres warned on Tuesday that the coronavirus pandemic is the "greatest test that we have faced together since the formation of the United Nations."
The U.N. Secretary-General called for "global solidarity," underscoring that developed countries must help less developed ones bear the social and economic impacts of COVID-19 or "face the nightmare of the disease spreading like wildfire in the global South." 
"Let us remember that we are only as strong as the weakest health system in our interconnected world", he said, launching a report on Tuesday. The U.N. was "fully mobilized" to support countries with issues from unemployment, debt alleviation to health systems, he added.
Russia sends plane loaded with medical supplies to the U.S.
A Russian military transport plane departed Moscow this morning for the U.S., loaded with medical supplies to assist in the fight against coronavirus.
Russian President Vladimir Putin offered the supplies in a phone call with President Donald Trump on Monday, the U.S. president said at a press conference later that day. On Wednesday Russia loaded up a large An-124 cargo plane — the Russian military's largest — and dispatched it to the U.S.
The move is seen by some as a propaganda stunt amid reports of mask shortages in stores across Russia as new case numbers continue to grow and cities go into lockdown. As of Tuesday, Russian health officials had reported 2,337 cases and 17 deaths.
Italy's epidemic approaching 'plateau,' health official says
Italy's coronavirus outbreak is approaching a plateau, proving lockdown measures to stop the spread of the virus are working, the head of the country's National Institute of Health said on Tuesday.
"The plateau is the stage in which the contagion remains stable for a certain period," Silvio Brusaferro said in a press conference on Tuesday. "Today the contagion index is at 1. It means that every person infects another one. We have to wait for this index to go under 1 and to approach the zero level."
Brusaferro warned it doesn't mean that the nation, which has seen more than 12,000 deaths from the virus, can lower its guard, adding that it's "difficult to imagine a cancelation of the restrictive measures in the short term".
CNN's Chris Cuomo completes show from basement after testing positive
A bleary-eyed Chris Cuomo, saying he wanted to be a cautionary tale for his audience, anchored his CNN show from his basement Tuesday after testing positive for the coronavirus.
Via remote link, he interviewed Illinois Gov. J.B. Pritzker, an emergency room nurse and CNN medical correspondent Dr. Sanjay Gupta, who expressed worry about one of Cuomo's symptoms.
"Brace yourself," Cuomo told viewers, "not for a hoax. But for the next few weeks of scary and painful realities. This is a fight. It's going to get worse. We're going to suffer."
Cuomo looked pale, his eyes watery and red-rimmed. He took a few deep breaths to compose himself. He repeated himself. Even Gupta said he didn't look good, and said he'd call later to talk about a tightness Cuomo was feeling in his chest.
In Turkmenistan, people who talk about coronavirus face arrest
MOSCOW — An international media freedom watchdog says the autocratic ex-Soviet nation of Turkmenistan has banned the media from using the word "coronavirus."
Reporters Without Borders said Tuesday the word also has been removed from health information brochures distributed in schools, hospitals and workplaces. The gas-rich Central Asian nation that neighbors Iran so far has reported no cases of the new coronavirus. Iran has reported more than 44,000 cases.
Paris-based Reporters Without Borders said people wearing face masks or talking about the coronavirus are liable to be arrested by plainclothes police. Ranked last in the group's 2019 World Press Freedom Index, Turkmenistan is one of the world's most closed countries.
Turkmenistan President Gurbanguly Berdymukhamedov has ruled the country since 2006 through an all-encompassing personality cult that styles him as Turkmenistan's "arkadaq," or protector.
Biden suggests there may not be physical Democratic convention
There may not be a physical Democratic national convention this year because of the coronavirus pandemic, former vice president and current Democratic presidential candidate Joe Biden suggested Tuesday.
"It's hard to envision that," Biden told MSNBC's Brian Williams when asked whether he could see prominent Democrats from around the county gathering in an arena for the convention, which is scheduled for July.
Conventions, primaries and elections have been held during times of national crisis in the past, said Biden, who said officials should listen to the scientists when making decisions. 
"The fact is, it may have to be different," Biden said. "My guess is, there's going to be a great deal more absentee balloting, we used to call it, but paper ballots." He also said that the situation could change by then.
Biden has had a surge of primary victories, but his rival Sen. Bernie Sanders, I-Vt., is still in the race.  Sanders earlier this week told "Late Night" host Seth Myers that "there is a path" to the nomination, though "admittedly a narrow path."