After weeks of resistance, Florida Gov. Ron DeSantis issued a statewide stay-at-home order Wednesday to stem the spread of coronavirus, reversing a previous position that left closures up to local officials.
The state has reported nearly 7,000 confirmed cases and 86 deaths.
In Connecticut, a 6-week-old baby who died at a Hartford hospital is thought to be one of the youngest deaths linked to coronavirus. Gov. Ned Lamont said the newborn was brought to the facility last week and couldn't be revived.
And in Guam, 93 sailors aboard the USS Teddy Roosevelt have tested positive for COVID-19. Nearly a quarter of the more than 4,000 crew members on the ship have been tested, and nearly half of those results have been reported. The vast majority are negative.
Full coverage of the coronavirus outbreak
Download the NBC News app for latest updates on the coronavirus outbreak.
This live coverage has ended. Continue reading April 2 Coronavirus news.
Sounds of our time? People around the world share recordings during coronavirus lockdowns
Birds chirping in New York City, rainfall in India and clapping for health care workers in Belfast — those are just a few of the sounds collected on a website that is crowdsourcing audio of the coronavirus lockdowns from across the globe. 
Cities and Memories, run by U.K.-based sound artist Stuart Fowkes, is undertaking a global collaborative project to document a unique social moment and has received contributions from people staying home in more than 70 countries.
"The world hasn't sounded quite like this during our lifetimes," writes Fawkes on the site. "Whether it's something simple like less traffic, or how you can hear more birdsong and wildlife, through to how people are coming together through song and music."
The project has sparked interest online with #StayHomeSounds garnering support and organizers urging people to submit their recordings but cautioning avid listeners not to defy lockdown rules to go outside.
For China's overworked IT professionals, coronavirus lockdown means longer days
For Chinese information technology workers who already had to grapple with punishing work schedules, coronavirus lockdowns across the country have meant increased workloads, higher expectations from bosses and colleagues and ever more blurred boundaries between work and personal life.
China's IT industry already had a notorious "996" work culture, in which people work from 9 a.m. to 9 p.m. six days a week. But some describe the current working-from-home mode as closer to "007" — 24 hours a day, seven days a week. And the extra overtime is unpaid.
Swedish airline crews retrain to help hospitals fight coronavirus
Airline crews in Sweden, grounded by the coronavirus outbreak, are training in basic hospital duties to help plug gaps in the Swedish healthcare system, Reuters reports. 
Cabin crew from the crisis-hit Scandinavian airline SAS, are learning new skills such as sterilizing equipment, making hospital beds and providing information to patients and their relatives.
Sweden is among the few European countries that has defied lockdown trends but healthcare officials in Stockholm have scrambled to set up a temporary hospital in a convention center and warned of a lack of staff and safety equipment to meet the crisis.
New London hospital opens to treat thousands of COVID-19 patients
Putin works from home after possible coronavirus exposure
Russian President Vladimir Putin is now practicing social distancing and working remotely after a doctor who met with him last week tested positive for coronavirus, his spokesman said Wednesday.
Dr. Denis Protsenko met Putin for a tour of the Kummunarka Hospital, Moscow's main coronavirus treatment center. On Tuesday, he said had tested positive for coronavirus and was working remotely from his isolated office. 
Kremlin spokesman Dmitry Peskov told reporters said that Putin would conduct his first teleconference meeting Wednesday afternoon, and that the meeting would be live streamed for all to see.
Humanitarian bodies push for protection of refugees, stateless during crisis
International humanitarian organizations warned that the health of refugees, migrants and stateless people must be protected during the worldwide coronavirus outbreak. 
As countries close down borders, migrants and refugees must be ensured equal access to health services and be included in national responses to COVID-19, the United Nations' refugee agency, the World Health Organization and the International Organization for Migration said on Tuesday.
The organizations said that unsanitary conditions in overcrowded camps, makeshift shelters and detention centers, is a cause for worry.
Spain sets grim record for daily death toll as cases top 100,000
Spain reached two grim milestones on Wednesday as the number of confirmed coronavirus infections passed 100,000, and the number of deaths in one day reached a new high, the Health Ministry reported. 
The spike of 864 fatalities has brought the country's death toll to 9,053, while the total confirmed cases have risen to 102,136. Spain's death toll is second highest in the world following Italy, while the number of people infected is behind only the U.S. and Italy.
The rate of new infections had slowed from the previous day, suggesting that the spread of the virus is stabilizing.
Loss of smell, taste strong predictors for COVID-19, U.K. researchers find
The loss of smell and taste has been reported by as many as 59 percent of coronavirus patients in the United Kingdom, signaling it could be a strong predictor of the disease, according to research by King's College London. 
The findings shared with NBC News on Wednesday are based on data submitted between March 24 and 29 to a tracking app launched by the university to better understand COVID-19. Loss of smell and taste has been increasingly reported by patients worldwide, but are not yet considered key symptoms by the World Health Organization pending more evidence.
Other indicators of the virus include tiredness and fatigue that was reported by 53 percent of people, a persistent cough among nearly 29 percent of respondents, shortness of breath among 28 percent of respondents and fever among 10.5 percent of respondents.
Strong social distancing on display at Japan's Defense Ministry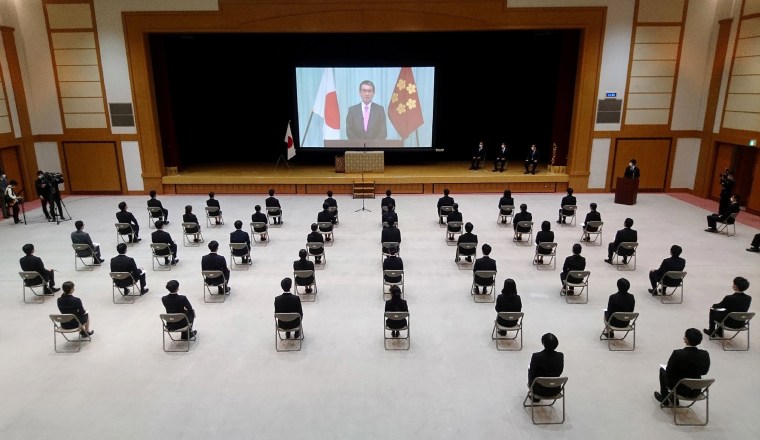 Saudi Arabia urges Muslim pilgrims to put off making plans for Hajj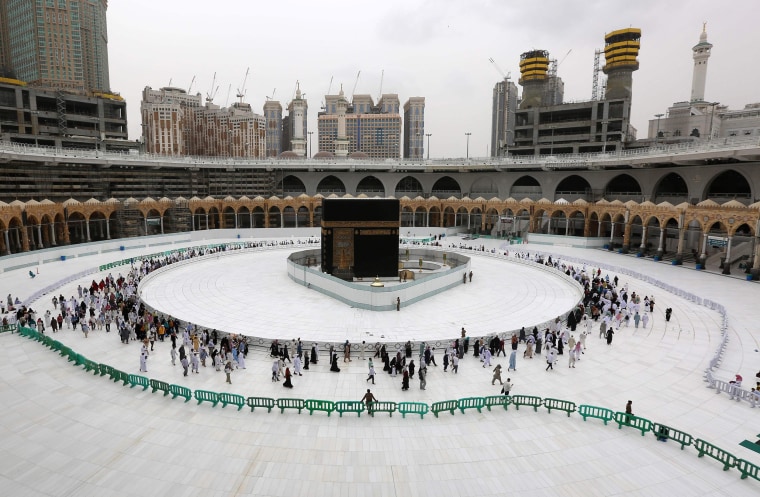 Saudi Arabia has told Muslim pilgrims around the world to hold off on making arrangements to attend the annual Hajj pilgrimage, set to take place in July, while the coronavirus pandemic continues to spread.
"Saudi Arabia cares for the health of all Muslims coming to the Kingdom therefore we have asked Islamic countries not to issue Hajj contracts yet until the situation becomes clear," the Ministry of Hajj and Umrah tweeted on Tuesday.
The annual pilgrimage to Mecca last year attracted about 2.5 million people from countries around the world.
Wuhan shoppers find new ways of buying food as COVID-19 restrictions ease
China releases data on coronavirus patients with no symptoms
China reported 130 new coronavirus cases who aren't showing symptoms but risk spreading the disease, as part of new data being released as of Wednesday on asymptomatic patients.
There are a total of 1,367 asymptomatic patients under clinical observation, which despite the new cases, is down by 174 people from the previous day, according to health officials. There were also 36 new confirmed cases of people infected with COVID-19, 35 of which had traveled abroad. 
The new data comes as China begins to lift lockdown measures at the epicenter of the outbreak in Wuhan, where residents fear a resurgence of the disease.
Sweden defies lockdown trend, bets on citizens acting responsibly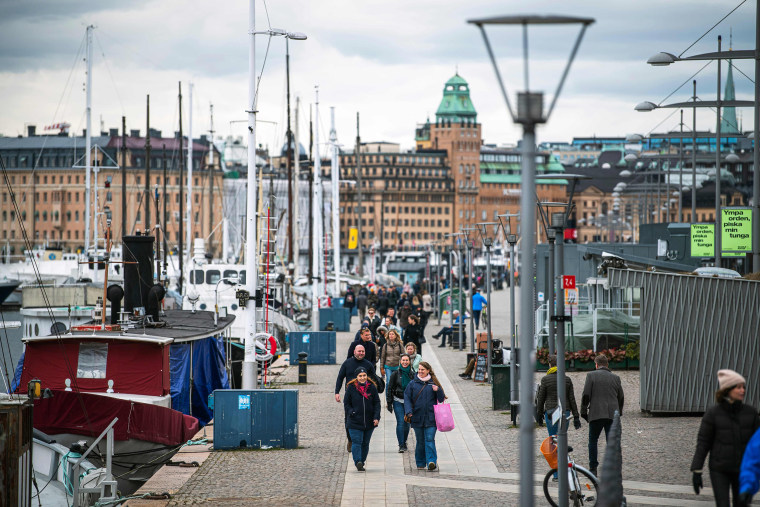 Sweden has bucked with the government leaving it up to individuals to act responsibly and decide whether to stay home or not. Restrictions that are in place are far more liberal compared with those of the nation's neighbors.
Public gatherings of more than 50 people are prohibited but there are no restrictions on private meetings, meaning parties and corporate events can still go ahead. Libraries and swimming pools remain open.
The authorities have instead advised the public to practice social distancing and to work from home, where possible, and urged those over the age of 70 to self-isolate as a precaution. In other words, the country has staked its bets on people acting responsibly.
Coronavirus greatest test since creation of U.N., says Guterres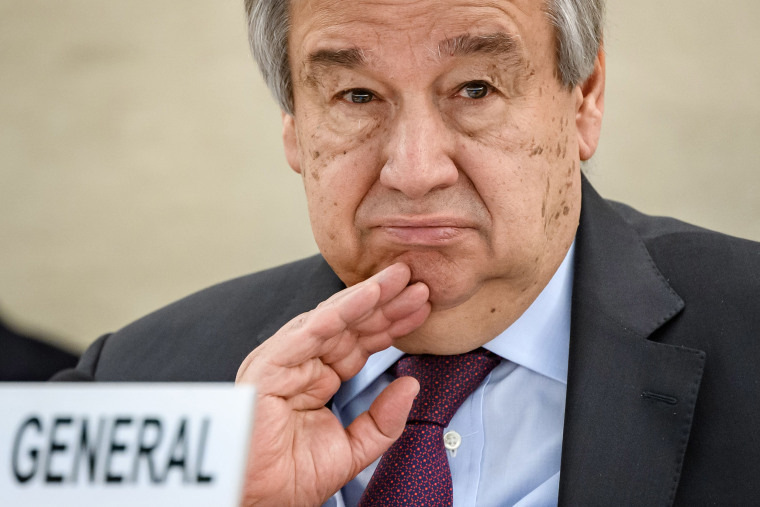 The head of the United Nations António Guterres warned on Tuesday that the coronavirus pandemic is the "greatest test that we have faced together since the formation of the United Nations."
The U.N. Secretary-General called for "global solidarity," underscoring that developed countries must help less developed ones bear the social and economic impacts of COVID-19 or "face the nightmare of the disease spreading like wildfire in the global South." 
"Let us remember that we are only as strong as the weakest health system in our interconnected world", he said, launching a report on Tuesday. The U.N. was "fully mobilized" to support countries with issues from unemployment, debt alleviation to health systems, he added.
Russia sends plane loaded with medical supplies to the U.S.
A Russian military transport plane departed Moscow this morning for the U.S., loaded with medical supplies to assist in the fight against coronavirus.
Russian President Vladimir Putin offered the supplies in a phone call with President Donald Trump on Monday, the U.S. president said at a press conference later that day. On Wednesday Russia loaded up a large An-124 cargo plane — the Russian military's largest — and dispatched it to the U.S.
The move is seen by some as a propaganda stunt amid reports of mask shortages in stores across Russia as new case numbers continue to grow and cities go into lockdown. As of Tuesday, Russian health officials had reported 2,337 cases and 17 deaths.
Italy's epidemic approaching 'plateau,' health official says
Italy's coronavirus outbreak is approaching a plateau, proving lockdown measures to stop the spread of the virus are working, the head of the country's National Institute of Health said on Tuesday.
"The plateau is the stage in which the contagion remains stable for a certain period," Silvio Brusaferro said in a press conference on Tuesday. "Today the contagion index is at 1. It means that every person infects another one. We have to wait for this index to go under 1 and to approach the zero level."
Brusaferro warned it doesn't mean that the nation, which has seen more than 12,000 deaths from the virus, can lower its guard, adding that it's "difficult to imagine a cancelation of the restrictive measures in the short term".
CNN's Chris Cuomo completes show from basement after testing positive
A bleary-eyed Chris Cuomo, saying he wanted to be a cautionary tale for his audience, anchored his CNN show from his basement Tuesday after testing positive for the coronavirus.
Via remote link, he interviewed Illinois Gov. J.B. Pritzker, an emergency room nurse and CNN medical correspondent Dr. Sanjay Gupta, who expressed worry about one of Cuomo's symptoms.
"Brace yourself," Cuomo told viewers, "not for a hoax. But for the next few weeks of scary and painful realities. This is a fight. It's going to get worse. We're going to suffer."
Cuomo looked pale, his eyes watery and red-rimmed. He took a few deep breaths to compose himself. He repeated himself. Even Gupta said he didn't look good, and said he'd call later to talk about a tightness Cuomo was feeling in his chest.
In Turkmenistan, people who talk about coronavirus face arrest
MOSCOW — An international media freedom watchdog says the autocratic ex-Soviet nation of Turkmenistan has banned the media from using the word "coronavirus."
Reporters Without Borders said Tuesday the word also has been removed from health information brochures distributed in schools, hospitals and workplaces. The gas-rich Central Asian nation that neighbors Iran so far has reported no cases of the new coronavirus. Iran has reported more than 44,000 cases.
Paris-based Reporters Without Borders said people wearing face masks or talking about the coronavirus are liable to be arrested by plainclothes police. Ranked last in the group's 2019 World Press Freedom Index, Turkmenistan is one of the world's most closed countries.
Turkmenistan President Gurbanguly Berdymukhamedov has ruled the country since 2006 through an all-encompassing personality cult that styles him as Turkmenistan's "arkadaq," or protector.
Biden suggests there may not be physical Democratic convention
There may not be a physical Democratic national convention this year because of the coronavirus pandemic, former vice president and current Democratic presidential candidate Joe Biden suggested Tuesday.
"It's hard to envision that," Biden told MSNBC's Brian Williams when asked whether he could see prominent Democrats from around the county gathering in an arena for the convention, which is scheduled for July.
Conventions, primaries and elections have been held during times of national crisis in the past, said Biden, who said officials should listen to the scientists when making decisions. 
"The fact is, it may have to be different," Biden said. "My guess is, there's going to be a great deal more absentee balloting, we used to call it, but paper ballots." He also said that the situation could change by then.
Biden has had a surge of primary victories, but his rival Sen. Bernie Sanders, I-Vt., is still in the race.  Sanders earlier this week told "Late Night" host Seth Myers that "there is a path" to the nomination, though "admittedly a narrow path."