The White House is expected to recommend that Americans wear a face covering when they go out.
On Thursday, the coronavirus death toll in the U.S. topped 5,000 on Thursday, according to NBC News' tally, and nearly 240,000 cases have been confirmed across the country. Globally, more than 1,000,000 people have tested positive and more than 50,000 have died from COVID-19, according to Johns Hopkins University.
In the United States, government relief payments will begin the week of April 13 — although people who don't have direct deposit on file with the Internal Revenue Service may have to wait months for checks to arrive, according to a memo obtained by NBC News.
The economic fallout from the pandemic accelerated with a record 6.6 million jobless claims filed last week.
Full coverage of the coronavirus outbreak
Download the NBC News app for latest updates on the coronavirus outbreak.
This live coverage has ended. Continue reading April 3 Coronavirus news.
Coronavirus cases in Iran top 50,000
The number of confirmed cases of coronavirus in Iran passed 50,000 on Thursday, after 2,875 cases were reported in the past 24 hours.
There were also 124 new deaths recorded in the worst-hit country in the Middle East, bringing the total death toll to 3,160.
This comes after Iran's judiciary spokesman said last Sunday that nearly 100,000 prisoners will be temporarily released to ease the pressure on the healthcare system.
U.S. purchased medical supplies from Russia, State Department says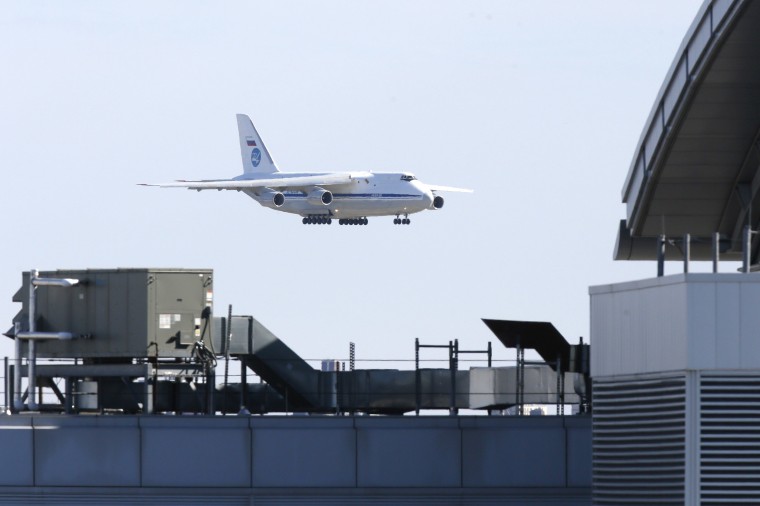 The U.S. State Department said that it purchased the medical supplies that Russia sent to the U.S. on Wednesday, including ventilators and personal protection equipment. The Kremlin had branded the supplies as humanitarian aid to help the U.S. fight the coronavirus pandemic. 
A plane carrying the supplies landed in New York on Wednesday prompting criticism from political observers who decried the move as a propaganda ploy by Russia's President Vladimir Putin.
"Trump gratefully accepted this humanitarian aid," Kremlin spokesman Dmitry Peskov was cited as saying by the Interfax news agency on Tuesday, the day after Trump and the Russian president held a phone call to discuss the coronavirus crisis. 
Biden says he thinks convention will have to be postponed until August
Joe Biden said Wednesday that he thinks the Democratic National Convention, which is scheduled for mid-July, will have to be postponed until at least August. 
"I doubt whether the Democratic convention is going to be able to be held in mid-July, early July. I think it's going to have to move into August," the presidential contender said in a virtual interview with NBC's "The Tonight Show" with Jimmy Fallon.
Biden, however, suggested that even with a delay into August, the situation could still change. "We just have to be prepared for the alternative, and the alternative we don't know what it's going to be unless we have a better sense of whether this curve moving down or up," he said.
The former vice president made the comment in response to a question about how the coronavirus outbreak will affect the elections and whether it would lead to people sending in mail-in ballots. Biden first suggested the convention might have to be moved in an interview Tuesday night on MSNBC when he said "it's hard to envision" it going on as planned. 
The Republican National Convention is also scheduled for August.
Spain's death toll tops 10,000 after record daily rise
Spain's coronavirus death toll climbed past 10,000, the country's Health Ministry said on Thursday, making it the second country in the world to reach the grim milestone. Only Italy has more deaths at 13,155. 
Spanish health officials said they registered 950 new deaths on Wednesday, the highest daily increase so far. 
A total of 110,238 total cases have been reported, up by 8,102.
Man jailed for COVID-19-related assault on police officer in London
A man who coughed on a police officer and claimed to have the coronavirus has been sent to jail for six months, London's Metropolitan Police said Thursday. It is believed to be the first such sentence in the U.K.'s capital. 
The man, 55, is alleged to have attempted to cough up phlegm and spit in the officer's face, telling the officer he had the virus.
The department's chief superintendent said he hoped the sentence would convey a strong message that assaults of that nature will not be tolerated as the nation is tries to stem the spread of the virus. 
Rows of freshly dug graves mark cemetery in São Paulo, Brazil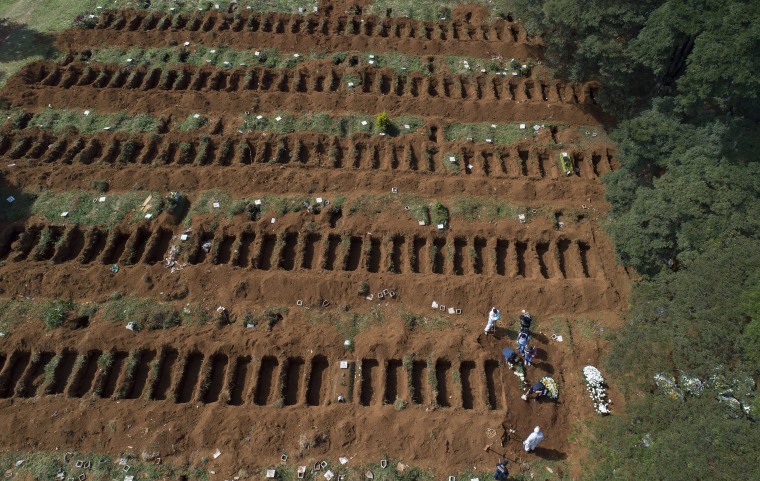 Adam Schlesinger, Fountains of Wayne musician, dies of virus at 52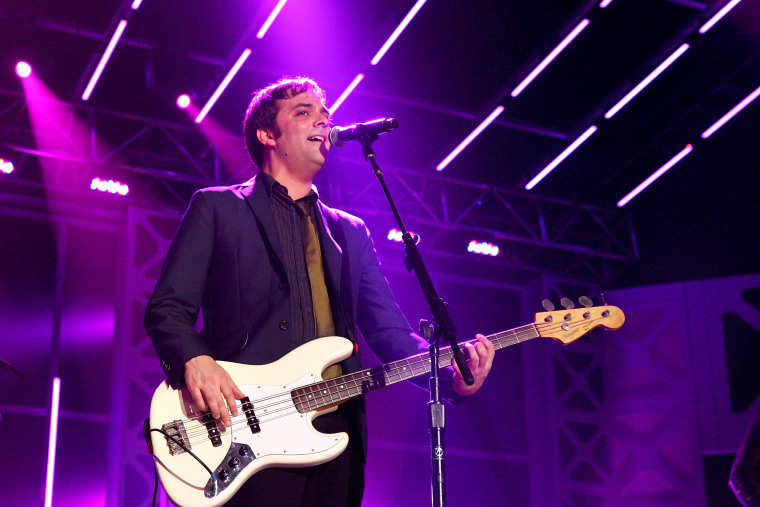 Adam Schlesinger, a musician and songwriter highly regarded for his work as a member of Fountains of Wayne and an Emmy-winning songwriter for TV's "Crazy Ex-Girlfriend," has died as a result of coronavirus complications on Wednesday. He was 52.
Schlesinger had previously been reported Tuesday morning as "very sick and heavily sedated" by his attorney of 25 years, Josh Grier. Schlesinger has been in an upstate New York hospital for more than a week at that time, Grier said.
Schlesinger has been nominated for Oscars, Tonys, Grammys and Emmys and won the latter two awards. At the 2018 Emmys, he was up for two trophies for his "Crazy Ex-Girlfriend" work and picked up one, winning in the outstanding original music and lyrics category for the song "Antidepressants Are So Not A Big Deal" (shared with the show's star, Rachel Bloom, and Jack Dolgen).
Israeli PM in isolation after health minister tests positive
Israel's Prime Minister Benjamin Netanyahu is self-isolating for a week after the country's health minister and his wife tested positive for the coronavirus. 
Netanyahu's office said Thursday the prime minister was put in isolation on the advice of his personal physician and following instructions from the Health Ministry. The ministry has earlier confirmed that Health Minister Yaakov Litzman and his wife tested positive for the coronavirus, and are feeling well.
In a television address on Wednesday, Netanyahu said Israel was still in the midst of "a health tsunami" as it tries to control the coronavirus epidemic and asked all Israelis to wear face masks in public areas.
'Shoot them dead': Philippine leader warns lockdown violators
Philippine President Rodrigo Duterte has warned violators of lockdown measures they could be shot for causing trouble on Wednesday. He also said abuse of medical workers was a serious crime that would not be tolerated.
"My orders to the police and military... if there is trouble and there's an occasion that they fight back and your lives are in danger, shoot them dead," Duterte said in a televised address. "Is that understood? Dead. Instead of causing trouble, I will bury you."
The Philippines has recorded 96 coronavirus deaths and 2,311 confirmed cases with infections now being reported in the hundreds every day.
Examining the etiquette of social distancing from shopping to traveling
Jazz patriarch Ellis Marsalis, 85, dies while fighting coronavirus
Jazz patriarch Ellis Marsalis died in New Orleans after contracting coronavirus, his son told the Associated Press on Wednesday.
The 85-year-old developed pneumonia and ultimately succumbed to that pulmonary infection, which was triggered by the virus, Ellis Marsalis III said. 
Marsalis was a jazz pianist and educator whose sons include trumpeter Wynton, saxophonist Branford, trombonist Delfeayo and drummer Jason.
In 2006, after Hurricane Katrina tore through his hometown, Marsalis joined the effort to build Musicians' Village, a community of 72 homes in the Upper Ninth Ward neighborhood. The nonprofit Ellis Marsalis Center for Music, a performance and education space, is now a centerpiece of the community.
Number of infected UT spring breakers grows to 44
The number of students at the University of Texas at Austin who went on a spring break trip to Mexico and later tested positive for the coronavirus illness COVID-19 is now 44, a university spokesperson said.
About 70 young adults traveled together on a chartered plane to Cabo San Lucas a week and a half ago, the Austin Public Health Department said.
On Tuesday, the city of Austin and the university said 28 students had tested positive but dozens more from the group that traveled were under public health investigation. The 28 were self-isolating and others were under quarantine and being tested, officials said then.
Some of the travelers returned to the U.S. on commercial flights, the health department said. Four of the initial 28 who tested positive did not present any symptoms, the city said. The coronavirus can be dangerous to anyone, but a major concern for health officials is that the young and healthy will spread it to others.
UT Austin officials tweeted Wednesday that they are concerned about the spike in the number of COVID-19 cases in the student body and told students to take the pandemic seriously and follow social distancing and other guidelines. UT Austin has moved classes online amid the pandemic.
Leaders in Hawaii ask Trump to halt inbound travel
A trio of Hawaiian mayors asked President Donald Trump on Wednesday to halt nonessential out-of-state travel to the islands.
In a letter to the president, Kirk Caldwell of Honolulu, Derek Kawakami of Kauai and Mike Victorino of Maui argued the move would slow the spread of coronavirus, which has caused one death in a state with 258 cases. Caldwell said a majority of those cases were "travel-related."
"Now is not the time for leisurely travel," Kawakami said.
On Tuesday, Gov. David Ige ordered those traveling between islands to self-quarantine for 14 days.