The number of deaths in the U.S. topped 10,700 by Monday night, according to NBC News' tally.
The rising toll comes as Dr. Anthony Fauci, the nation's top infectious diseases expert, said Sunday that the U.S. is "struggling" to get the coronavirus outbreak under control. The number of confirmed cases in the U.S. has passed 337,000. Globally, the number of deaths has topped 70,000, according to Johns Hopkins University.
In the U.K., Prime Minister Boris Johnson was taken into an intensive care unit for coronavirus, his office announced Monday. He had tested positive in March and was hospitalized Sunday for exhibiting symptoms for more than 10 days.
Meanwhile, an internal government watchdog report released Monday said that hospitals across the country face dire shortages of vital medical equipment — including testing kits and thermometers.
Full coverage of the coronavirus outbreak
Download the NBC News app for latest updates on the coronavirus outbreak.
This live coverage has ended. Continue reading April 7 coronavirus news.
Austria plans to start easing coronavirus restrictions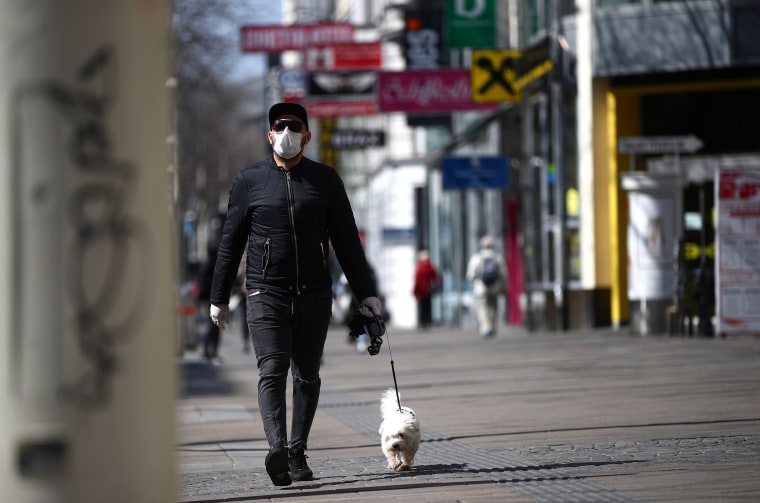 The Austrian government is planning to slowly re-open shops, hotels and restaurants as the country hopes to start returning to normal life amid the coronavirus pandemic.
At a press conference on Monday, Austrian Chancellor Sebastian Kurz said the re-opening is being "cautiously planned" for after Easter, but the dates could still be moved depending on the spread of the virus. The country went into lockdown three weeks ago. 
Kurz said smaller shops will be allowed to resume their business after Easter, followed by larger shops, shopping malls and hairdressers, which are expected to re-open by May 1. At the end of this month, the government will decide if restaurants and hotels can reopen in mid-May, he added. 
At the same time, officials have extended a requirement to wear face masks in supermarkets to include public transport and shops that re-open. More than 12,000 coronavirus cases have been recorded in Austria, with 204 deaths. 
Signs of hope in Italy as daily death toll falls again
The number of daily coronavirus deaths in Italy fell to the lowest level in more than a week, as the head of the country's National Health Institute, Silvio Brusaferro, said that the number of deaths and infections "has reached a plateau and begun to descend."
"It is a result that we have to achieve day after day. If this is confirmed, we need to start thinking about the second phase and keep down the spread of this disease," said Brusaferro. The country recorded 525 deaths on Sunday, bringing its total toll to 15,887.
Italy's Health Minister Roberto Speranza issued a plan for "phase two" of coronavirus response, which would soften lockdown restrictions but still keep social distancing measures in place. Despite the positive news, Speranza warned it is too early to know when the country will exit lockdown, telling the Italian daily La Repubblica "there are difficult months ahead."
Trump health official on coronavirus: 'We may be seeing the worst upon us right now'
A top Trump administration health official, Adm. Brett P. Giroir, said Monday that several parts of the country including New York, New Jersey and Detroit are expected to hit their peaks this week in terms of the number of coronavirus hospitalizations and deaths. 
In an interview on NBC's "TODAY" show, Giroir said "we may be seeing the worst upon us right now," but added that that experts believe some areas are "turning a corner because of all of the physical distancing that we're doing." 
Giroir, the assistant secretary for health, said that other cities like New Orleans will hit their peaks in a few weeks. "We'll see some rolling peaks across the country as the next few weeks unfold," he said, but warned that if people let their "foot off the gas," then the situation could worsen.
Spain sees daily death toll drop for fourth day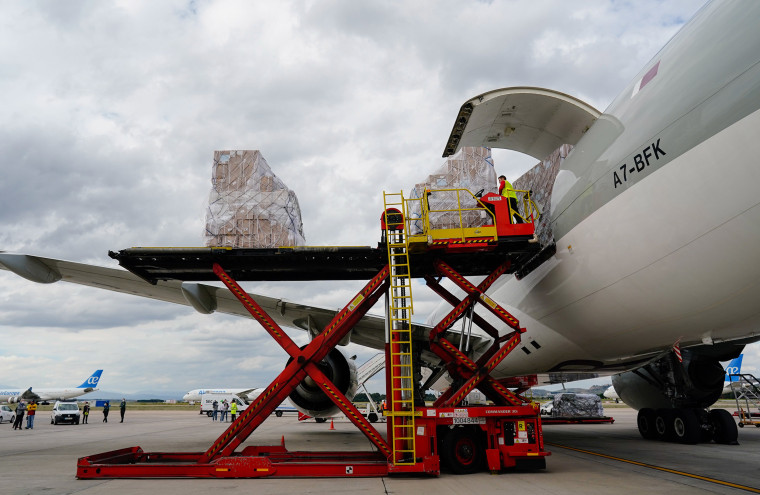 The number of new coronavirus deaths in Spain declined for the fourth day in a row on Monday, giving hope to the country's health officials that the epidemic could be slowing down. 
A total of 637 new deaths were reported as of Sunday, the lowest number recorded since April 1, when Spain recorded 950 deaths, the highest one-day toll for any country since the start of the epidemic. 
"We are observing that the pandemic's growth rate is slowing down in almost every region," Maria Jose Sierra, deputy head of Spain's Health Emergency Committee, told reporters at a virtual news conference Monday.
Health minister Salvador Illa said Monday the country, and the rest of the world, are facing "the worst health emergency in the past one hundred years."
The total number of coronavirus cases has reached more than 135,000 as of Sunday, the highest in Europe and second only to the U.S. 
U.N. chief warns of 'horrifying' surge in domestic violence amid lockdowns
The U.N. chief appealed to all governments to put women's safety first as they respond to the coronavirus pandemic amid a "horrifying global surge" in domestic violence. 
"For many women and girls, the threat looms largest where they should be safest — in their own homes," Antonio Guterres said in a tweeted video Monday, asking for increased investment in online services for victims, declaring shelters as essential services and ensuring judicial systems continue to prosecute abusers. 
Reports of domestic violence increased in March in many cities across the U.S. as the coronavirus pandemic spread, according to law enforcement officials. In Europe, where a number countries are in strict lockdowns, women's rights groups have raised the alarm about the hardship that domestic violence victims can experience in lockdown conditions.
Government watchdog: Hospitals face severe shortages of medical gear, confusing guidance from government
Hospitals across the country face dire shortages of vital medical equipment amid the coronavirus outbreak — including testing kits and thermometers — and fear they can't ensure the safety of health care workers needed to treat patients with COVID-19, according to an internal government watchdog report released Monday.
The alarming findings, based on interviews conducted from March 23 to March 27, represent the first government assessment of how the country's hospitals are coping with the outbreak and confirm previous media reports and warnings from health workers that the medical system is under unprecedented strain.
Hospital administrators also said conflicting guidance from federal, state and local governments on how to use personal protective gear and other issues has led to "a greater sense of confusion, fear and distrust among staff that they can rely on hospital procedures to protect them," according to the report from the inspector general for the Department of Health and Human Services, or HHS.
Japan to declare a state of emergency as early as Tuesday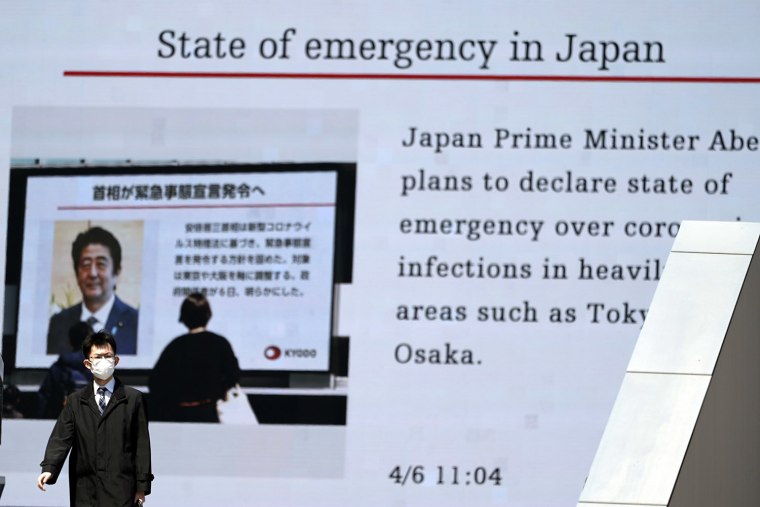 Japan's prime minister said Monday he could declare a state of emergency in Tokyo and six other prefectures as early as Tuesday, but not on the scale seen overseas, as the number or coronavirus cases continues to rise. 
Speaking to reporters, Prime Minister Shinzo Abe said he will not close cities "as we have seen overseas," citing experts saying Japan will not have to adopt such measures. Public transportation will continue to operate and supermarkets will stay open, but the public will be asked to avoid crowded areas and close contact, he said. 
On Monday, the chairman of the Tokyo Medical Association, an independent body representing the city's doctors, said the capital, which has more than 1,000 cases, is in a "critical situation," prompting them to declare their own medical state of emergency.
Iran's paramilitary women turn mosque into protective gear factory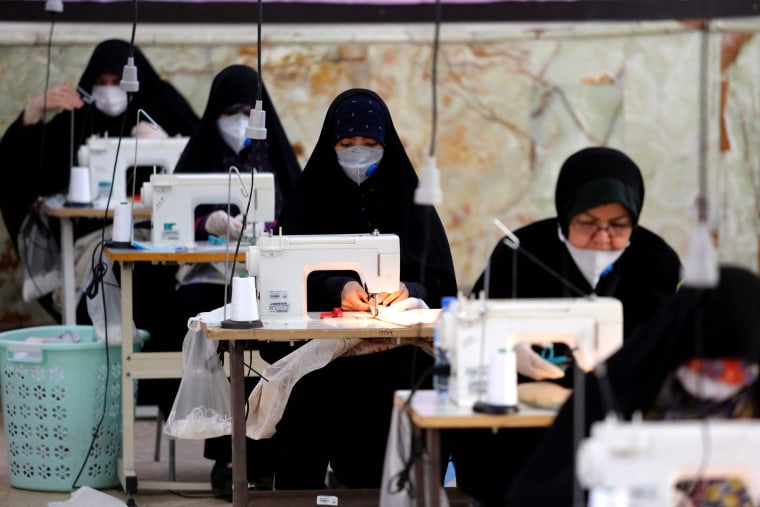 'His Achilles' heel': Coronavirus crisis highlights Trump's lack of health care plan
Health care was already a vulnerability for President Donald Trump before the coronavirus pandemic hit. Now his lack of a plan to fix the system is coming under a new microscope as the crisis costs many Americans their coverage and overwhelms providers.
The clarity in Trump's health care vision begins and ends with repealing the Affordable Care Act, or ACA, also known as Obamacare. His budget proposals would strip away funding for the law, and he has endorsed a lawsuit to wipe it off the books. But the president hasn't thrown his weight behind a replacement bill or even an outline, and he has rejected calls to reopen Obamacare for enrollment during the current crisis.
Trump's focus on mitigating the economic damage has kept health care on the back burner. Some allies worry that with millions of newly unemployed Americans poised to lose coverage during a public health crisis, Trump's lack of a plan for the needy will be a political liability in his re-election bid.
Irish PM returns to work as a doctor to help in coronavirus crisis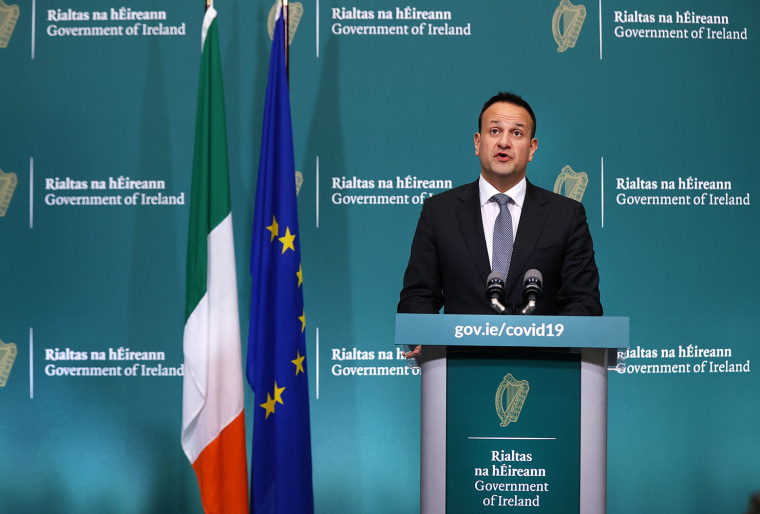 It's back to his scrubs for Irish Prime Minister Leo Varadkar. The former doctor re-registered as a medical practitioner last month to help the country's healthcare system as it deals with the coronavirus epidemic, his office said Sunday.
Varadkar will work for the health service for one session a week "in areas that are within his scope of practice," a statement from his office said. 
"He wanted to help out even in a small way," the statement added. According to a report in the Irish Times, Varadkar is helping out with phone assessments of coronavirus patients. 
Governors plead for food stamp flexibility
Yvonne Knight, who has respiratory problems that make her especially vulnerable in the coronavirus pandemic, can't buy groceries online with her food stamps, even though each trip to the store is now a risky endeavor.
Going out to buy food terrifies the 38-year-old woman with cerebral palsy, but she is one of millions of people who receive food aid through the federal Supplemental Nutrition Assistance Program that can't be used in flexible ways. "Every time I go out, I put myself at risk — and other people," said Knight, who lives in Erie, Pennsylvania. 
Buying groceries online — which many Americans are doing to reduce how often they leave their homes — is only open to SNAP recipients in six U.S. states, and Pennsylvania is not one of them.
Now, state governments and food security activists across the country are imploring the U.S. Department of Agriculture to make the program more flexible and easier to access at a time when so many people are losing their jobs and turning to the government for support.
Duran Duran's John Taylor reveals coronavirus recovery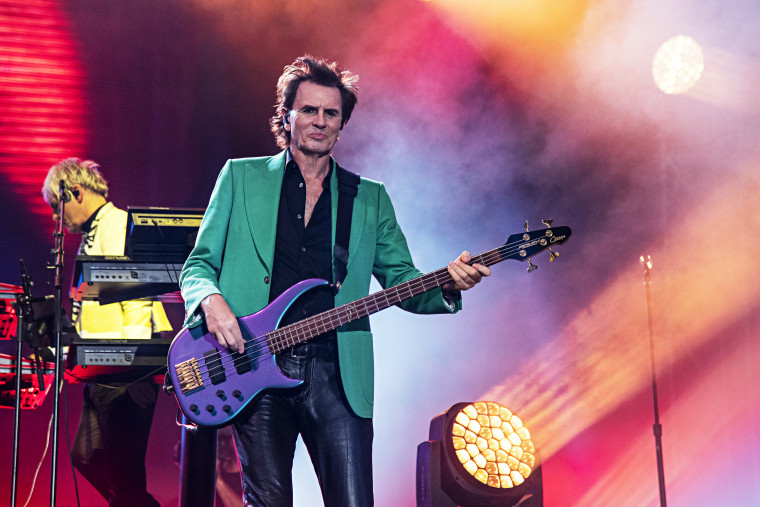 LOS ANGELES — Duran Duran bassist John Taylor took to Facebook on Sunday to reveal he had tested positive for coronavirus and is on the mend. Taylor was diagnosed with COVID-19 "three weeks ago" and has been self-quarantining.
"I am speaking out to answer to the enormous amount of fear being generated by the pandemic, some of it entirely justified, and my heart goes out to everyone who has had to deal with real loss and pain," he wrote. "But I want to let you know that it isn't always a killer, and we can and will beat this thing."
The entertainment community has been rocked by the virus, having recently lost Fountains of Wayne's Adam Schlesinger, country star Joe Diffie and jazz musician Ellis Marsalis Jr., among others.
Stocks appear set to jump, with Dow futures up more than 500 points
U.S. stock futures rose Sunday night as Wall Street tried to recover from another decline last week while investors shook off rising tensions between Saudi Arabia and Russia.
Dow Jones Industrial Average futures traded 531 points higher, implying a gain of about 565 points at the Monday open. S&P 500 and Nasdaq 100 futures also pointed to Monday opening gains for the two indexes.
Last week, the major averages posted their third weekly decline in four. The Dow slid 2.7% while the S&P 500 lost 2.1%. The Nasdaq Composite closed last week down 1.7%. Stocks are also deep in bear-market territory as concerns over the coronavirus outbreak have virtually shut down the global economy and have dampened sentiment around corporate profits. 
California county orders people to wear face coverings outside
Public health officials in Riverside County, California, made it mandatory Sunday for people who go outside to wear face coverings to stem the spread of coronavirus.
Dr. Cameron Kaiser, the county's public health officer, said people could use bandanas, scarves and other items without visible holes in them to shield their faces. He cautioned against using industrial and surgical masks, saying they should be reserved for first responders.
The order came after 30 patients and staff members at a local nursing home tested positive for COVID-19, the disease caused by the coronavirus, according to NBC Los Angeles. Two deputies have also died from the disease, Riverside County Sheriff Chad Bianco said in a statement.
The Centers for Disease Control and Prevention urged Americans on Friday to wear face coverings to keep people who may not be showing symptoms of the disease from spreading it to others.