This live coverage has ended. Continue reading April 8 Coronavirus news.
At the start of what officials have warned could be the deadliest week of the coronavirus pandemic, the total number of deaths in the U.S. rose to more than 12,000 on Tuesday, according to NBC News' tally. New York City alone topped 4,000 deaths, recording its single deadliest day with over 800 dying in the 24 hours since Monday night.
Despite the coronavirus crisis, Wisconsin's controversial election is on for Tuesday, and voters will get no extension on the deadline to return absentee ballots, thanks to two top courts that sided with Republicans on Monday.
In the fight to mitigate the fallout from the pandemic, Twitter CEO Jack Dorsey announced Tuesday that he planned to donate $1 billion to global coronavirus relief.
Full coverage of the coronavirus outbreak
Download the NBC News app for latest updates on the coronavirus outbreak.
Britain's Boris Johnson remains 'stable' in hospital
Britain's Prime Minister Boris Johnson is "stable" and in "good spirits" after a night in intensive care at St. Thomas' Hospital in London, Downing Street said on Tuesday.
He is receiving standard oxygen treatment and breathing without any other assistance and has not required mechanical ventilation, nor does he have pneumonia, officials said.
Johnson, 55, was admitted to the hospital on Sunday evening after "persistent" COVID-19 symptoms, having tested positive on March 27 for coronavirus. Britain's foreign minister Dominic Raab will continue to lead the country in Johnson's absence. Scheduled weekly calls between the Prime Minister and Queen Elizabeth will not take place while Johnson remains unwell, Downing Street confirmed.
At one California beach, police have 'zero tolerance' for stay-at-home violations
Few spots personify laid-back Southern California more than the picturesque coastal city of Manhattan Beach.
But faster than you can say "tasty waves," police in this beach burgh of 35,000 have descended on the sand and surrounding streets for "zero tolerance" enforcement of the "safer at home" order, now in its third week. Other locales, like the city of Los Angeles, have leaned more toward educating violators. But as some have continued to head to the sand, Manhattan Beach is cracking down.
A week ago, one surfer received a $1,000 citation for repeatedly ignoring warnings to stay out of the water. Manhattan Beach police issued 129 citations this past weekend and shut down four construction projects.
Wisconsin votes as National Guard called out, many polling places shuttered
Wisconsin's primary election went on as planned Tuesday despite the state's stay-at-home order and a day after two courts ruled that the election couldn't be postponed.
Polls are open from 8 a.m. to 9 p.m. ET for voters to cast ballots in person, though according to the state's elections commission, voters' designated polling places may have changed because of poll worker shortages.
Wisconsin's chief elections official, Meagan Wolfe, said in a statement Monday that voters who show up to the polls Tuesday should "be careful and patient" as social distancing procedures will be implemented at each site. The state is also recommending that voters wash their hands before heading to their polling place and wash or sanitize their hands when they arrive at the location before they vote.
Paris bans outdoor exercise during the day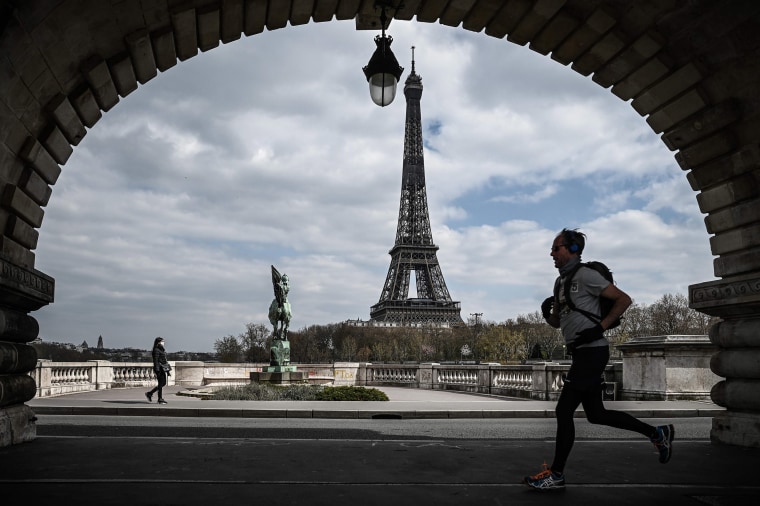 Municipal authorities in Paris have banned residents from doing exercise outdoors between 10 a.m. and 7 p.m. hours to ensure fewer people are on the streets in the French capital as it tries to contain the coronavirus epidemic. 
The city, in coordination with the local police force, said Parisians won't be allowed to engage in any outdoor sport activity between 10 a.m. and 7 p.m. local time.
The new measure, which starts on Wednesday, applies to Paris only. France has been in lockdown since March 17 to stem the spread of the virus. The measures have been extended until April 15, and are likely to be extended again.
U.S. reports 1,200 coronavirus deaths in one day as China lifts lockdown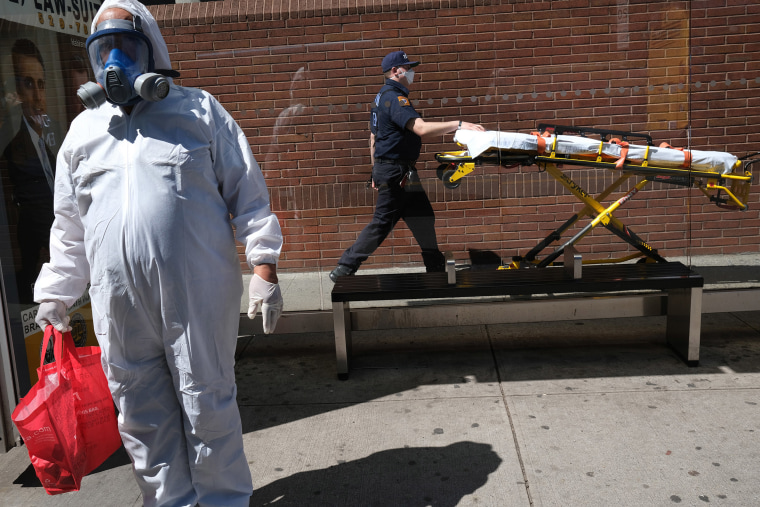 At the start of what is expected to be the deadliest week of the coronavirus pandemic in the United States, the White House tried to offer some hope that measures to contain the spread were working.
The virus killed 1,264 over 24 hours in the U.S. as of 2:05 am ET on Tuesday, according to NBC New's tracker. A total of 10,906 have been recorded killed by COVID-19.
Meanwhile in China, where the pandemic broke out, not a single new death was reported, and the city of Wuhan in Hubei province, where the new virus was first identified, prepared for lockdown measures to be lifted.
Japan declares state of emergency as coronavirus cases rise
Japanese Prime Minister Shinzo Abe declared on Tuesday a month-long state of emergency following a sharp rise in confirmed coronavirus cases. 
However, Abe said that the emergency measures would not involve "locking down" like "cities overseas" and that "public transportation and other vital socio-economic services will be sustained as much as possible." Abe added that people will still be allowed to exercise outdoors.
The state of emergency will allow the heads of six designated prefectures and Tokyo to do more to reinforce calls for social distancing. On Monday, the chairman of the Tokyo Medical Association, an independent body representing the city's doctors, had said the capital was in a "critical situation." 
Russia re-opens border to allow in residents stranded abroad
The Russian government has lifted a ban on charter flights that unexpectedly stranded several hundred Russian citizens and residents in foreign countries on April 3 as they attempted to return home, including at least 50 in New York and up to 600 in Japan. 
Flights are now being organized by Russian airlines to retrieve tourists stuck in foreign countries. But it isn't clear that everyone will make it home.  Russian Ambassador to the U.S. Anatoly Antonov wrote on Facebook on April 6 that there are too few Russians asking for evacuation to justify the cost of a charter back to Moscow.
The U.S. Embassy in Moscow on April 7 told citizens that Russian airline Aeroflot was seeking clearance to run a flight to New York later the same day. The flight was originally scheduled for April 3, but was cancelled on the tarmac.
Author J.K. Rowling says she's 'fully recovered' from COVID-19 symptoms
Author J.K. Rowling said on Twitter on Monday that she had been suffering from COVID-19 symptoms but was now "fully recovered," adding that she had not been officially tested.
She shared a video put together by a hospital outlining helpful breathing techniques to relieve respiratory symptoms, saying that she had found it useful. The "Harry Potter" author urged fans to stay home and safe during the outbreak.
Israel announces complete nationwide lockdown over Passover holiday
The Israeli government is imposing a complete nationwide lockdown prohibiting people from leaving their homes from Wednesday evening until Thursday morning, Prime Minister Netanyahu announced in a televised address to the nation on Monday. 
The lockdown coincides with the Jewish Passover holiday in which families typically gather together for a traditional dinner called the seder. 
"We cannot become complacent. We are moving forward with preparations for the scenarios regarding the exit from the crisis," Netanyahu said, adding that "there is a real possibility that if the positive trends" continue, Israel could gradually exit the lockdown after Passover.
Britain's Queen Elizabeth II thanks healthcare workers on World Health Day
Volunteers fumigate streets in Nairobi, Kenya against coronavirus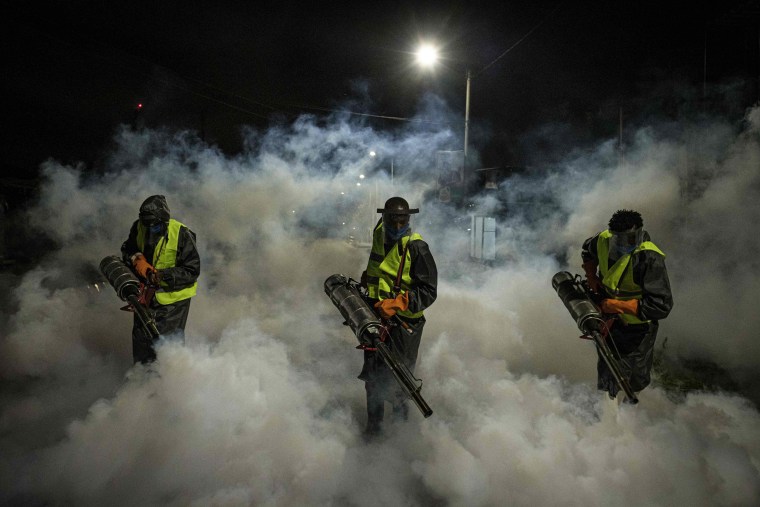 Germany's coronavirus fatality rate rises
The coronavirus fatality rate in Germany has increased from 0.5 percent to 1.6 percent, according to Germany's disease control center, the Robert Koch Institute, on Tuesday. Germany has been hailed for having a relatively low number of deaths compared to other European countries.
The uptick is likely due to an increase in outbreaks in retirement and nursing homes, as well as at risk groups in hospitals, said Lothar Wieler, president of the Robert Koch Institute. The average age of those who have died in Germany is 80, he said. 
"The deaths occurring now strike people who got sick one to two weeks ago. That means there are also many COVID-19 cases in inpatient treatment and so we have to expect a further increase in the number of deaths," said Wieler at a daily press briefing.
China reports first day with no coronavirus deaths
China reported its first day with no coronavirus deaths since the outbreak began on Monday, officials from the National Health Commission said. 
On April 6, there were no new confirmed cases, no new suspected cases, and no new deaths in China, officials said at a news conference.
While domestic cases are under control, China is still grappling with managing imported cases, mostly Chinese nationals returning from abroad. Prevention and control measures to prevent further outbreaks were still "arduous," said Mi Feng, spokesperson for the National Health Commission.
Outages and delays mar new small business loan program
The electronic system the Small Business Administration is using to set up new coronavirus loans was down much of Monday, according to senior banking executives, making it impossible for many new loans to be guaranteed.
Billions of dollars in loans sought by small businesses trying to pay employees and keep their doors open were on pause as the SBA, supported by the Treasury, grapples with the demand on its system.
MLB reportedly discussing plan for all teams to play in Arizona
Putting all 30 teams in the Phoenix area and playing in empty ballparks was among the ideas discussed Monday by Major League Baseball and the players' association.
The sides held a telephone call to talk about paths forward for a season delayed by the new coronavirus pandemic, people familiar with the discussion told The Associated Press. They spoke on condition of anonymity because no details were announced.
Ideas are still in the early stage, and the Arizona option would have many obstacles to overcome, the people said.
"It allows for immediacy of a schedule, where you might be able to begin it and televise it, provide Major League Baseball to America," said Scott Boras, baseball's most prominent agent. "I think players are willing to do what's necessary because I think they understand the importance of baseball for their own livelihoods and for the interest of our country and providing a necessary product that gives all the people that are isolated enjoyment."
New Zealand's health minister demoted after going to beach during lockdown
WELLINGTON, New Zealand — New Zealand's health minister has described himself as an "idiot" and has been stripped of some responsibilities after breaching the country's strict lockdown measures.
David Cook drove about 12 miles to the beach to take a walk with his family. He said that at a time when the government was asking New Zealanders to make historic sacrifices by staying at home, he had let them down.
"I've been an idiot, and I understand why people will be angry with me," he said in a statement.
Prime Minister Jacinda Ardern said under normal circumstances, she would sack Clark. But she said the country couldn't afford massive disruption in its health sector while it was fighting the virus. Instead, she said, she was stripping Clark of his role as Associate Finance Minister and demoting him to the bottom of the Cabinet rankings.
New Zealand is nearly halfway through a planned four-week lockdown aimed at minimizing the spread of the virus.
USNS Comfort crew member tests positive
A crew member on the Navy hospital ship the USNS Comfort, dispatched to New York City to help in the coronavirus outbreak in the region, has tested positive for the illness COVID-19.
The Navy said in a statement that the crew member tested positive Monday and is isolated from other crew or any patients.
"There is no impact to Comfort's mission, and this will not affect the ability for Comfort to receive patients," the Navy said. 
The USNS Comfort, with a capacity of around 1,000 beds, was initially supposed to take non-virus patients in order to help local hospitals care for cases associated with the epidemic, but on Monday the governor and President Donald Trump said it would take COVID-19 patients. Trump said it would also take patients from New Jersey.