The coronavirus death toll in the U.S. passed 40,000 late Sunday, according to NBC News' tally, and there are nearly 760,000 confirmed cases as of Monday evening.
While some governors pushed back on the Trump administration's claims that states are conducting a "sufficient" level of coronavirus testing, other governors were eager to reopen businesses in their states regardless of testing levels.
Gov. Brian Kemp announced plans to resume many businesses in Georgia this Friday, April 24, and Gov. Bill Lee said a "vast majority" of businesses in Tennessee would reopen by the end of next week.
Meanwhile, the federal agency that oversees nursing homes announced new transparency measures requiring the disclosure of coronavirus cases to patients' families and public health officials.
Here's what to know about the coronavirus, plus a timeline of the most critical moments:
This live coverage has ended. Continue reading April 21 coronavirus news.
Download the NBC News app for latest updates on the coronavirus outbreak.
Signs mount that Russian lockdown will be extended past April 30
Russia's lockdown looks likely to continue past the current end date of April 30, after President Valdimir Putin signed an order on Saturday extending all visas and work permits for foreign citizens until June 15 if they expire while restrictions are in place.
Another sign that the lockdown would likely stay in place past April came from the Moscow mayor's office one week ago, when city hall unveiled an electronic pass system regulating movement throughout the city. It is unlikely such a complex system would be unveiled to be used for just two weeks. Moscow's mayor has said that Russia was nowhere near its peak, while other officials last week predicted peak was at least two to three weeks away.
The country on Monday reported 4,268 new confirmed cases of coronavirus and 44 deaths, bringing the total to 47,121 cases and 405 fatalities, according to the Coronavirus Crisis Response Center.
Smaller shops in Germany begin to reopen as lockdown eases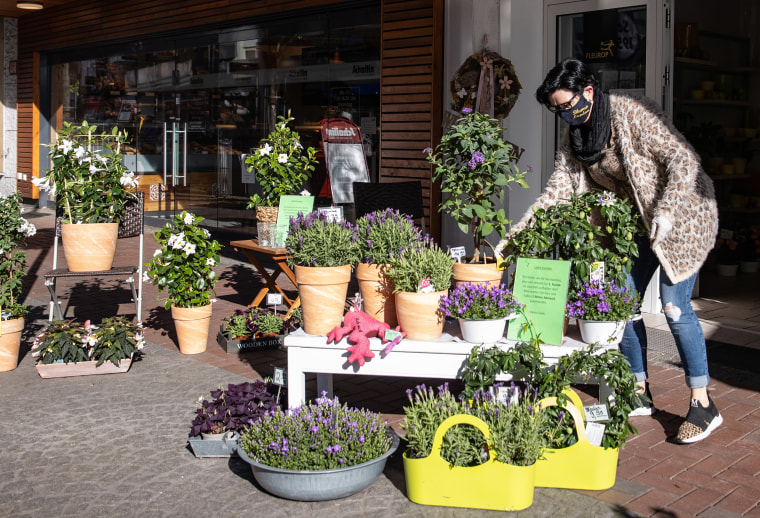 Smaller shops in Germany began to reopen on Monday as the country eased some of the restrictions it put in place to tackle the spread of coronavirus. Stores allowed to reopen include bookstores, bicycle shops and car dealerships, but the businesses need to observe social distancing and hygiene requirements.
"We are not expecting a huge rush of clients," the head of the German Retailers Association, Stefan Genth, told broadcaster ZDF, NBC News' partner in Germany. "We want a partial return to normality, but we know that we still need these tough regulations."
Meanwhile, the eastern German state of Saxony announced that face masks would mandatory for shopping and travel on public transport starting Monday.
Disinfection tunnel in India used to prevent spread of virus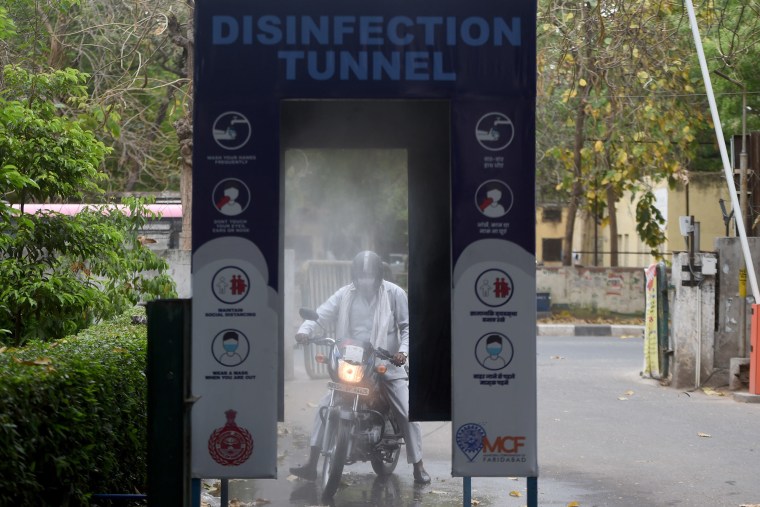 Spain to let young children go outside for first time in weeks
Children aged 12 and under in Spain will next Monday be allowed to leave their homes after five weeks of confinement. But Prime Minister Pedro Sánchez made clear when making the announcement on Saturday that the country's lockdown would otherwise continue until at least May 9.
"These permits for children will be limited in order to avoid new contagions," he said. "We will progressively lift the confinement during May."
Spain has enacted one of the strictest lockdowns in Europe and has suffered more than 20,000 coronavirus-related deaths — only Italy and the U.S. have higher death tolls.
UNICEF seeks more aid for at-risk kids in the Middle East
The U.N. children's agency appealed Monday for an additional $92.4 million to help fight the coronavirus pandemic in the Middle East and North Africa, a conflict-battered region with the highest number of children in need anywhere.
Yemen is a top concern, said Ted Chaiban, the regional chief of UNICEF. After five years of civil war, half the health centers in Yemen no longer operate. Two million children are malnourished, including 400,000 who suffer from severe acute malnutrition.
"It was already critical to address the needs of children in Yemen. With COVID-19, now you've got this extra lawyer of vulnerability," Chaiban said, adding that the increased funding is needed for a range of programs across the region to soften the blow of the pandemic.
Shake Shack to return $10 million in small-business loan money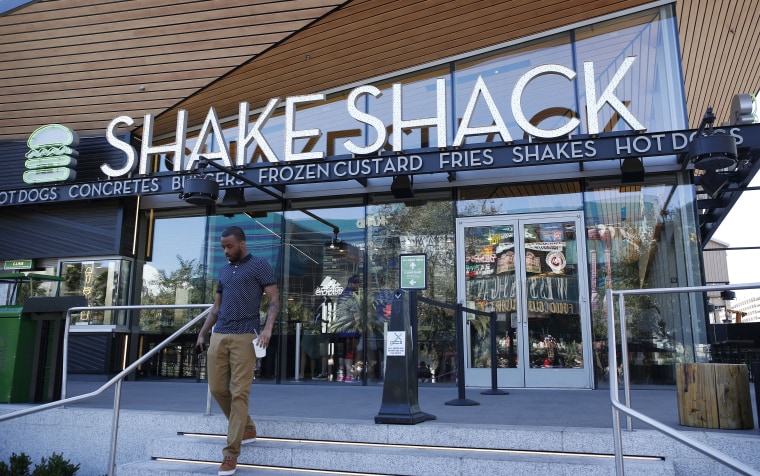 Shake Shack, one of several large restaurant chains that secured federal loans through the coronavirus stimulus law meant to help small businesses, said Sunday night that it is giving all $10 million back.
The New York-based hipster-favorite burger company is among more than a dozen companies with revenues in the hundreds of millions that are reported to have received money from the Paycheck Protection Program, or PPP, which set aside $349 billion in the stimulus law called the CARES Act to help small businesses keep their workers on the payroll.
Less than two weeks after it started, the program has already run out of money.
In a statement Sunday night on LinkedIn, Danny Meyer, Shake Shack's founder and CEO of its parent company, CEO Union Square Hospitality Group, and Randy Garutti, Shake Shack's CEO, said they had no idea the money would dry up so quickly, and after they were able to secure separate funding last week, "we've decided to immediately return the entire $10 million" so restaurants that "need it most can get it now."
Nursing home transparency rules announced
The federal agency that oversees nursing homes announced new transparency measures Sunday requiring the disclosure of coronavirus cases to patients' families and public health officials.
Speaking at a White House briefing, Seema Verma, administrator of the Centers for Medicare and Medicaid Services, called the new policies "important" and said they will support a nationwide effort to track the virus and slow its spread.
"As we reopen the United States, our surveillance effort around the virus will begin in nursing homes," Verma said.
Reese Loggins, a 10-year-old boy from High Point, North Carolina, who's battling leukemia at Duke University Hospital, looked outside his window and found a surprise birthday gift hanging in mid-air.
Because of visiting restrictions and social distancing guidelines, his parents wanted to make the day extra special for Reese. It was the second birthday he would spend in the hospital.
"It's been really tough," said his mother, Michelle Loggins. "The closer his birthday got, the more he was talking about biking, how much he misses biking around." 
The morning of Reese's birthday last Wednesday, construction crews used a crane to lift a bicycle gift up to his fifth-floor window, sang "Happy Birthday" and displayed a banner atop a nearby building that read, "Happy 10th Birthday Reese." Then nurses and other staff entered Reese's room and sang "Happy birthday."