This live coverage has ended. Continue reading April 24 for coronavirus news.
The House passed another coronavirus relief package Thursday, setting aside nearly $500 billion in loans and grants for businesses, hospitals and testing. Rep. Alexandria Ocasio-Cortez, D-N.Y., who argued that the legislation needed to fund states and cities, was the only Democratic member to vote against the legislation.
Ruth's Chris Steak House, which secured $20 million in loans under a $2 trillion package signed into law last month, joined a growing list of businesses Thursday that have said they would return the money. An online petition demanding the move had recorded more than 250,000 signatures.
Speaking to reporters at the White House, President Donald Trump wondered if an "injection" of disinfectant might keep the virus from "doing a number on the lungs." Experts called this "irresponsible" and "dangerous."
The likely death toll from the disease rose to more than 15,000 in New York City, where public health officials said they had confirmed 10,290 deaths. Another 5,121 fatalities were identified as "probable" COVID-19 cases.
Here's what to know about the coronavirus, plus a timeline of the most critical moments:
Download the NBC News app for latest updates on the coronavirus outbreak.
China to donate an additional $30 million to WHO
China will donate $30 million to the World Health Organization, the Chinese Ministry of Foreign Affairs announced Thursday, in support of coronavirus prevention and health systems in developing countries. The contribution will be on top of $20 million donated by China in March, it said.
"Since the outbreak of the new coronavirus, WHO, under the leadership of Director General Ghebreyesus, has actively fulfilled its responsibilities and upholds an objective, fair and scientific standpoint," said spokesperson Geng Shuang in a daily briefing. "It has played an important role in assisting countries to cope with the epidemic and promote international cooperation in the fight against epidemics."
China's donation to the WHO reflects the support and trust of the Chinese government and people in the WHO, Shuang said. Last week, President Donald Trump halted funding to the organization. The U.S. is the largest contributor to the WHO and sent more than $57.8 million earlier this year.
City with China's largest current outbreak tightens lockdown
A city of 10 million in northeastern China made further restrictions on movement on Wednesday according to government officials, as it tried to contain what is now China's largest outbreak. 
Harbin, the provincial capital of Heilongjiang, has 52 reported coronavirus cases. It has banned entry to residential zones by non-locals and will lockdown residential blocks housing COVID-19 patients for 14 days, state media reported. Those entering and exiting communities must "always wear a mask, check their body temperature and scan their individual health code," the Provincial Civil Affairs Department said in a press release. 
Heilongjiang has been in the forefront of China's latest efforts to identify infected citizens arriving from Russia — with which it shares a border — to curb the spread of the virus, according to Reuters. Infections in China — where the virus originated — have generally slowed in recent weeks. The country reported no new confirmed deaths on Thursday.
German chancellor says pandemic 'still at the beginning'
German Chancellor Angela Merkel on Thursday urged Germans to show persistence and discipline to get through the pandemic that is "still at the beginning."
"We are on thin ice, the thinnest ice even," Merkel told the Bundestag lower house of Parliament, saying that Germans must still be vigilant despite a recent decline in the number of cases. Germany should not "gamble away" what it has achieved, she said, referencing attempt of local states to loosen lockdown restrictions.
She also called the WHO "an indispensable partner," distancing her government from President Donald Trump's pause in U.S. funding to the global body. Germany — which has more than 150,000 infections — has the fifth highest COVID-19 caseload behind the U.S., Spain, Italy and France, but has kept fatalities down due to early and extensive testing.
Italian cruise ship in Japan confirms 48 coronavirus cases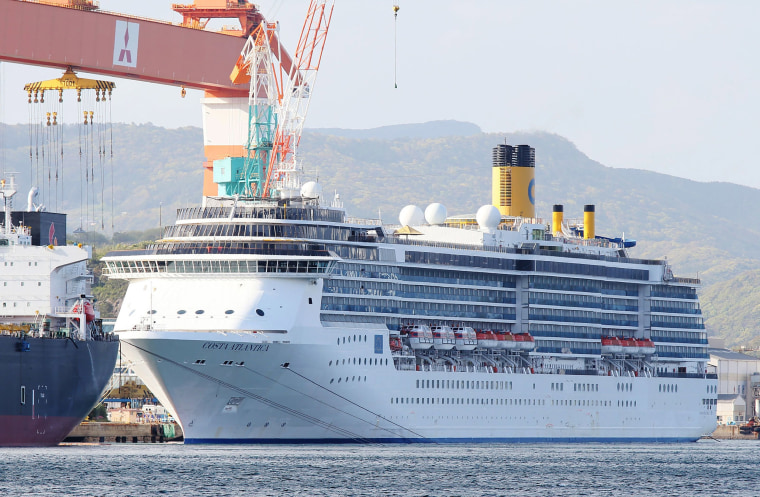 An Italian cruise ship docked in Nagasaki City, Japan has confirmed at least 48 cases of coronavirus, the Nagasaki Prefecture government said on Thursday. There are currently 623 crew members, and no passengers, onboard the Costa Atlantica.
The staff onboard have mild symptoms and remain quarantined on board in single rooms, except for those on essential duties, including cooking and delivering food for their colleagues, officials said. One crew member was transferred to the hospital after his condition worsened and is now on a ventilator, according to a local government official. 
The cruise ship has been docked in Nagasaki City, Japan for repairs since late January. The Costa Atlantica infections come after the cases on the Diamond Princess cruise ship in Yokohama two months ago, where more than 700 passengers and crew were found to be infected.
California town tests every resident for COVID-19
Virus shutdowns will likely make NFL draft most bet on ever
ATLANTIC CITY, N.J. — For those who haven't mastered the odds of Belarussian soccer or Russian table tennis, this week's NFL draft gives U.S. gamblers their first opportunity in weeks to bet on an event about which they actually know something.
With major sports shut down for more than a month because of the coronavirus outbreak, American sportsbooks say they expect football's annual draft to be the most bet on ever.
Desperate to offer a familiar event, online sportsbooks say they are seeing a much greater volume of bets on the draft this year.
Several sportsbooks estimated the gambling industry as a whole could see $5 million wagered on the draft in the U.S. this year; FOX Bet estimated the market at $20 million, up from a typical draft of about $1 million.
Vegas workers push back after call to reopen casinos, hotels
After Las Vegas Mayor Carolyn Goodman called Wednesday for the swift reopening of hotels and casinos, many who earn livelihoods in such establishments said they were afraid to return unless strict safety measures were introduced for themselves and guests.
Although Goodman said the businesses should reopen, she did not provide any guidelines on how they should handle social distancing and other safety measures to prevent the spread of coronavirus.
"I want us open in the city of Las Vegas so our people can go back to work," Goodman said in a CNN interview. She was asked how that could be accomplished while prioritizing employees' safety by implementing social distancing.