The number of deaths in the U.S. totaled more than 60,000 as of Wednesday evening, according to NBC News' tally, while the global death toll climbed over 226,000, according to Johns Hopkins University.
The growing U.S. death toll hasn't prevented some states from relaxing their lockdowns, including Florida, which announced it would begin lifting stay-at-home orders on Monday.
Meanwhile, Dr. Anthony Fauci, the head of the National Institutes of Allergy and Infectious Diseases, said Wednesday that an experimental drug for the coronavirus has a proven benefit.
"The data shows that remdesivir has a clear-cut, significant, positive effect in diminishing the time to recovery," Fauci said at the White House on Wednesday.
Here's what to know about the coronavirus, plus a timeline of the most critical moments:
This live coverage has now ended. Continue reading April 30 coronavirus news.
Download the NBC News app for latest updates on the coronavirus outbreak.
Millions of women could lose access to contraception due to pandemic, U.N. warns
More than 47 million women could lose access to contraception in the coming months — leading to 7 million unplanned pregnancies — as a result of the coronavirus pandemic, the United Nations warned on Tuesday. 
As the COVID-19 pandemic rages on, the number of women unable to access family planning due to over-stretched health systems, shortages of contraceptives and choosing to skip medical appointments due to fear of contracting the virus were among the factors, the U.N. said.
"The pandemic is deepening inequalities, and millions more women and girls now risk losing the ability to plan their families and protect their bodies and their health," said Dr. Natalia Kanem, UNFPA Executive Director. 
Instead of gin, hand sanitizer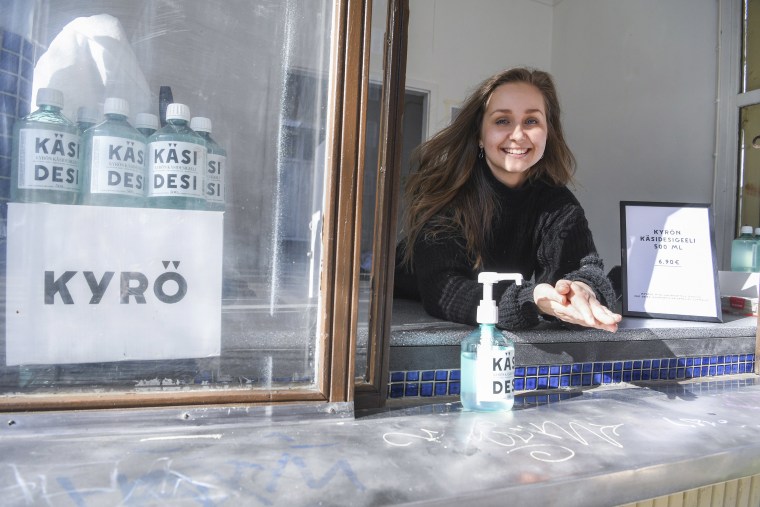 New polio outbreak in Niger after vaccination suspended during COVID-19 pandemic
Niger has been struck by a new outbreak of polio, following the suspension of immunization activities during the COVID-19 pandemic, the World Health Organization said Wednesday.  
The United Nations health agency reported that two children were infected by the highly infectious, water-borne disease and that one was paralyzed.
The outbreak was sparked by a mutated virus that originated in the vaccine and was not connected to a previous polio epidemic Niger stopped last year, WHO said, in a statement last week.
"The poliovirus will inevitably continue to circulate and may paralyze more children as no high-quality immunization campaigns can be conducted in a timely manner," said Pascal Mkanda, WHO's coordinator of polio eradication in Africa.
Senior Chinese official challenges Trump over coronavirus response, says U.S. wasted weeks
A senior Chinese government official challenged President Donald Trump's handling of the coronavirus outbreak in the U.S., accusing him of wasting weeks after the threat posed by the virus first became apparent.
In a wide-ranging interview with NBC News conducted in Mandarin on Tuesday, the official, Executive Vice Foreign Minister Le Yucheng, also hit back at the politicization of the virus.
Le, a rising star within the country's political establishment, rejected claims that China had covered up the initial outbreak or that it should be held financially liable for COVID-19. Instead, he termed the virus a "natural disaster" and called for greater cooperation and an end to accusations.
'Very concrete' risk of second outbreak, Italy's prime minister says
Italian Prime Minister Giuseppe Conte said the risk of a second coronavirus outbreak was "very concrete" as the country emerges from Europe's longest lockdown.
"We can't afford to have an out of control situation," he told reporters during his visit to the city of Lodi in northern Lombardy, the hardest-hit region by the outbreak. "This is the time to act with reason, with prudence."
On Sunday, Conte said Italy — the hardest-hit European country with more than 27,000 deaths — was looking ahead to a second phase of the crisis in which it will attempt to restart the economy without triggering a second wave of the disease, with manufacturers, construction companies and some wholesalers allowed to re-open from May 4.
Shoppers re-emerge as UAE starts lifting lockdown restrictions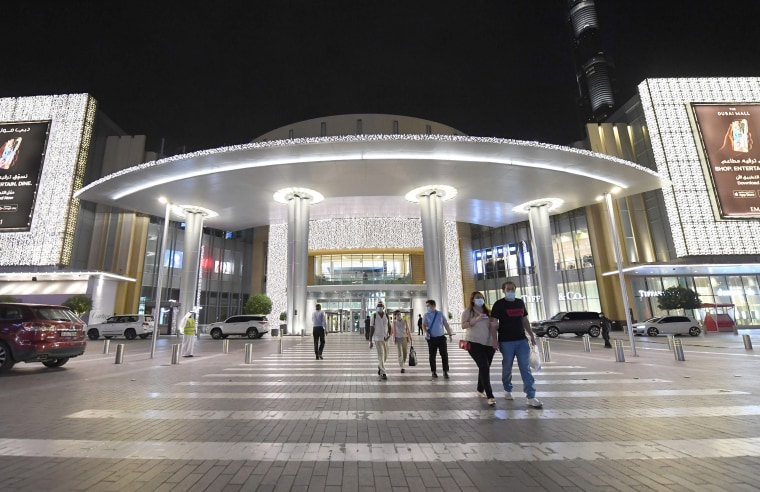 Chinese official contradicts Pompeo on coronavirus cooperation
China is open, transparent and responsible in its COVID-19 response, said the country's foreign ministry spokesperson Wednesday in response to a tweet from U.S. Secretary of State Mike Pompeo that accused China of not cooperating in the search for the origins of the coronavirus pandemic. 
"The CCP [Communist Party of China] needs to be transparent as the world seeks answers to #COVID19 and its origins," Pompeo tweeted on Monday. 
Chinese Foreign Ministry spokeswoman Hua Chunying re-tweeted Pompeo's message and said two U.S. experts were in China on the joint mission between the World Health Organization and China in late January. "Why not ask U.S. experts to locate when the virus first started in the U.S.? American people need answers. The world also has right to know," she added. 
After beating coronavirus, Britain's PM Johnson announces birth of son
Weeks after the British prime minister was in intensive care with a serious case of the coronavirus, Boris Johnson and his fiancée Carrie Symonds announced the birth of their baby son on Wednesday.
"The Prime Minister and Ms Symonds are delighted to announce the birth of a healthy baby boy at a London hospital earlier this morning and would like to thank the fantastic NHS maternity team," a government spokesman said.
Johnson, 55, suffered serious symptoms after being infected with COVID-19 last month. He left intensive care less than three weeks ago, thanking staff at the country's publicly funded National Health Service "for saving my life." Symonds, 32, an environmental activist and former official in Johnson's ruling Conservative Party, also suffered symptoms but was never tested.
Spain — one of Europe's worst hit countries — aims for return to normal in June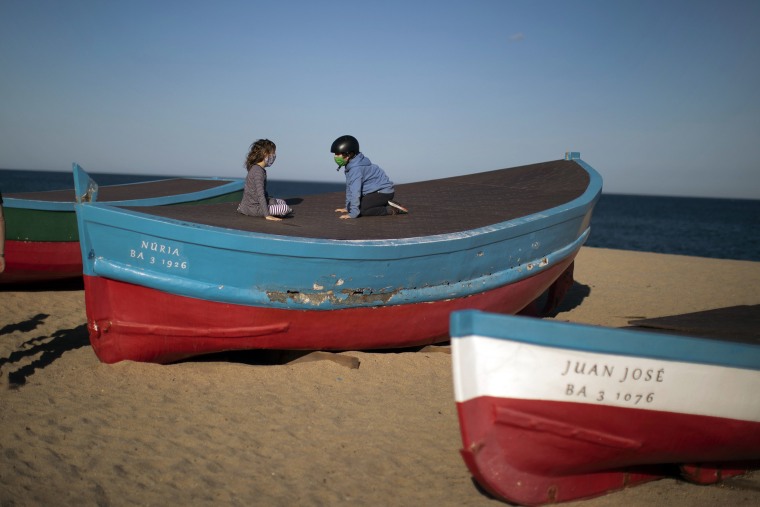 Spain announced a four-phase plan to lift one of the toughest coronavirus lockdowns in Europe and return to normality by the end of June.
Prime Minister Pedro Sanchez said the lifting of the restrictions that have halted public life since March 14 and nearly paralysed the economy, will begin on May 4 and vary from province to province. During the initial phase, hairdressers and other businesses that operate via appointment will open, while restaurants will be able to offer takeaway services.
In the next stage, envisaged to begin on May 11 for most of Spain, bars will reopen their terraces but will be limited to a third of their capacity. Remote working will be recommended where possible until reaching the last phase of the plan towards the end of June, when beaches would also be able to reopen with the support of local authorities.
Trump administration asks intelligence agencies to find out whether China, WHO hid info on coronavirus pandemic
The White House has ordered intelligence agencies to comb through communications intercepts, human source reporting, satellite imagery and other data to establish whether China and the World Health Organization initially hid what they knew about the emerging coronavirus pandemic, current and former U.S. officials familiar with the matter told NBC News.
A specific "tasking" seeking information about the outbreak's early days was sent last week to the National Security Agency and the Defense Intelligence Agency, which includes the National Center for Medical Intelligence, an official directly familiar with the matter said. The CIA has received similar instructions, according to current and former officials familiar with the matter.
President Donald Trump appeared to refer to the request at his news conference Monday. "We're doing very serious investigations," Trump said. "We are not happy with that whole situation, because we believe it could have been stopped at the source, it could have been stopped quickly, and it wouldn't have spread all over the world."
Austria limits restaurant tables to four adults as it eases lockdown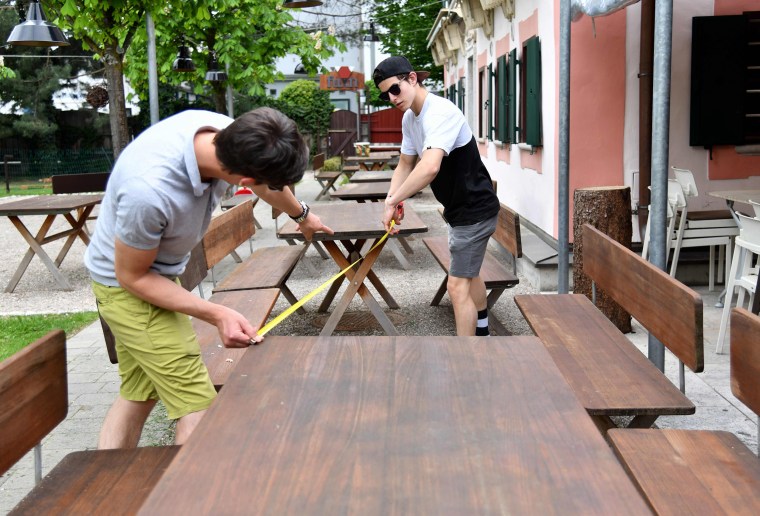 As Austria continues to emerge from the coronavirus lockdown, the country's tourism ministry has set out some rules for when restaurants can re-open on May 15.
Each table will be limited to four adults with their children and at least a one-meter distance will need to be kept between guests, the ministry said. Guests will also need to reserve tables ahead of time, and staff will have to wear mouth-and-nose covers.
Tourism sites, holiday apartments and hotels will be allowed to reopen on May 29 with hygienic measures still to be announced.
New York mayor comes under fire for tweet singling out Jewish community
New York Mayor Bill de Blasio is facing criticism for singling out the city's Jewish community in a tweet after he sent police to Brooklyn on Tuesday to disperse a massive crowd that had gathered for a rabbi's funeral in defiance of a statewide shutdown over the coronavirus.
"My message to the Jewish community, and all communities, is this simple: the time for warnings has passed," de Blasio said, noting that he went himself to the gathering to ensure that it dispersed. His tweet, which many perceived as a jibe against the entire Jewish community, has prompted a strong response online.
American Jewish Committee called de Blasio's remarks "fingerpointing" in a tweet, adding that the vast majority of the Jewish community is following the guidelines.
China's Parliament to hold key annual session on May 22
In the latest sign of life returning to normal in China, its Parliament will start its annual session on May 22, more than two months later than planned.
The session, originally scheduled for March 5, was postponed due to the COVID-19 pandemic that originated in China, killing a reported 4,633 people there. It has now infected more than three million people around the globe, and caused more than 200,000 deaths.
China has in the past ratified major legislation and unveiled economic targets at the Beijing gathering. Usually more than 5,000 delegates descend on the capital from all over China for at least 10 days, though it is unclear how long the gathering will run this year.
Tupac Shakur unemployment claim raises eyebrows in Kentucky
FRANKFORT, Ky. — It's no joke — Tupac Shakur lives in Kentucky and needs unemployment benefits to pay his bills.
The Lexington man's name was brought up by Gov. Andy Beshear on Monday night as he spoke about how the state is trying to process all unemployment claims filed in March amid the coronavirus pandemic by the end of April.
According to Beshear, a few "bad apples" including a person who filed an unemployment claim under the name of the late rapper Tupac Shakur are responsible for slowing down the state's unemployment processing. 
But the Lexington Herald-Leader reports Tupac Malik Shakur, 46, who goes by Malik, lives in Lexington and worked as a cook before restrictions to stop the spread of the coronavirus shut down restaurants.
"I've been struggling for like the last month trying to figure out how to pay the bills," Shakur said.
Read the full story here. 
Largest U.S. mall owner plans to reopen 49 locations
Newport Beach votes to keep sand and surf open
The city of Newport Beach, California, on Tuesday decided to continue letting people frolic on the sand and in the surf even after California Gov. Gavin Newsom criticized beachgoers for being too close to one another over the weekend.
The City Council voted to keep its beaches open after having second thoughts about access. Tens of thousands of people sought the ocean breezes of the Southern California coastline during the weekend heatwave.
The city said in a statement that "greater police and lifeguard presence" would be enough to enforce social distancing.
Pope urges virus lockdown obedience amid church-state debate
Pope Francis waded into the church-state debate about virus-imposed lockdowns of religious services, calling Tuesday for "prudence and obedience" to government protocols to prevent infections from surging again.
Francis' appeal came just two days after Italian bishops bitterly complained that the Italian government offered no provisions for Masses to resume in its plan to reopen Italian business, social and sporting life starting May 4.
While it wasn't clear if Francis intended to send a different message than the bishops, his appeal for obedience and prudence was in line with his previous calls to protect the most vulnerable, and for economic interests to take a back seat to shows of solidarity.
"As we are beginning to have protocols to get out of quarantine, let us pray that the Lord gives his people, all of us, the grace of prudence and obedience to the protocols so that the pandemic doesn't return," Francis said Tuesday.