The number of deaths in the U.S. totaled more than 60,000 as of Wednesday evening, according to NBC News' tally, while the global death toll climbed over 226,000, according to Johns Hopkins University.
The growing U.S. death toll hasn't prevented some states from relaxing their lockdowns, including Florida, which announced it would begin lifting stay-at-home orders on Monday.
Meanwhile, Dr. Anthony Fauci, the head of the National Institutes of Allergy and Infectious Diseases, said Wednesday that an experimental drug for the coronavirus has a proven benefit.
"The data shows that remdesivir has a clear-cut, significant, positive effect in diminishing the time to recovery," Fauci said at the White House on Wednesday.
Here's what to know about the coronavirus, plus a timeline of the most critical moments:
This live coverage has now ended. Continue reading April 30 coronavirus news.
Download the NBC News app for latest updates on the coronavirus outbreak.
Los Angeles to offer free coronavirus tests to all residents
Los Angeles will begin offering free coronavirus tests to all residents no matter if they have symptoms or not, Mayor Eric Garcetti said Wednesday. 
Garcetti said that all residents of Los Angeles County can get the tests. The website to schedule tests says it is open to any county resident regardless of symptoms. Those with symptoms will be given priority.
The mayor said he believes Los Angeles is the first major city to offer tests to all residents. He said they now have enough testing capacity to handle the increased tests.
Testing rules had previously been relaxed to allow grocery store workers, first responders and other essential workers with exposure to the virus to get tests regardless of whether they have symptoms. Health officials say that even those without symptoms can spread the virus.
ER doctor who died by suicide was in 'untenable' situation, sister says
The sister of an emergency room doctor who died by suicide while helping fight the coronavirus pandemic said that before her death, Dr. Lorna Breen had been in an "untenable" situation.
Speaking to "TODAY's" Savannah Guthrie, Jennifer Feist said her sister was overcome by a grim combination of events. She contracted the virus, which Feist believed "altered her brain." Eventually, Breen returned to work.
States to allow elective surgeries at hospitals again
The coronavirus pandemic forced hospitals to cancel elective surgeries, causing major anxiety for patients and a loss in income for the health care industry. In March alone, some 43,000 health care workers lost their jobs.
New York City plans to move 1,000 homeless people out of shelters into hotels each week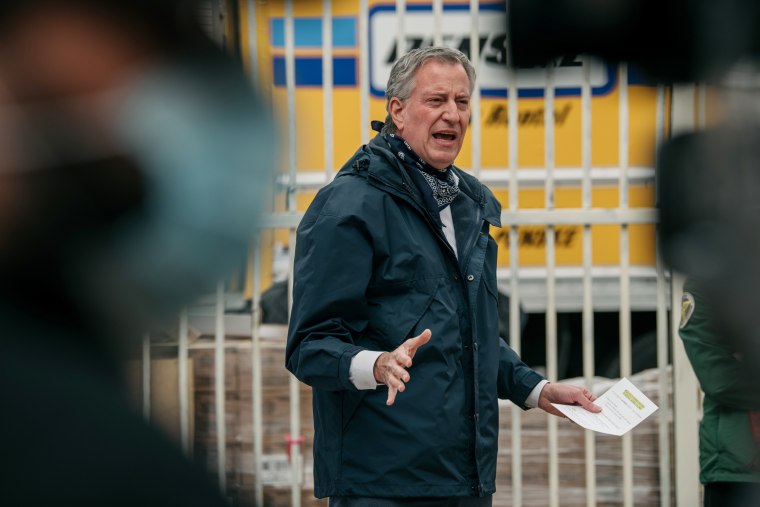 New York City Mayor Bill de Blasio said Wednesday that 1,000 homeless individuals will move out of shelters into hotels this week, with an additional 1,000 individuals each week as needed. 
"The priority will be on folks in those larger congregate shelters that are having more trouble with this social distancing," de Blasio said during a press conference.
This comes after 6,000 homeless individuals have successfully been moved into hotels, which is more than one-third of New York's single adult homeless population, according to the NYC Department of Social Services.
Over 770 homeless individuals in the city have tested positive for COVID-19, including 660 cases among those experiencing sheltered homelessness, according to data from DSS. These positive cases have occurred across approximately 166 shelter locations.
Trump to visit Arizona next week, first travel away from White House in weeks
WASHINGTON — President Donald Trump said Wednesday that he plans to visit Arizona next week and potentially Ohio "very soon," marking one of the few times the president has left the White House in several weeks amid the coronavirus pandemic.
"I think I'm going to Arizona next week, and we look forward to that," Trump said during a roundtable event with business leaders at the White House.
Trump, has rarely left the White House amid the outbreak, said that the purpose of his visit to Arizona was "industry" related because it was "too soon for the big, for the big everybody get-together-and-stand-next-to-each other crowds."
Trump's last campaign rally was March 2 in North Carolina and spent the following weekend at his Florida resort where he met with the president of Brazil. Since then, his only public appearance outside the White House was on March 28 when he traveled to Norfolk, Va. to see off the USNS Comfort hospital ship as it made its way to New York.
A map of states that have begun reopening
IRS says it's paid out $207 billion in stimulus checks
The Internal Revenue Service on Wednesday said it's already paid out $207 billion in coronavirus stimulus checks. 
"The IRS and Treasury have executed an extraordinary task by delivering more than 130 million Economic Impact Payments, totaling more than $207 billion, to Americans in less than 30 days," the agency said in a statement.
The total number of payouts since Friday is surprising because the IRS and Treasury Department said then they had sent out 88 million payments totaling about $158 billion since checks started going out April 11. About 150 million Americans are eligible for the checks. 
The one-time payments were included as part of the $2 trillion coronavirus package Congress passed in March.
Florida to begin lifting stay-at-home order on Monday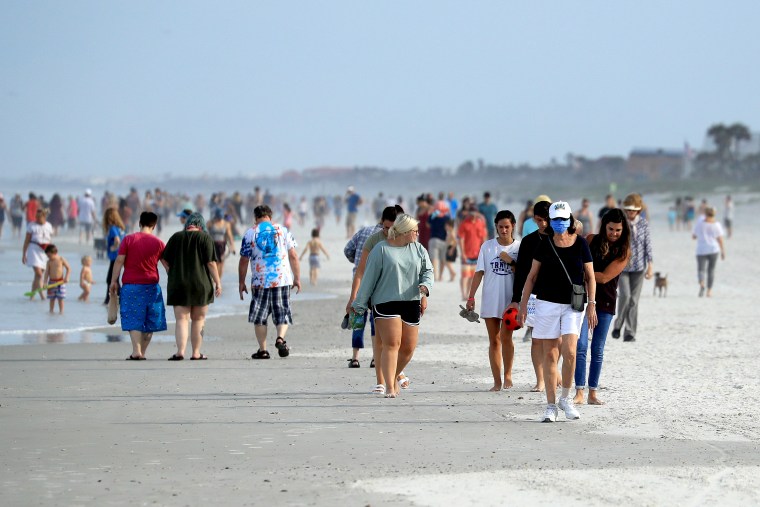 Florida Gov. Ron DeSantis unveiled a plan Wednesday to lift the state's stay-at-home orders amid the coronavirus crisis that he called "safe, smart, and step-by-step."
The plan will go into effect on Monday in every county except Dade, Palm Beach and Broward counties, where most of the Covid-19 cases in the state have been reported, DeSantis said.
But before DeSantis released any details, he took a swipe at the "doom and gloom" media and critics who faulted him for the state's slow response to the unfolding crisis.
'Dangerous & disrespectful': Doctors tear into Pence's mask-less hospital visit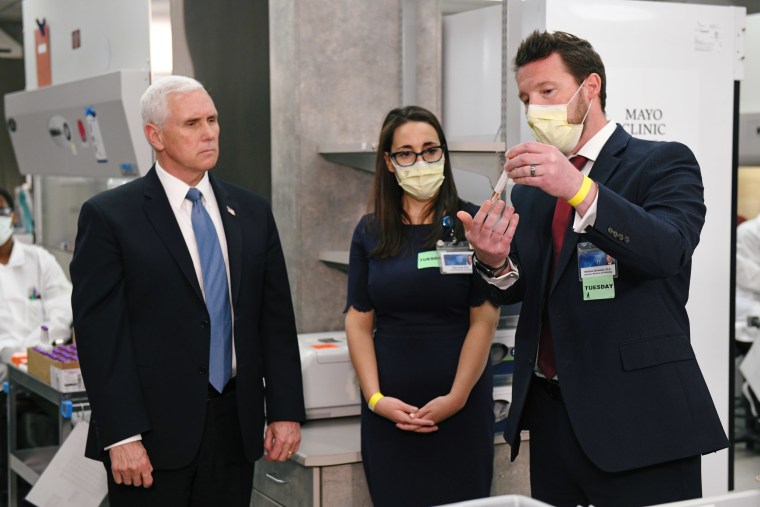 Vice President Mike Pence's refusal to wear a face mask during his visit to the prestigious Mayo Clinic this week was potentially dangerous and sent the wrong message about the federal guidelines he regularly touts, doctors and health care officials said.
Wearing a mask reduces disease transmission and protects both the wearer and the people around them, explained Dr. Vin Gupta, a pulmonologist and global health policy expert who is an NBC News and MSNBC contributor. It's an effective tool for mitigating the spread of the highly contagious coronavirus, which has claimed over 200,000 lives globally.
And while Pence was widely mocked for suggesting a mask would stop him from looking workers in the eye, doctors and health care workers said declining to wear one was a serious breach of safety regulations.
More than 6,000 long-term care facilities with COVID-19 cases, 15,385 deaths
There are now at least 6,046 nursing homes and other long-term care facilities with coronavirus outbreaks, and there have been 15,385 deaths from coronavirus in those facilities, according to NBC News tallies from the states willing to provide data.
Forty-three states provided numbers of facilities with outbreaks and 38 states provided death totals.
Although the federal Department of Health and Human Services announced on April 19 they it would start to track and publish data on outbreaks and deaths in nursing homes, it has not published any information to date.
 NBC News has confirmed state officials from both West Virginia and Maryland will test all residents and all staff (even if they are asymptomatic) in nursing homes because of the severity of the outbreak Long-term care residents account for roughly a quarter of all reported COVID-19 deaths in the U.S.
U.S. coronavirus death toll surpasses 60,000