The number of deaths in the U.S. totaled more than 60,000 as of Wednesday evening, according to NBC News' tally, while the global death toll climbed over 226,000, according to Johns Hopkins University.
The growing U.S. death toll hasn't prevented some states from relaxing their lockdowns, including Florida, which announced it would begin lifting stay-at-home orders on Monday.
Meanwhile, Dr. Anthony Fauci, the head of the National Institutes of Allergy and Infectious Diseases, said Wednesday that an experimental drug for the coronavirus has a proven benefit.
"The data shows that remdesivir has a clear-cut, significant, positive effect in diminishing the time to recovery," Fauci said at the White House on Wednesday.
Here's what to know about the coronavirus, plus a timeline of the most critical moments:
This live coverage has now ended. Continue reading April 30 coronavirus news.
Download the NBC News app for latest updates on the coronavirus outbreak.
Biden says Trump should order flags be flown at half-staff
Former Vice President Joe Biden on Wednesday said President Donald Trump should order that flags be flown at half-staff to honor the American lives lost to coronavirus as well as the first responders and medical workers helping the country fend off the disease.
"We've lost more people to this virus in the last several months than we lost in the entire Vietnam War," said Biden.
He made the remarks during a virtual fundraiser attended by 200 Florida donors. 
This month, New York, New Jersey and Michigan have ordered flags flown at half-staff.
"The president has talked about himself and how he's affected, rather than about how it's affected America," Biden said. "I don't see much empathy or concern."
During a news conference Monday, the president addressed the pandemic's human toll. "We continue to mourn with thousands of families across the country whose loved ones have been stolen from us by the invisible enemy," he said of the human toll of the coronavirus at a Rose Garden news conference. "We grieve by their side."
Oregon woman's giant cinnamon rolls raise more than $29,000 for food bank
Whitney Rutz is not a baker by trade, but she decided to make a giant cinnamon roll with her 7-year-old daughter to help raise her family's spirits amid the coronavirus pandemic. 
"I lost it, I cried and screamed and just had a really good session of 'I'm down in the dumps,'" Rutz told NBC News. And then she got to baking.
Rutz's social media followers were amazed by photos of the cinnamon roll, 12 inches in diameter and about 5 pounds. That's when she decided to auction a giant cinnamon roll, thinking she'd raise money for the Oregon Food Bank.
"If you're in dire straits and you're trying to figure out how to pay your rent and your utility bills, at least you have the food bank and can leverage that service, which is just so, so, so great," she said. 
The pastry sold for $300. 
That was in March. Since then, Rutz has baked more than 50 giant cinnamon rolls and raised more than $29,000 for the Oregon Food Bank. But only four of those rolls have gone to individuals.
Many who participated in the auctions didn't want the sweets for themselves and asked Rutz to donate them to health care facilities. The Oregon Food Bank recently began working with Rutz to facilitate an online fundraiser, so for every $500 raised, she's baking one cinnamon roll to donate to health care facilities. 
"It's been wonderful," Rutz said. "I cry out of happiness a lot. I have felt like this really allowed me to focus on something positive under these really terrible circumstances." 
More than 50 who worked, voted in Wisconsin election have COVID-19
MADISON, Wis. — More than 50 people who voted in person or worked the polls during Wisconsin's presidential primary this month have tested positive for COVID-19, according to the latest count by state health officials tracking the impact of holding the election in the middle of a pandemic.
It remains unclear how many — if any — of those people contracted the virus at the polls and health officials are still collecting testing and tracing information. But officials say they don't expect the number of known cases potentially tied to the election to grow substantially.
The "vast majority" of cases tied to the election have "already likely come to the surface," said Andrea Palm, the state Department of Health Services secretary on Wednesday.
Wisconsin Democratic Gov. Tony Evers, concerned about a spike in virus cases, tried to change the April 7 election so that it would be conducted entirely by mail, but he was blocked by the Republican-led Legislature and conservative Wisconsin Supreme Court.
Brooklyn funeral home used U-Hauls to store bodies after running out of space
A New York City funeral home used moving trucks loaded with ice to store dozens of dead bodies after running out of space, police officials said Wednesday.
New York City's health department issued two citations to the owner of the Brooklyn facility, Andrew T. Cleckley Funeral Services, but he was not criminally charged, two senior New York Police Department officials told NBC News.
Trump, Musk boosted online interest in antimalarial drugs, study finds
Online interest in purchasing drugs touted by President Donald Trump and billionaire Elon Musk spiked in late March after both weighed in, a new analysis published by the journal JAMA Internal Medicine found.
Musk tweeted March 16 that antimalarial drug chloroquine was "maybe worth considering," and Trump said March 19 that chloroquine and related drug hydroxychloroquine showed "very, very encouraging early results," though Dr. Anthony Fauci, director of the National Institute of Allergy and Infectious Diseases, disagreed.
University researchers based at Oxford, Harvard, UC San Diego and Johns Hopkins measured a 1,389 percent surge in online searches about purchasing hydroxychloroquine after Trump first touted the drug. "This could be evidence that thousands of Americans were interested in purchasing these drugs," study co-author Mark Dredze of Johns Hopkins University said in a statement.
In April, a drumbeat of headlines dashed high hopes for the drugs and for a combination also touted by Trump, one including antibiotic azithromycin. In fact the U.S. Food and Drug Administration said the drugs should not be tried outside a hospital setting.
On March 22 an Arizona man died after ingesting chloroquine phosphate, a parasite treatment for fish, believing it would protect him from coronavirus. His wife said the couple believed the substance was the drug endorsed by the president.
California's food supply could stave off meat shortage
SAN DIEGO - California isn't immune to pork, beef and chicken supply issues, but it does have its own food ecosystem that includes an abundance of fish and the availability of regional beef and chicken, experts say.
This could keep the state's appetite for protein satiated in the weeks to come as some analysts predict a coast-to-coast meat shortage. On Tuesday President Donald Trump ordered processing plants to stay open as a matter of national security.
But California, with its own fishing fleet, chicken processors and a dairy industry that serves the nation is somewhat sheltered. 
Los Angeles to offer free coronavirus tests to all residents
Los Angeles will begin offering free coronavirus tests to all residents no matter if they have symptoms or not, Mayor Eric Garcetti said Wednesday. 
Garcetti said that all residents of Los Angeles County can get the tests. The website to schedule tests says it is open to any county resident regardless of symptoms. Those with symptoms will be given priority.
The mayor said he believes Los Angeles is the first major city to offer tests to all residents. He said they now have enough testing capacity to handle the increased tests.
Testing rules had previously been relaxed to allow grocery store workers, first responders and other essential workers with exposure to the virus to get tests regardless of whether they have symptoms. Health officials say that even those without symptoms can spread the virus.
ER doctor who died by suicide was in 'untenable' situation, sister says
The sister of an emergency room doctor who died by suicide while helping fight the coronavirus pandemic said that before her death, Dr. Lorna Breen had been in an "untenable" situation.
Speaking to "TODAY's" Savannah Guthrie, Jennifer Feist said her sister was overcome by a grim combination of events. She contracted the virus, which Feist believed "altered her brain." Eventually, Breen returned to work.
States to allow elective surgeries at hospitals again
The coronavirus pandemic forced hospitals to cancel elective surgeries, causing major anxiety for patients and a loss in income for the health care industry. In March alone, some 43,000 health care workers lost their jobs.
New York City plans to move 1,000 homeless people out of shelters into hotels each week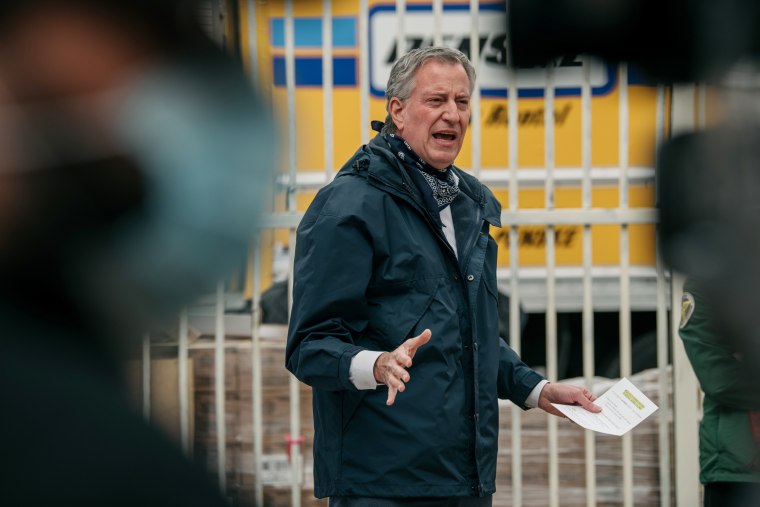 New York City Mayor Bill de Blasio said Wednesday that 1,000 homeless individuals will move out of shelters into hotels this week, with an additional 1,000 individuals each week as needed. 
"The priority will be on folks in those larger congregate shelters that are having more trouble with this social distancing," de Blasio said during a press conference.
This comes after 6,000 homeless individuals have successfully been moved into hotels, which is more than one-third of New York's single adult homeless population, according to the NYC Department of Social Services.
Over 770 homeless individuals in the city have tested positive for COVID-19, including 660 cases among those experiencing sheltered homelessness, according to data from DSS. These positive cases have occurred across approximately 166 shelter locations.
Trump to visit Arizona next week, first travel away from White House in weeks
WASHINGTON — President Donald Trump said Wednesday that he plans to visit Arizona next week and potentially Ohio "very soon," marking one of the few times the president has left the White House in several weeks amid the coronavirus pandemic.
"I think I'm going to Arizona next week, and we look forward to that," Trump said during a roundtable event with business leaders at the White House.
Trump, has rarely left the White House amid the outbreak, said that the purpose of his visit to Arizona was "industry" related because it was "too soon for the big, for the big everybody get-together-and-stand-next-to-each other crowds."
Trump's last campaign rally was March 2 in North Carolina and spent the following weekend at his Florida resort where he met with the president of Brazil. Since then, his only public appearance outside the White House was on March 28 when he traveled to Norfolk, Va. to see off the USNS Comfort hospital ship as it made its way to New York.
A map of states that have begun reopening
IRS says it's paid out $207 billion in stimulus checks
The Internal Revenue Service on Wednesday said it's already paid out $207 billion in coronavirus stimulus checks. 
"The IRS and Treasury have executed an extraordinary task by delivering more than 130 million Economic Impact Payments, totaling more than $207 billion, to Americans in less than 30 days," the agency said in a statement.
The total number of payouts since Friday is surprising because the IRS and Treasury Department said then they had sent out 88 million payments totaling about $158 billion since checks started going out April 11. About 150 million Americans are eligible for the checks. 
The one-time payments were included as part of the $2 trillion coronavirus package Congress passed in March.
Florida to begin lifting stay-at-home order on Monday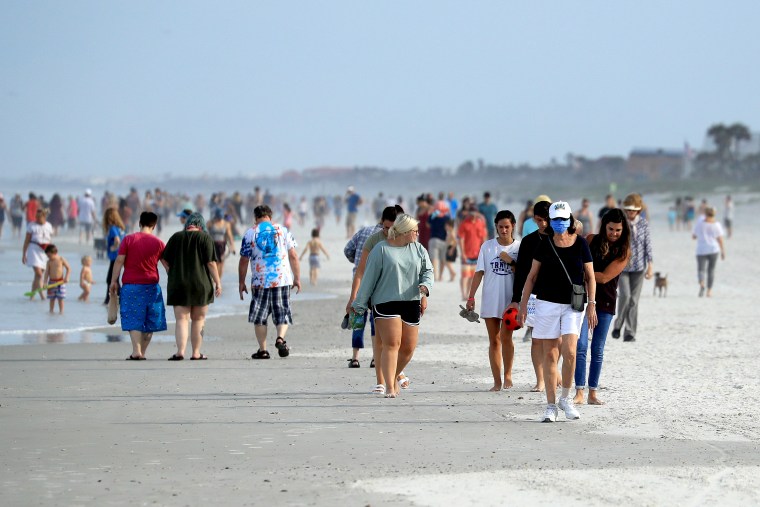 Florida Gov. Ron DeSantis unveiled a plan Wednesday to lift the state's stay-at-home orders amid the coronavirus crisis that he called "safe, smart, and step-by-step."
The plan will go into effect on Monday in every county except Dade, Palm Beach and Broward counties, where most of the Covid-19 cases in the state have been reported, DeSantis said.
But before DeSantis released any details, he took a swipe at the "doom and gloom" media and critics who faulted him for the state's slow response to the unfolding crisis.
'Dangerous & disrespectful': Doctors tear into Pence's mask-less hospital visit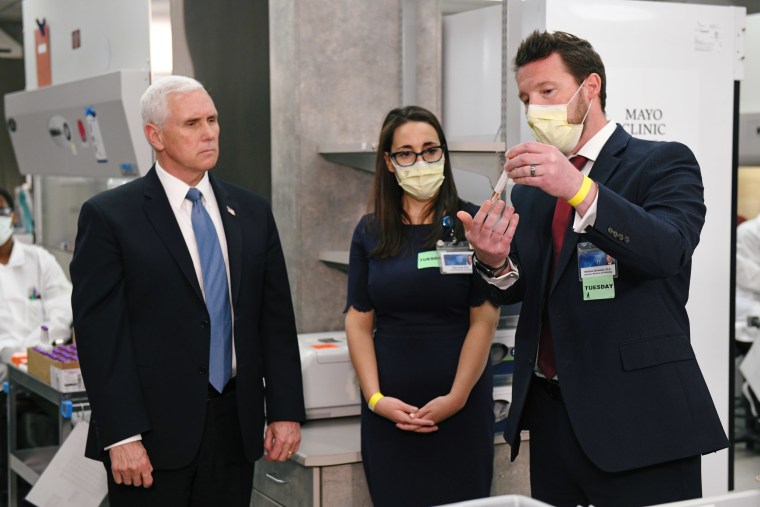 Vice President Mike Pence's refusal to wear a face mask during his visit to the prestigious Mayo Clinic this week was potentially dangerous and sent the wrong message about the federal guidelines he regularly touts, doctors and health care officials said.
Wearing a mask reduces disease transmission and protects both the wearer and the people around them, explained Dr. Vin Gupta, a pulmonologist and global health policy expert who is an NBC News and MSNBC contributor. It's an effective tool for mitigating the spread of the highly contagious coronavirus, which has claimed over 200,000 lives globally.
And while Pence was widely mocked for suggesting a mask would stop him from looking workers in the eye, doctors and health care workers said declining to wear one was a serious breach of safety regulations.
More than 6,000 long-term care facilities with COVID-19 cases, 15,385 deaths
There are now at least 6,046 nursing homes and other long-term care facilities with coronavirus outbreaks, and there have been 15,385 deaths from coronavirus in those facilities, according to NBC News tallies from the states willing to provide data.
Forty-three states provided numbers of facilities with outbreaks and 38 states provided death totals.
Although the federal Department of Health and Human Services announced on April 19 they it would start to track and publish data on outbreaks and deaths in nursing homes, it has not published any information to date.
 NBC News has confirmed state officials from both West Virginia and Maryland will test all residents and all staff (even if they are asymptomatic) in nursing homes because of the severity of the outbreak Long-term care residents account for roughly a quarter of all reported COVID-19 deaths in the U.S.
U.S. coronavirus death toll surpasses 60,000